Say Hello to Dabarkadz
I'm down to my last blabberings of my food escapade in Hong Kong. I was losing inspiration to write (or I've been excessively hyped up about some other stuff, completing a blog was out of my "priorities"). Whichever alibi do you prefer, it doesn't matter, really.
Something Pinoy
I thought of that time that I can tolerate another serving of Chinese cuisine; there were unforgettable foodstuff I've come across with. I persuaded myself that the next be another hit, if we'd be in for a round of another noodle bowl.
Yet if you've spent a good few days out in a foreign country, there'd be a thought lingering somewhere in your head convincing you that you're boring yourself of the food selection and miss your own...
Along Woo Sung Street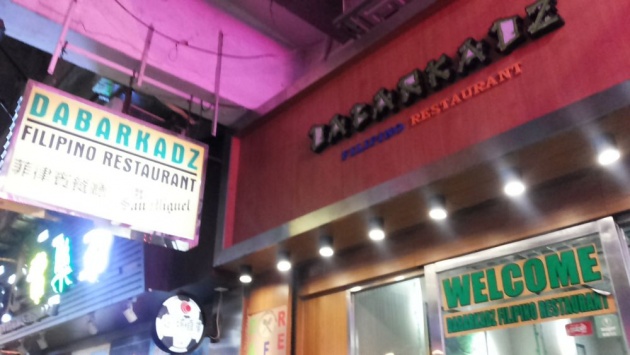 Photo credit: lapiz-lazuli
We stumbled upon Dabarkadz Restaurant by accident, as we were strolling around alleyways near Evergreen Hotel. I made the itinerary, and as far as I can remember, it was no accident that I didn't write any proper name of where we'd dine because, one, there were lots to pick from, and two, I didn't know what to pick.
A Group's Name...
Aunt spotted this little tiny signage out of all the restaurant signages. It sounded very familiar because it was in our language. What's more, the word wasn't something you'd find in an official Filipino dictionary; it was a metathesis of the word 'barkada' which meant 'a group of friends' or 'gang' in english.
Taken from Eat Bulaga
Photo credit: wikipedia.org
But the word didn't just come from some downtown slum. Rather, the great Filipino rapper, Francis Magalona, who was in the noontime variety show, Eat Bulaga, coined the term. It was then often used by the show's hosts to refer to its members and also their audience.
A Fanatic Owner?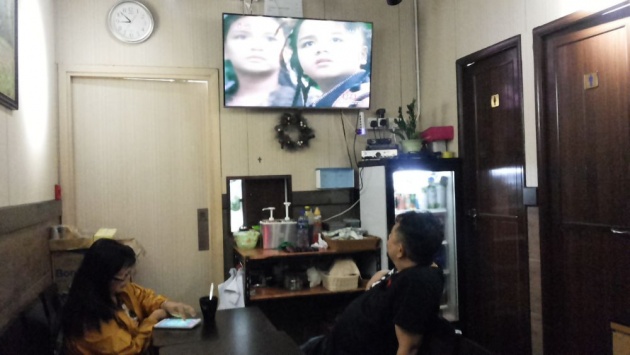 Photo credit: lapiz-lazuli
From the sound of it, I thought the owner was an avid fan, not only of that show, but its tv network too as most Filipinos do. I might've been right, though not entirely, as I've seen a more-than-life-size digitized cut out of the JaDine loveteam (portmanteau of JAmes Reid and NaDINE Lustre), one of their rival network's loveteam, on the restaurant's right wall. I was a bit surprised when I saw it, yet what was airing on their television that time assured me that the owner, as well as the staff, were really GMA Network's solid viewers.
Shabby but Chic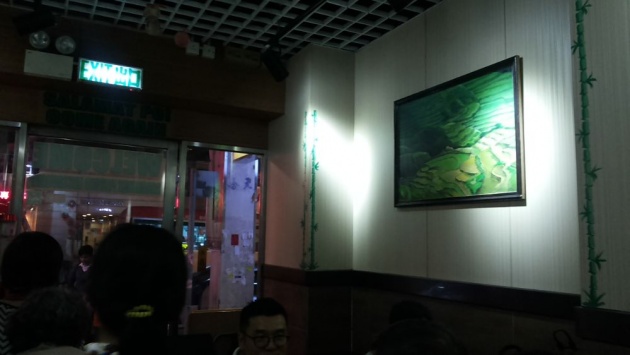 Photo credit: lapiz-lazuli
If you're claustrophobic, you can dine outside as there were few seats provided. When you walk in, though, you'd see that on one side were the tables and seats, and to the other, the walkway. The place was really that small, but I didn't care that much as I put more value on the quality of their food they offer.
Feels like Home
Video credit:
lapiz-lazuli
via
bitlanders.com
I really felt that I was in downtown Manila dining at Dabarkadz. Servers speak our mother tongue, seats and table design looked native (even the plates!), the menu offers Filipino food...there was air conditioning though, so it didn't feel tropically warm. And if it didn't have aircon, there wasn't much to do about the temps anyway.
Waitful Watching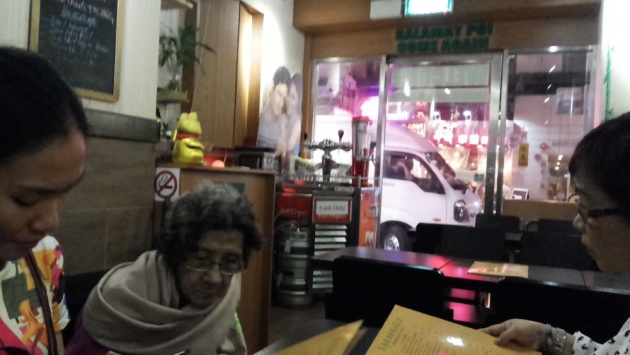 Photo credit: lapiz-lazuli
Ordering wasn't a pain. Waiting, however, was a different story. It doesn't seem very long, because we had refreshments served while they were at it. We were also occupied because of chitchatting and Mulawin vs. Ravena (Hawk? vs Raven, a show on GMA), so I saved much of my drink while waiting.
Video credit:
lapiz-lazuli
via
bitlanders.com
Nice Drinks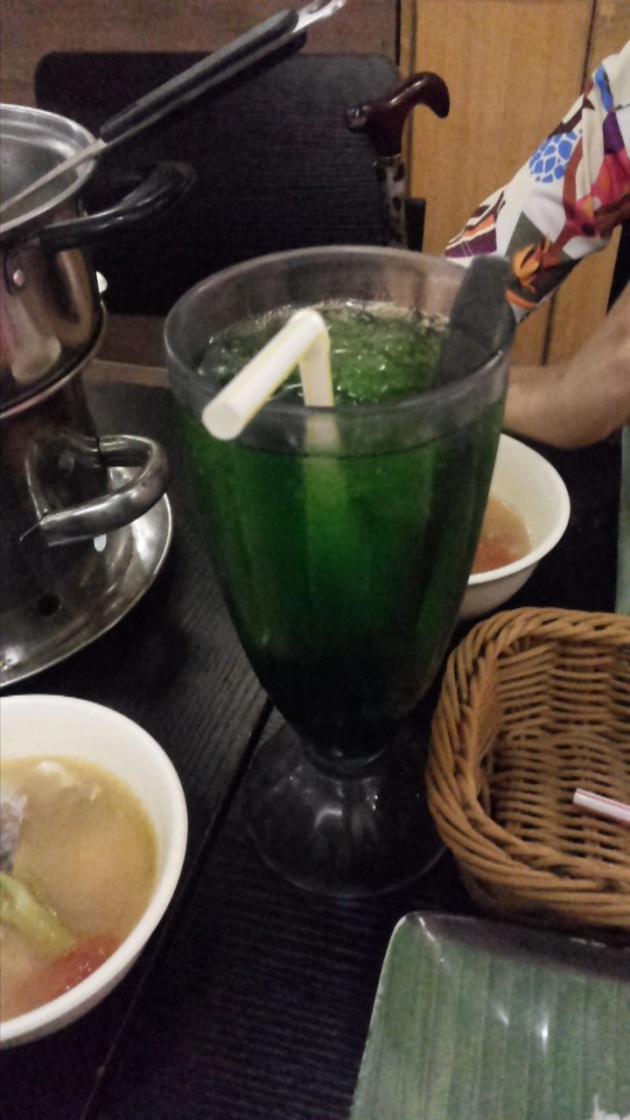 Photo credit: lapiz-lazuli
It's nothing special in itself, but I missed the taste and the cold washing down my throat; yeah it was that d@mn cold. And gulaman in Hong Kong sounded neat. The portion size wasn't personally satisfactory, even if it was housed in parfait glass, in which the glass was actually made of plastic (specifically, acrylic, I presume).
With Pinoy Booze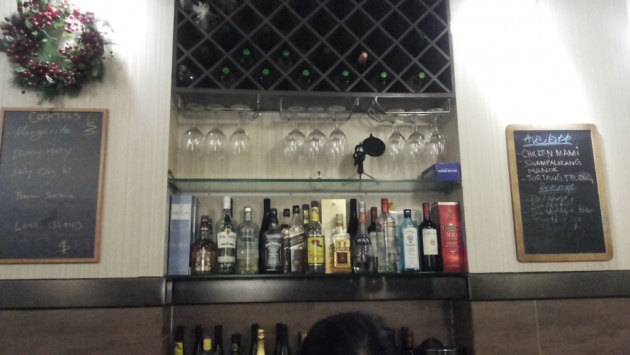 Photo credit: lapiz-lazuli
Speaking of refreshments, Dabarkadz almost felt like a bar and restaurant establishment, instead of a common eatery. Bottles of booze were displayed on their shelves, and they're quite many. We didn't order any alcohol, though, as we we're not keen drinkers.
Carbs with Veggies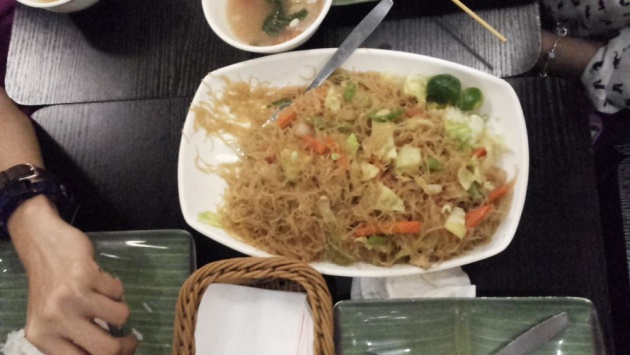 Photo credit: lapiz-lazuli
For carbs, we either had rice or pancit, or both, if one still had room for the other. Nothing too fancy, but filling and subtly tasteful. Pancit is mostly served as food for celebratory parties or as late afternoon snack, but that moment, we had pancit bihon for dinner. Well, we needed to taste Dabarkadz's pancit. It was good, but I tasted better ones. For me, pancit is a tricky dish. You don't know why it really clicks, but you'll know what makes it worse.
There were few patrons while we were eating and I noticed their orders. It was a good boost for my Pinay ego that there were really some Hongkie salarymen clad in business suits munching on pancit. They must like it like us. But then I knew I shouldn't be much amazed and proud, as pancit was orginally invented by the Chinese.
Protein with Veggies
For protein (and little fat), we had sinigang na tanigue and barbeque.
Sinigang na Tanigue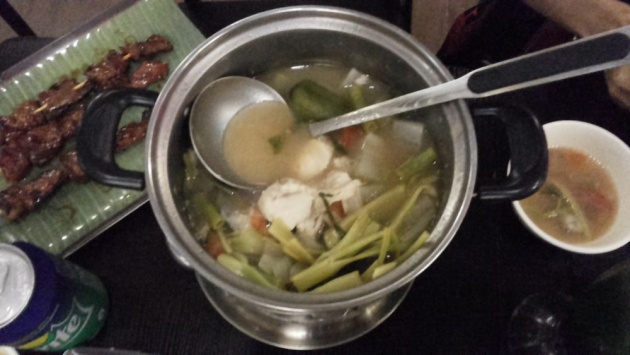 Photo credit: lapiz-lazuli
Sinigang is a tangy stew, and tanigue is tagalog for Spanish mackerel. Sometimes this tangy stew also has a slight savory taste because of green chili and radish.
Dabarkadz Restaurant really did a good job with this dish. It was served with a torch below the pot to keep it warm. The broth had thicker viscosity than a typical sinigang. Flavorful, with hot, spicy, and sour battling their way around someone's tastebuds. The flesh had a soft texture, especially the belly, where it seemingly melted in the mouth. There was so much happening in the dish because it was filled with other ingredients, particularly vegetables. But I still find them somewhat in harmony with one another.
Pork Barbeque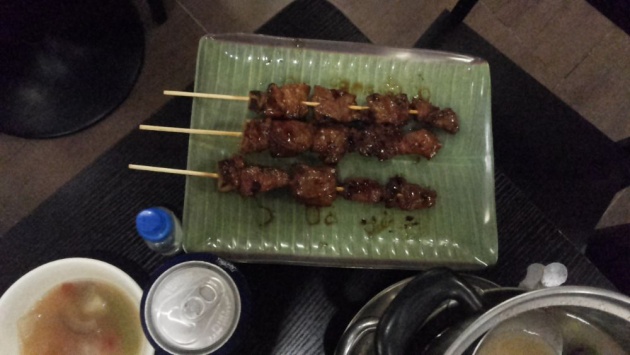 Photo credit: lapiz-lazuli
Another macro was the barbeque. I really like my meat easy to chew, and this one didn't disappoint. The flavor also didn't disappoint. The marinade and the basting sauce seemed properly prepared, the barbeque didn't need any condiment for me to enjoy it.
More than Appropriate Portion Sizes
Because we were light eaters and my aunt was on a diet, finishing our meal had been a chore. The food was generally good, but the portion sizes were more than enough for us.
I had a memorable time at Dabarkadz Restaurant.
Simple it might be, I felt invested in sewing words to complete this fabric of a blog post. Now that I'd aired something out, it could be your turn to air something out that relates to restaurants, so here's a Querlo chat for you:
End note: Pictures, videos and write-up are originally made by lapiz-lazuli, unless stated otherwise. Views and opinions in this blog post are truthful but subjective and are not influenced by sponsorship of any sort.