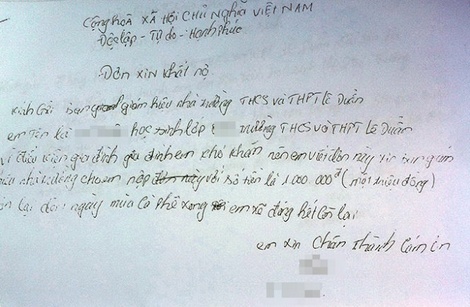 According to the "paper arrears" to the school in 2012, in 2013 we collected, one student wrote: "As difficult family conditions I wrote this application for tuition they paid 1 million was Back to the coffee harvest season is finished I will play ".
Similarly, another parent wrote in an "Application for students arrears amount": "Now my family was difficult, so I paid 500,000 dong before. And how much my family to December will fully pay for school. I sincerely thank him. "
After writing paper arrears, school students will be given a "license to class." Reportedly, the academic year 2013 - 2014, the college had 17 receipts totaling more than 2.4 to 2.6 million.
They include cash receipts as school janitors hygiene 50,000 / students, 70,000 paper checks / student, school uniforms 420,000 VND / students; electric water pump 60,000 / student; maintenance of photocopiers, computers, 40,000 / student; ornamental plants, decorative layer (40,000 / student), teaching and learning support (250.00 contract / student) ...
Talking to Youth Day 25-9, Le Van Anh, Secondary School Principal - High School Le Duan - said last time in 2012 the building difficult to have social mobilization of the contribution of women Students and families.
However, after the Department of Education and Training Inspectorate concluded Dak Nong, the school has held back earnings irrational parents.
"At that time I had just been appointed, the school is so much more writing, not delve regulations lead to errors" - Mr. Light said.
On reflection parents forced to sign the "paper arrears," Mr Light said that there is a lack of accurate information, the school only requires parents to confirm the amount paid, to track missing. The paper sleeve inscribed "paper arrears" was recorded by the parents themselves.