"I was out there calling you in my head and then you appeared. What a team!" - Seiji Amasawa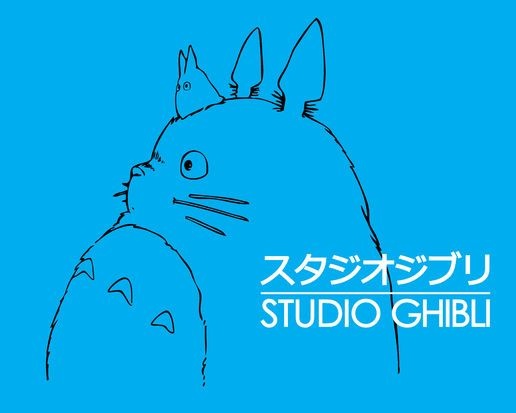 Image Credits : disney.wikia.com
Studio Ghibli is Japanese animation studio who best known for anime featured films. It was founded on 15 June 1985 by Hayao Miyazaki, Isao Takahata, Toshio Suzuki and Yasuyoshi Tokuma. The studio mainly produced Miyazaki and Takahata movie. They have different character, Miyazaki movie have unimaginable story and a lot of imagination while Takahata focus on the feeling.
People will remember Takahata with the heart-breaking and touching story from Grave of Fireflies. The movie is about World War in Japan and how teenager and his sister try to survive in the midst of war and for Miyazaki, Spirited Away is memorable because it won Academy Award in 2003 and Golden Bear in 2002. The story is about young girl lost in the spirit world and she met a boy who help want to help her back to her parent.
There is other directors who have worked with Studio Ghibli include Yoshifumi Kondo, Hiroyuki Morita, Gorō Miyazaki, and Hiromasa Yonebayashi. Studio Ghibli produce awesome movie that makes you can see the movie several times but doesn't feel bored. I can't count how many times I see their movie but I still love it every time I watch.
They have great storyline and you can learn something when you watch the movie because they let you in into fantasy world and you can think freely when you watch the movie. They also make our heart flutter when you see the romance that not too sweet but that exactly what you want.
This is my list from Studio Ghibli that make my heart flutter :
9. My Neighbor Totoro
Director : Hayao Miyazaki
Writer : Hayao Miyazaki
"Trees and people used to be good friends. I saw that tree and decided to buy the house. Hope Mom likes it too." - Tatsuo Kusakabe
Storyline :
"Two young girls, Satsuki and her younger sister Mei, move into a house in the country with their father to be closer to their hospitalized mother. Satsuki and Mei discover that the nearby forest is inhabited by magical creatures called Totoros (pronounced toe-toe-ro). They soon befriend these Totoros, and have several magical adventures."
Written by Christopher E. Meadows – IMDb
This is the first movie I watch from Studio Ghibli and make me fall in love. Actually, the story focus on Satsuki and Mei who found Totoro in forest and their unimaginable adventure with Totoro. Totoro is adorable and I guarantee that people who like to dream want to meet Totoro in real life.
There is young boy name Kanta who is grandson from the granny that help in their house. Kanta is typical young boy that very shy but have a good heart. It is obvious that Kanta like Satsuki but he shy to show how he feel (because he still in elementary school).
The moment that make my heart flutter it is when he lend Satsuki and Mei umbrella but he said to his mother that he forget to bring the umbrella home.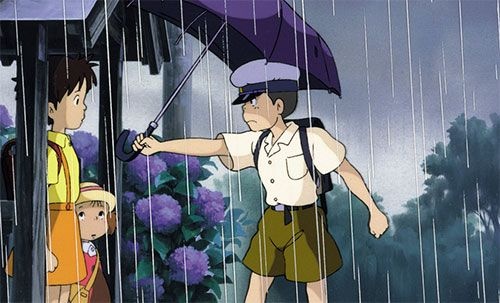 Image Credits : muripo.com
8. Spirited Away
Director : Hayao Miyazaki
Writer : Hayao Miyazaki
"Something you wouldn't recognize. It's called love." - Kamaji
Storyline :
"Chihiro and her parents are moving to a small Japanese town in the countryside, much to Chihiro's dismay. On the way to their new home, Chihiro's father makes a wrong turn and drives down a lonely one-lane road which dead-ends in front of a tunnel. Her parents decide to stop the car and explore the area. They go through the tunnel and find an abandoned amusement park on the other side, with its own little town. When her parents see a restaurant with great-smelling food but no staff, they decide to eat and pay later. However, Chihiro refuses to eat and decides to explore the theme park a bit more. She meets a boy named Haku who tells her that Chihiro and her parents are in danger, and they must leave immediately. She runs to the restaurant and finds that her parents have turned into pigs. In addition, the theme park turns out to be a town inhabited by demons, spirits, and evil gods. At the center of the town is a bathhouse where these creatures go to relax. The owner of the bathhouse ..."
Written by Zachary Harper – IMDb
There is adorable character in this movie that really like chihiro but the way it show the love is dangerous and harmful. Kaonashi or no-face is the most memorable character, he saw chihiro and look like it fall in love. It gave everything that Chihiro like even harm other creature just to get the love. The other one there is Haku who Chihiro met before she wander is the spirited world. Haku try to save Chihiro to survive at that place and help her to go back to Chihiro World. There is something between them and how Haku treat Chihiro made her heart move and do everything to help Haku remember the name that the witch take it.
The moment that make my heart flutter it is when Chihiro go to witch house to help Haku remember the name. That scene show how care Chihiro to Haku, the boy that want to help her. They want to help each other even they don't know each other and that is love.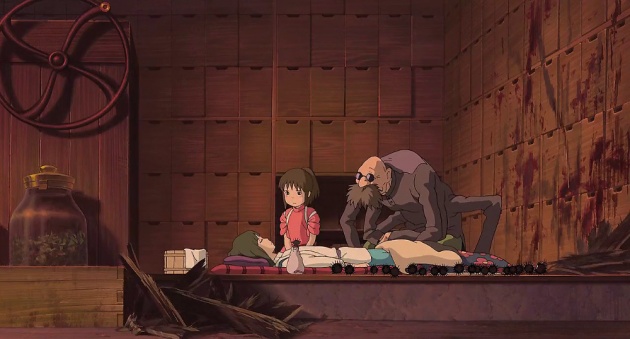 Image Credits : spiritedaway.wikia.com
7. Ponyo
Director : Hayao Miyazaki
Writer : Hayao Miyazaki
"Look at her. Isn't she pretty?" - Sosuke
Storyline :
"The son of a sailor, 5-year old Sosuke lives a quiet life on an oceanside cliff with his mother Lisa. One fateful day, he finds a beautiful goldfish trapped in a bottle on the beach and upon rescuing her, names her Ponyo. But she is no ordinary goldfish. The daughter of a masterful wizard and a sea goddess, Ponyo uses her father's magic to transform herself into a young girl and quickly falls in love with Sosuke, but the use of such powerful sorcery causes a dangerous imbalance in the world. As the moon steadily draws nearer to the earth and Ponyo's father sends the ocean's mighty waves to find his daughter, the two children embark on an adventure of a lifetime to save the world and fulfill Ponyo's dreams of becoming human."
Written by The Massie Twins – IMDb
This is cute story that makes me smile whenever I saw the movie. Ponyo can make small ship bigger and take Sosuke who is only five years old have great adventure with Ponyo to find her mother who is at her workplace. This imagination feel real when I watch this movie with my nephew and niece who have the same age as Sosuke. They keep asking me to make the ship like the movie and take them to the adventure.
The moment that make my heart flutter it is when Ponyo's mother ask Sosuke about how he feel to Ponyo, that brave five years old answer proudly "I love Ponyo whether she's a fish, a human, or something in between."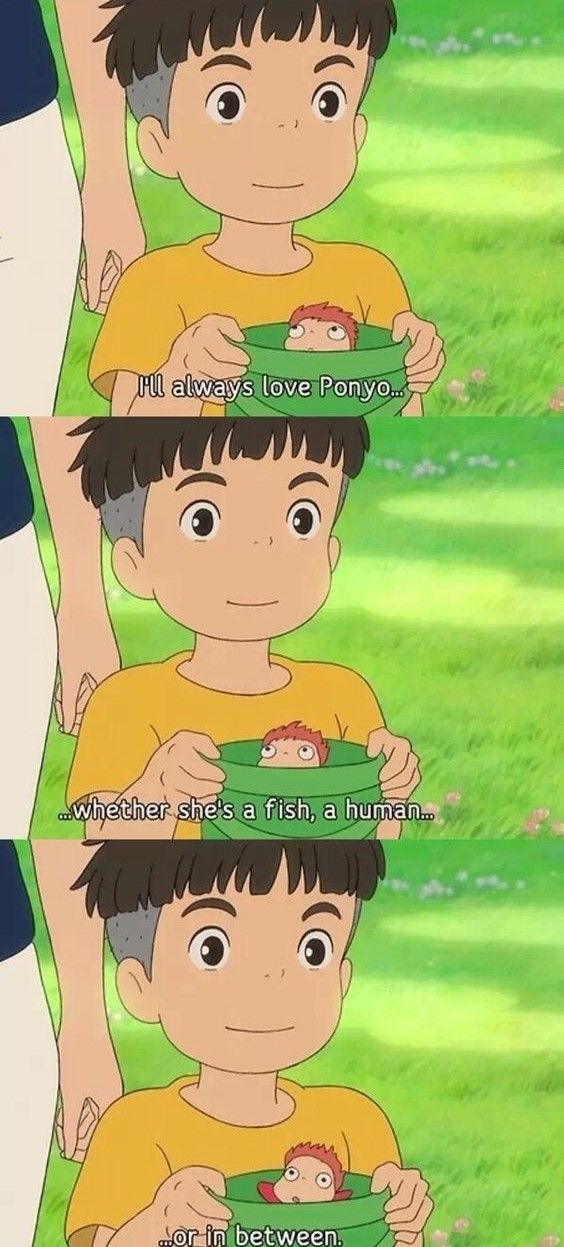 Image Credits : Pinterest
6. Kiki Delivery Service
Director : Hayao Miyazaki
Writer : Eiko Kadono (novel), Hayao Miyazaki (screenplay)
"We each need to find our own inspiration, Kiki. Sometimes it's not easy." – Ursula
Storyline :
"This is the story of a young witch, named Kiki who is now thirteen years old. But she is still a little green and plenty headstrong, but also resourceful, imaginative, and determined. With her trusty wisp of a talking cat named Jiji by her side she's ready to take on the world, or at least the quaintly European seaside village she's chosen as her new home. "
Written by Anthony Pereyra – IMDb
What I love about this movie is they give me thought about being independent and find our passion. There is a moment when we lost even when we doing something that we like or we know and if we think too hard about that it only will harm ourselves. We need to enjoy the life and talk with good people, everyone have their own time and our time will come to find ourselves and do what we love.
The moment that make my heart flutter it is when Kiki and Tombo (a young guy who adore Kiki) try to fly using bicycle and in the end they failed but they look adorable when they talk about their dream.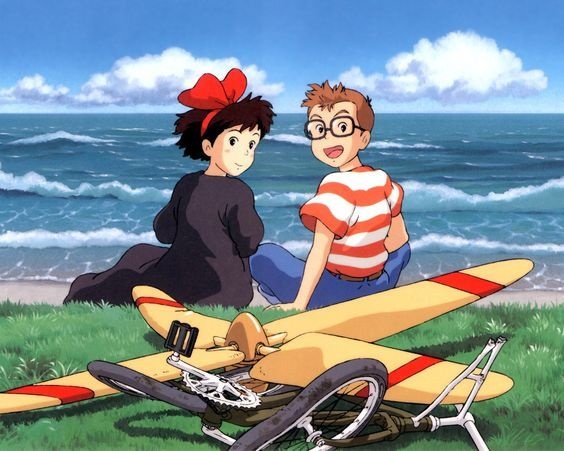 Image Credits : Suwals.com
5. The Secret World of Arriety
Director : Hiromasa Yonebayashi
Writer : Mary Norton (novel), Hayao Miyazaki (screenplay)
"When I saw you, I just wanted to find a way to protect you." – Sho
Storyline :
14-year-old Arrietty and the rest of the Clock family live in peaceful anonymity as they make their own home from items that they borrow from the house's human inhabitants. However, life changes for the Clocks when a human boy discovers Arrietty.
Written by ANN – IMDb
I love this because this is the story about love without string. This is about prejudice that human have bad heart and can do something harmful to other creature. Well, it is not wrong but there is also human who have good heart who will help other because he want to. Sho want to protect Arrietty when the saw her but the parent doesn't believe that human can help borrower and there is the helper that want to expose about Arrietty life. The story kind of complicated and sad for me.
There is two moment that my heart flutter when I see the movie, the first time is when the first time Sho saw Arrietty because I can see love in his eyes. The second time is when Arrietty give the hairclip to Sho and then Sho said "Arrietty, you're a part of me now. I'll never forget you, ever.". That is just adorable!!!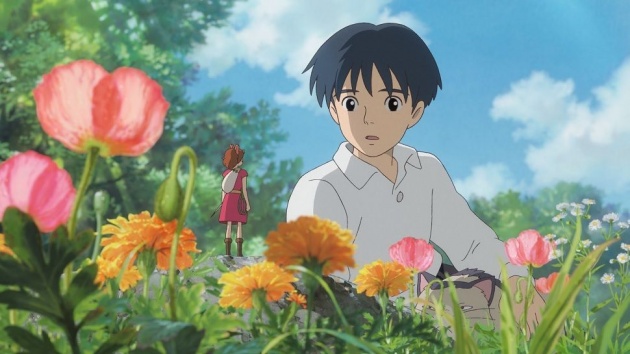 Image Credits : Nerdist.com
4. From Up Poppy Hill
Director : Goro Miyazaki
Writer : Tetsurô Sayama (original story), Hayao Miyazaki (screenplay)
"I guess we stop feeling what we feel" – Shun
Storyline :
A group of Yokohama teens look to save their school's clubhouse from the wrecking ball in preparations for the 1964 Tokyo Olympics.
– IMDb
There is beautiful love story between Shun and Umi. This is complicated because they have the same picture of their father. They fall in love but have to meet the fact that they might be brother and sister. This is hard to watch because the story about how they meet and how the grow fond to each other is too appealing.
The moment that make my heart flutter it is when they first meet. Shun who is very brave jump from their clubhouse to pond in their school. Umi startled when she see the scene and run to help Shun, who is just stranger at that time.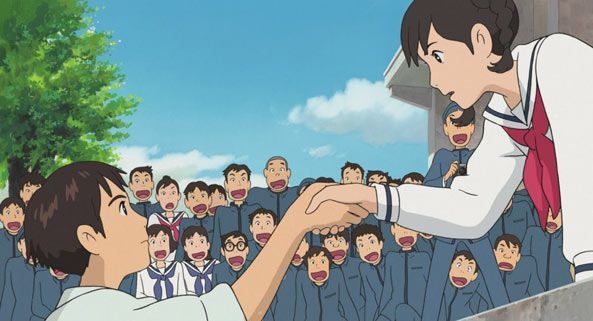 Image Credits : Wikipedia
3. How Moving Castle
Director : Hayao Miyazaki
Writer : Hayao Miyazaki (screenplay), Diana Wynne Jones (novel)
"Sorry, I've had enough of running away, Sophie. Now I've got something I want to protect: it's you." – Howl
Storyline :
"A love story between an 18-year-old girl named Sophie, cursed by a witch into an old woman's body, and a magician named Howl. Under the curse, Sophie sets out to seek her fortune, which takes her to Howl's strange moving castle. In the castle, Sophie meets Howl's fire demon, named Karishifâ. Seeing that she is under a curse, the demon makes a deal with Sophie--if she breaks the contract he is under with Howl, then Karushifâ will lift the curse that Sophie is under, and she will return to her 18-year-old shape."
Written by Sophie Ball – IMDb
I love how the character is not perfect. Sophie is the unconfident woman and Howl who is handsome but cranky and pessimist. They meet and complete each other. There is Markl who is cute and lovable and calcifer the fire demon that have anger issue but very kind. The story is how Sophie change heart of Howl and how Howl give confidence to Sophie, this is just too beautiful.
The moment that make my heart flutter it is when Howl want to run away and give Sophie the beautiful place that meaningful to Howl. Sophie insist that she doesn't want Howl go but convince Howl in unconfident way.
"Young Sophie: So you are going away. Please, Howl. I know I can be of help to you, even though I'm not pretty and all I'm good at is cleaning.

Howl: Sophie! Sophie! You're beautiful!"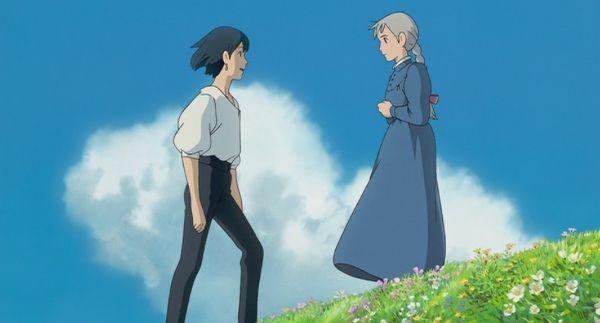 Image Credits : planetminecraft.com
2. Only Yesterday
Director : Isao Takahata
Writer : Hotaru Okamoto (manga), Yuuko Tone (manga)
"If today's no good, you'll have tomorrow. If tomorrow's no good, you'll have the next day." –Taeko
Storyline :
A twenty-seven-year-old office worker travels to the countryside while reminiscing about her childhood in Tokyo.
– IMDb
I just feel that Taeko life is sooooo similar to mine. It is rarely to my family to have trip together because my dad is so busy and I have to follow my parent because they said so. Taeko is 27 years old, she feel lost and unsure about her life and decide to have trip to countryside while reminiscing about her childhood. How their sister and the parent treat her and how she meet the boy who like her.
The moment that make my heart flutter it is when the boy ask Taeko about weather. After that conversation she literary run and fly away to the sky because she feel so happy. That is the same like me when I fall in love, I feel my body lighter and I feel that I can fly.
Hirota: Rainy days, cloudy days, sunny days... which do you like?

Taeko: ...cloudy days.

Hirota: Oh, then we're alike."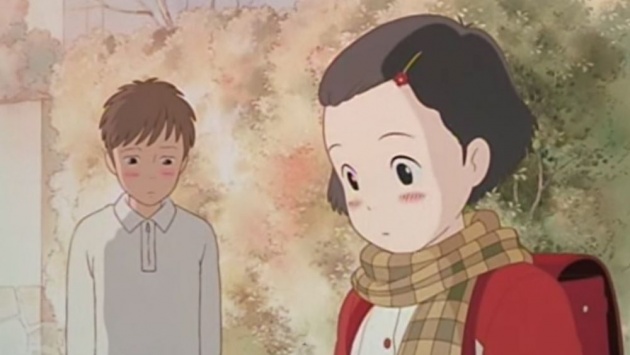 Image Credits : villagevoice.com
1. Whisper of the Heart
Director : Yoshifumi Kondô
Writer : Hayao Miyazaki (screenplay), Aoi Hiiragi (comic)
"It's not easy to live your own way. You can't blame anyone but yourself." - Seiya Tsukishima
Storyline :
A young girl finds that all the books she chooses in the library have been previously checked out by the same boy. Later she meets a very infuriating fellow... could it be her "friend" from the library? The boy's grandfather has a violin sales and service shop. The boy wants to be a violin maker like his grandfather.
Written by Dana Anthony – IMDb
I'm a woman with full imagination and when I see the movie I feel so happy. This the love story that I want, they meet through the book. Shizuku loves to read and she wonder that is the same person who read the same book before her. She want to meet him and accidentally meet him at the old unique store. Shizuku is full of doubt and still don't know what she like, she still search her passion and Seiji already found what he like, it is Violin. Seiji inspire Shizuku to find what she like while Seiji already in love with her mind, it is lovable that they inspire each other.
The moment that make my heart flutter it is when Seiji propose Shizuku. They only 14 years old but their love look so pure and make me envy. The story is so calm yet beautiful for me.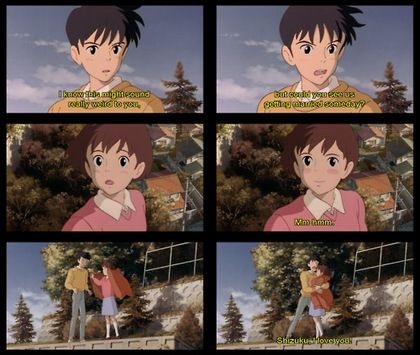 Image Credits : Pinterest
I give you bonus the trailer of Whisper of The Heart. This is what you need if you forget about romance.
So, how about you?