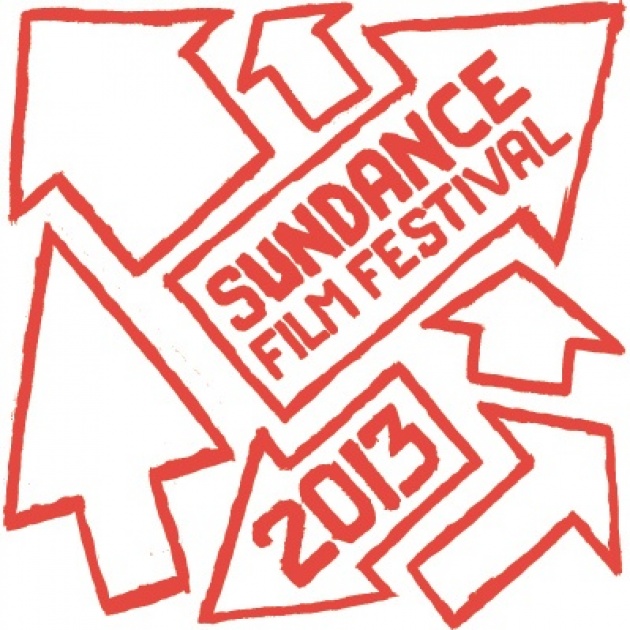 On Tuesday, in our first Film Annex Industry News blog, we presented the latest news on Sundance Film Festival and how female filmmakers took the festival by storm. Today, we'll see how the Festival took over social media.
Sundance gives all its latest news on its official website but if like many of us, you'd rather get updates from your favorite social networks, here is how to follow the Festival and get the best of it.
A great new feature this year is the Google Hangouts. If you're not familiar with it, it's simply a video chat. Sundance Google Hangouts let you watch video events with filmmakers, experts and special guests. You can also participate by submitting a question via Google chat or Twitter using the hashtag #SundanceHangouts. Don't miss the last one at 2pm tomorrow: Surprise Hangout and Preview of the Sundance Film Festival Awards. Sundance also live streams interviews, Q&A and special events. Go to their playlists and you will see how it is backstage with Joseph Gordon-Levitt, unless you prefer to watch the Short Film Awards? Social media is a great tool for live events as its interactivity lets people participate and not be just inactive viewers. All those events are relayed on Sundance's other social media platforms as well.
For the first time this year, Sundance created a Pinterest page. With the many filmmakers, actors and other artists attending the festival, Pinterest is the perfect platform to relay pictures taken on premieres, backstage or during interviews. It's 21 boards full of film stills, red carpet fashion photos and "Instagramed" pics.

Sundance takes advantages of the 'up and coming' social platforms but it doesn't leave the 'veterans' on the side. The Facebook page, with more than 370K fans is the most followed of Sundance's social networks. Like on Twitter, they do a great job with linking each one of their post to the people, movies, or organizations they talk about. Every single post has an average of 2 to 3 other pages tagged in it. The Facebook page is a more general portal to see and know everything about the festival, from links to the Twitter guest feed and last interviews to a reminder for the next Google Hangout. If you don't have time to go around all their platforms, stick to the Facebook page and it will guide you through everything else.
The festival's work on Twitter is impressive. Sundance Institute has 5 Twitter accounts, 2 of them being dedicated to the Festival. @sundancefest is the official Twitter and the home to their guest feed. At times during the festival, a guest takes over the feed and makes it his own for a few hours. The next guests on the program are artist @YuungJaaKe on January 25th, writer/director @lizwgarcia on the 26th and later that same day, actor, writer and director Joseph Gordon-Levitt (@hitrecordjoe) will tweet backstage as he'll host the 2013 Awards Ceremony along with programmers @cooperdance and @trevorgroth. Their 2nd Twitter @sundancefestnow is a 24/7 Live coverage of the festival so you know what is happening to the minute. And of course, anyone who tweets about it should use their official hashtag #Sundance.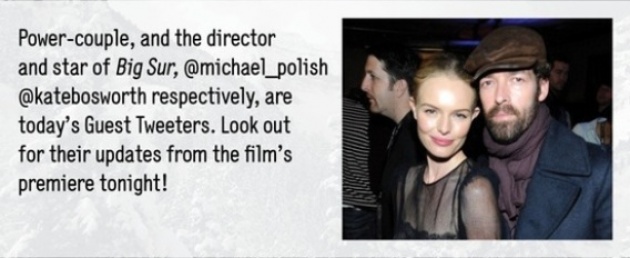 Lastly, Sundance took over the Screening Room on YouTube to present 12 short films debuting at the Festival this year. The sub-10-minute short film category is where you might find the up and coming indie filmmakers. As it's not easy for them to find distribution, they often turn towards festivals and the Internet. Just look at how many short film makers we have on Film Annex! Sundance decided to offer them the opportunity to be shown online as well as during the festival via a YouTube Screening Room channel.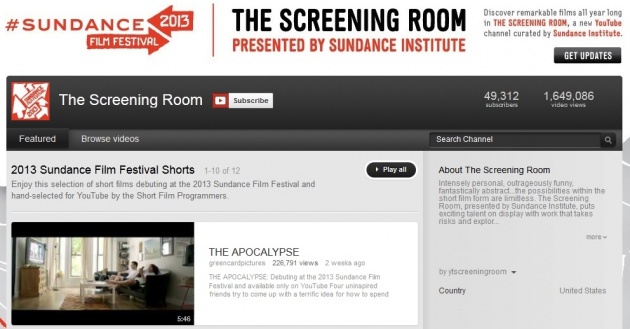 So if you are not attending Sundance this year, no worries! They got you covered! Its social media networks will tell you everything you need to know about this year's festival, without having to leave your computer screen.