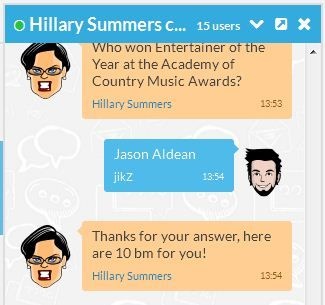 (Image source: Personal - screenshot and cropped by jikZ)
Hurrah! Micky-the-slanted-salerno recently published the latest topic that will generate double reward points. Just like previous topics, it is useful and informative – but this latest one has the added bonus of financial benefit to the member. And as can be seen on the introductory photo, I have already done my part -- I participated in the survey and now overly excited for my BM rewards.
As you may have probably guessed, this post is all about the latest and amazing earn-double-reward-points topic … *drumroll please* ….
"bitLanders Survey Chat"
Since the Survey Chat has just been launched, this post aims to highlight my first experience on participating in the survey. This post would also include my opinions, notes, and observations that may serve as reference for other members. Lastly, this post may be used as an excellent guide by any reader as it will discuss important mechanics of the bitLanders Survey Chat such as how it works, why it is advisable for any member to partake in it, how many questions that it have, etc...
What is the bitLanders Survey Chat?
It is basically an interactive survey within the Global Chat (also commonly shortened to GC) that launched a few days ago. Hillary will conduct the survey which is composed of a series of question on different areas of interests such as politics, sports, entertainment, technology, news, etc…
For each answered question, Hillary will reward you with 10 BM (bitMiles loyalty points). If you are done with the survey, you can check how much bitMiles loyalty points you have received on the Wallet Movement section with the label bitMiles applications and games. This particular section can be reached by clicking on the "Details" button of your Rewards page.

(Image source: Personal - screenshot and edited by jikZ)
NOTES:
1. If you are curious on how much you have earned from the survey or if you want to ensure that it will be credited, simply record or make a screenshot of your current BM balance before answering the survey. The quickest way to see your exact current bitMiles Loyalty Points (BMs) is by hovering your mouse over the gBm icon as shown below:

(Image source: Personal - screenshot and edited by jikZ)
2. After concluding the survey, you may now compare your bitMiles Loyalty Points balance with the one you recorded prior answering any questions. However, please ensure to give it a few minutes (with utmost of 24 hours) before checking your accumulated rewards from the survey. Remember, the site has thousands of users and it is possible that most of them have also partook on the survey at the same that as you did. Obviously, this means that it may take time to process all of it so don't panic because it will surely arrive.
3. As mentioned, the survey rewards will be reflected on the "Wallet Movements" section. However, if you are NOT familiar with the said section, then most likely, you are also not familiar with the "Current month estimated daily Rewards" aspect of the site. These two sections can be found by clicking on the Details button of the Rewards page – it would also be advisable to read the middle section of the comprehensive guide provided below:
"A Better Understanding About Earnings on bitLanders"
How to participate in the bitLanders Survey Chat?
Partaking in the survey is actually quite simple. Just log on the Global Chat by clicking the following buttons / icons:

(Image source: Personal - screenshot and edited by jikZ)
For PC/laptop users, you will see the chat mini-tool bar (label A) on the lower right corner of your screen. Likewise for members who uses the bitLanders mobile app, it should also be on the lower right portion of your mobile device (orange conversation icon labelled B)
Once logged in on the Global Chat, Hillary Summers (the same Hillary who reviews submitted content) will welcome you and will initiate the conversation about the survey.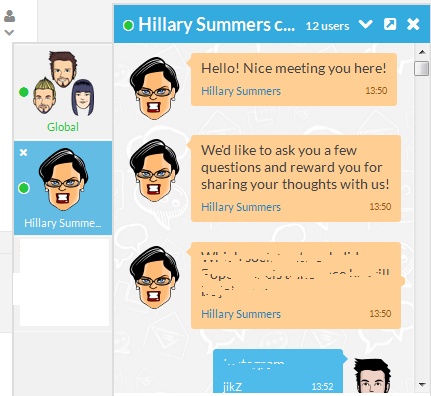 (Image source: Personal – screenshot and edited by jikZ)
The photo above shows Hillary saying Hello and initiating the starting portion of the survey. I have removed the question as well as my response since each may be different for every member.
NOTES
1. Hillary will be the one to start the conversation and initiate the survey. After logging in to the GC, don't go around and looking for her as she'll be the one to find and converse with you.
2. Hillary's profile/user name is Hillary Summers. Additionally, her face and avatar is also unique. This is a design of the system so that no one can impersonate her.
3. Participating in the bitLanders Survey Chat is FREE and seemingly open for every member! Don't believe anyone who says otherwise. Remember, you are the one who gets paid when answering the survey and each member are encouraged to join.
4. Once you have answered all the questions, Hillary will say thank you and bid farewell. This means that you have finished the survey for the day. At this point, your conversation window with Hillary will remain open but she will not ask additional questions. The conversation window will remain open until you close it or if you log off the Global Chat.
5. If your survey is done for the day, you can participate again tomorrow.
Sharing my initial observations on the bitLanders Survey Chat
I am actually quite excited when I first read the bitLanders Survey Chat from the post of Micky-the-slanted-salerno. On his blog, Micky provided a screenshot of Hillary mentioning four topics; technology, sports, economy, and politics – three of which I am particularly fond of.
Anyway, categorized below is a breakdown of my experience.
Not limited to four topics –
When I joined the survey, I am expecting questions from only four topics. However, I was amazed to see questions on additional subjects like religion, social media, bitcoin, other areas of crypto / digital currency, etc… Needless to say, this is a good thing as the interest-based just grew wider.
There is no Right or Wrong so Don't be Afraid!
If you are afraid on taking the survey because you are worried that you don't know the answer or might get it wrong – don't worry! Remember, Surveys are NOT Quizzes!
A survey is generally defined as a method of collecting data from a population for statistical analysis. If there is a question that you are not familiar with and don't know the answer to – again, don't worry about it.
This only shows that there is a portion of the population which is not aware of that certain sector. Every answer on the survey is considered as valuable data which will still be included for statistical analysis.
Besides, you will still get the 10 BM reward for every time you respond!
Yup, you read that right. Whatever your response is, you will 'll still get that 10 bitMiles Loyalty Points reward.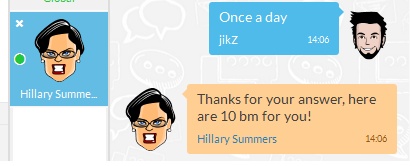 (Image source: Personal – screenshot and edited by jikZ)
How long did I take to complete the survey and how many questions?
I started the survey at 1:50pm and finished at 2:06pm. Based on my count, there are 47 questions. Now, some of you may be thinking "Whoa! jikZ is a genius since he answered 47 questions within 16 minutes"
Although, that is quite flattering, let me remind you that in a survey, there are no right or wrong answers, hence – there are no easy and difficult questions. Surveys are more like a matter of familiarity, opinion, interest, and perspective!
On top of this, it seems that there is no time limit when answering the survey. So don't rush, take your time, and enjoy the activity.
Is the number of questions fixed?
I have to verify this one on my next blog since I can only partake in the survey again tomorrow. Normally in a survey, the participant's answer to a question may lead to other (or more) related questions. So as of posting time, I am relatively-unsure if the number of questions on the bitLanders Survey Chat is fixed at 47.
How will I know if the survey is over?
It is quite easy to know that the survey is over since Hillary will thank and inform you. Please refer to screenshot below:

(Image source: Personal – screenshot and edited by jikZ)
Well, that's just about it. I hope that my post has given you a clearer idea on what is the bitLanders Survey Chat and how it works. If you carefully read my post, then you would be able to compute how much bitMiles Loyalty Points I have earned just by taking the survey. Also, if you paid special attention to this blog's contents, you will know at what part of the blog the photos included on the video below have appeared.
(Video Source: Personal - created and uploaded by jikZ)
The bitLanders Survey Chat is financially beneficial because aside from the mini-treasure-box hunting, I also now have the survey chat to look forward to boost my earnings.
So what are you waiting for? Do the survey now and watch that earnings grow! As I always say, bitLanders should be Fun and Rewarding!