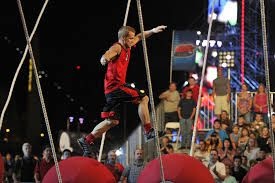 Everyone is currently infatuated watching the show American Ninja Warior, though also not less interesting entertaining Idol.at America

The problem is not just entertainment, because the film also has a story entertainment and imaging, but the category is a story that requires the audience to think sometimes make the audience bored and lazy.

While the spectacle really is entertainment and invites the audience cheerfully is music, there is also a show full of challenges and invites the audience to remain seated without moving at all, because if left where we sit while the event remains in progress would have missed, while the event can not be in rewind.

Television programs that are currently being fever and tend to not want to miss is the 'American Ninja Warrior', there are also honing children's favorite dishes to make.
Which are the most in love? Of course the whole family loved the show really entertaining.
To follow the event as a participant of course they have to prepare themselves mentally, physically, skills and knowledge, so it will be more to be enjoyed spectators and viewers are also infatuated with the event.