This week, I focused on trying to help our independent filmmakers use social media to promote their content and also reviewing what have been their promotional efforts.
Film Annex Twitter account is now following our most active filmmakers, especially those listed in Eren's Picks. They regularly tweet about their Web TV, movies and blogs and are a good source of inspiration for other filmmakers on how to promote their work on Twitter. You can read all about it in this blog and directly see the list here.
We recently decided to focus more on LinkedIn in our social media efforts and also by giving the platform more influence in the BuzzScore. So I thought I would give a list of tips and recommendations to our filmmakers so they can learn how to use LinkedIn to better promote their work. This can also be adapted to writers and any other professionals. LinkedIn is a growing professional platform which deserves taking the time to learn how it works. It's full of career building and business deals opportunities.
Back to our filmmakers' online promotional efforts... I visited their websites and different social profiles to review how they advertise their Web TV and promote their work online. It can give other filmmakers some clues on how to do the same with their films and take full benefit of Film Annex's Web TVs system and revenue model. A series of blogs to come on this topic...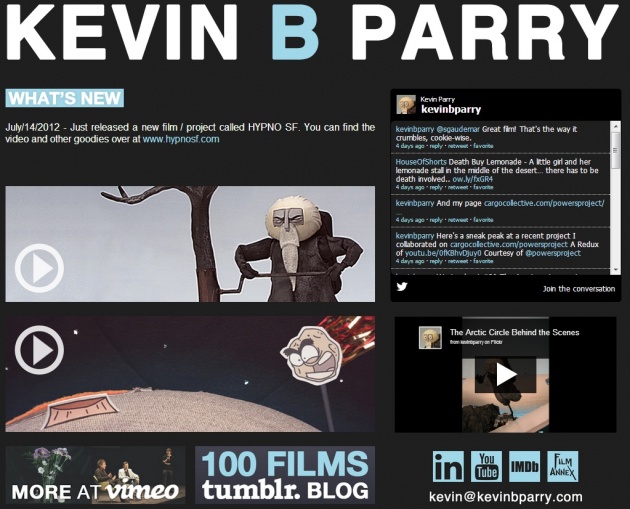 Kevin Parry's website. You can see an example of link to his Web TV above on the right along with links to his other social media platforms. http://kevinbparry.blogspot.com/
Now, as always, a quick review of the new content put online this week. Several videos have been added to the NATO channel and the White House Wire Web TV. After his visit in the Film Annex studios, Charles Pieper started digging into his old videos and uploaded several short films. Ciaron Craig, who joined us recently, started building his profile with his last showreel. You can see it below for a first promising look at his films that will be soon on his Web TV.
Andy Salamonczyk, another recent member, sent us more short films and especially Dawid and Dominik, which has been touring festivals during the last year. The two next candidates for Eren's Picks?
Along with Film Annex's Eren Gulfidan, I prepared a series of questions about Tumblr for the Examer Educational Software. It's always the occasion to review my own knowledge of social media platforms and learn!
Lastly, I started drafting some stats on Film Annex's social media platforms so we can have a better idea of our numbers of fans and followers, demographics and match those with our social media campaigns. All those numbers for November will come next week.