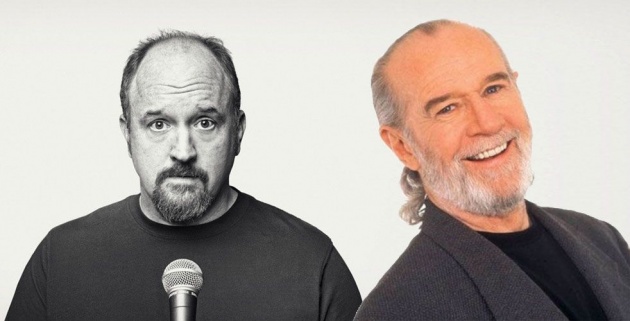 In my opinion, these are the best 2 stand up comedians, and if you only ever learn 2 things from them, learn this:
1. Every year, throw everything away and start over again.
2. Be fearless in your way of being.
When you throw away everything, you're left with NOTHING. And NOTHING is the biggest gift you'll give yourself because when you get nothing, you realize that you already had everything.
When you give up everything you've spent your whole life building, it's freaking scary and you're forced to dig deep, which can hurt, be painful and distressing.
If you want to create a masterpiece out of your life and work, you have to stop talking about your every day bullshit.
You have to stop with ALL the crap that you believe you "should" or "need" to do (listen to why you shouldn't do anything and you can chose to do anything!).
When you stop talking about every day bullshit and stop doing the crap you've been doing all your life, you can start talking talk about how you REALLY feel like, do what you REALLY want to do and be who you REALLY are.
When you've digged deep enough, then you will start talking about your fears and nightmares. And then it gets into weird shit...
When you go through all the weirdness, you eventually reach the point of being able to say what you REALLY want to say but have always been too afraid to say, or may even have never realized you wanted to say!
The deeper you dig, the more you discover what you didn't even know you already had.
And that's what made Louis CK and George Carlin so successful: they say what they REALLY want to say, fearlessly.
When I moved from London to New York for what seemed to be a great business opportunity, I left everything I had build (company, clients, friends, habits, places I loved...) because of the promise of money and power.
My New York experience turned out to be a disaster from a business perspective. And therefore it was a great learning experience!
I had another attempt at doing a money driven business in the USA right after this disastrous experience because I hadn't quite learned the lesson yet: I can be a bit of a donkey! Obviously, I failed miserably because I wasn't doing what I REALLY wanted to do.
When this second failure happened, all I was left with was the image I had build, my insecurities, worries, fears and limiting beliefs.
I was doing terrible because I believed that I had to look a certain way and behave a certain way to be taken seriously.
When I finally had the courage to REALLY throw away everything and give up the image I had worked so hard to build, it was scary.I started doing what I always wanted to do: coaching people who create masterpieces out of their life and work.
I started talking about esoteric stuff, the universe, signs, and frankly, I was sure that everyone would think I'm crazy and that nobody would take me seriously anymore!
As I got more interesting responses (note "interesting"... not always "positive"), I eventually grew the confidence to be me and I changed my about.me profile to reflect what I REALLY wanted to say, do and be. One of the big changes (in my mind) was changing my profile photo from my "serious face" to ME.
To my big surprise, views on my about.me page jumps from as little as 47 views a week... to as many as 5,718 views a week!!
I now work with people I love and respect, and who want to work with me because of who I really am. I've had a chance to coach amazing people from all over the world: entrepreneurs, business owners,corporate executives, university professors, artists, writers, musicians, perfume maker, movie director, etc.
And I see every day that the more fearless I am in being me, the more my business soars. I published an article about Robot, Slave or God? two months ago and since then 6 people signed up for a "Slave to God" coaching program. This is the most coaching clients I've ever signed up in 2 months... and funnily enough, it was the one time I didn't even try getting clients because I just spoke my mind!!
My story has happened to many people before me and will happen to many people after me. There is NOTHING special about what I've done because I've done what so many others have done:
BE YOU FEARLESSLY
So this article is all about you because you, too, can live your life fearlessly:
What's holding you back?
What is everything you can't give up / throw away?
If you ACTUALLY threw these away / gave them up like Louis CK and George Carlin, what difference would it make for you?
NOW THROW AT LEAST ONE OF THESE AWAY!!!
Keep creating, keep shining,
Noam
*****
1. If you like this post, follow me on LinkedIn for more regular posts
2. If you want to create a masterpiece from your work and life, tell me more about what you want to create via Redefine Us
3. If you want to find mentors, read Seek to Keep: How to Find the Best Mentors and Keep Them
4. If you want to grow your personal brand, read You Are Your Brand! Everything You Know About Branding but Never Thought Applied to You (required reading at the Fashion Institute of Technology)
5. If you want to grow as a business leader, read Compendium of Business Beliefs: How Perception and Beliefs Affect Your Important Business Decisions
*****
This post was inspired by this video I've watched well over 10 times: