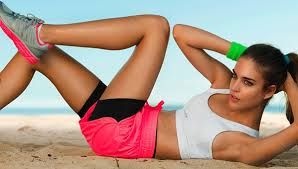 We have all become fitness conscious. Ever since Swami Ramdev gave the mantra of yoga people started realising how important health was and how to take care of it. Ever since people of all ages have started working out either by walking, aerobics, gymming or obviously Yoga. While you are working out it is necessary that you wear the correct outfit but that does not mean it has to be boring . You can manage to look chic even while sweating out. Some tips for outfits while working out.
When we are going for a walk, get into a nice coloured sweatshirt and pants. If you have toned legs go in for shorts and bright coloured tees.
Shoes are of utmost importance while walking. So, please invest in good quality walking shoes. If you love colours then wear matching sneakers with coloured matching pants. While sweating out in the gym remember to wear the right kind of sports bra. Avoid kinky clothes and choose smart polo tees or funky message tees. A nice headband will help you manage your treeses as well as look stylish. You can also make a ponytail for a neat look. Even shorts are great for working out in gym.
With Yoga, you must remember that many asanas require you to perform exercises so you must always wear pants or leggings or your lounge wear. Lose kurtis are great as they allow you to move your body parts with ease. Similarly T shirts are perfect for yoga. You can try the Tees with spiritual messages on them to get the real feel of yoga. There is absolutely no need of accessories like bracelets, chunky necklaces. A sling bag to carry your phone and keys should be enough. Flip flops should complete the yoga look.