When we think about the United States of America, we most likely think of Hollywood, California or New York and other popular places. What about the rest of the US? Texas is known for the people's accent and cowboys... other states are known for their sports team but what about Arizona?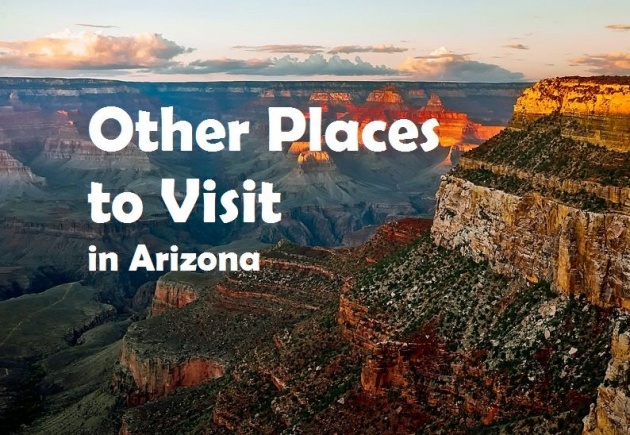 (Photo credit via Pixabay, edited by ArtGirl)
Yes, it's known for the Grand Canyon but what else is worth visiting there? On travel and review websites, you can see many places suggested to visit depending on the location. If you check on Arizona, plenty of things to do will pop up. We have to narrow them down by our interests to find whatever is the best for us. However, if we check on the top things to do in Arizona, it's all about nature tripping. If we aren't into nature that much then where else should we go?
Here are three places to go to if you appreciate museums, Asian and American food plus the night life.
1. Hall of Flame Museum of Firefighting in Phoenix, Arizona
In the Philippines, correct me if I'm wrong but we don't have any firefighting museum at all. We have the Fire (Kabayan) Mummies Museum and other historic places, fantastic old churches and art galleries but no museum of fire to speak of. Not that we need one too but I think it's interesting to know more about firefighting. What better way to do so than at a firefighting museum eh?
We have fire departments in every city of course and they do the best job they can in order to fight fire and save lives.

(Photo credit: ArtGirl's Mobile Screenshot of video by Glen Juego via Facebook)
Early in March, there was a raging fire that burned down a few houses in our area. It's a good thing it was about 4 buildings away from our apartment but it is still a scary thing to imagine coming home to a burned house. On that day, I saw a really big black smoke coming up and the most number of red firetrucks ever. All of them were trying to fit in the narrow streets just to extinguish the terrible fire. Thank goodness it didn't spread too much due to the help of volunteer firefighters.
This is why for me the Hall of Flame, Museum of Firefighting seems such an interesting place to visit.
A fire museum is a repository of many things related to fighting flames and saving lives. This can also be found in other developed nations like Australia, China, Canada, UK etc.
In the US one such museum is The Hall of Flame which is a huge place of more than 1 acre or 70,000 square feet. Inside you will see 6 interesting exhibits among other things:
From 1725 to 1908 - Hand and Horse Drawn Equipment
1897–1948, 1918–1968 and 1919–1950 - Three different time periods showcasing Motorized Apparatus
National Firefighting Hall of Heroes
Wildland Fighting Equipment
(Photo credit via Pixabay)
Suffice it to say, if you're into antiques, vehicles and have somehow been affected by fire problems then this is the best museum to visit in the USA. It seems to be the biggest fire museum in the world to date. A wide variety of helmets and firefighter transport vehicles from around the world and more can be found inside! There are many fire museums in America but this seems to be the best of all.
According to online reviews, it's really spacious that an hour would not suffice for you to explore everything. The tour is well organized and detailed so I think it will be worth the $10 entrance fee for adults. You can bring your kids for some hands on activities too.
Groups, families, senior citizens and students are given discount rates. You can also check some online sites for discounted tickets, much like getting coupons for groups.
I'm not really into cars, firetrucks and antiques but I like history. I'd definitely visit this place if I get the chance one day. If you're like me and can't go there yet, watch this video!
In a world of Instagram-crazy people, we're probably going to take tons of pictures of the place if we go there. ♥ Whew! Oh and they provide information on fire safety too.
I don't know anything about firefighting but I got to say, it looks like you really have to be fit and strong to be a firefighter. Who wants to be a firefighter now huh? If you're preparing to be one soon, better train and be strong like a firefighter first.
(Photo credit via Pixabay)
2. Hana Japanese Eatery in Phoenix, Arizona
After any tiring activity around Phoenix, one can drop by Hana Japanese Eatery for some fresh Japanese cuisine. Have dinner or go the following day for some excellent seafood lunch. What I like about them is they fly in their main food ingredients daily, fresh from Japan! Don't believe me? One of the owners actually said so herself!
The restaurant is partly owned but run by the Hashimoto family so the food they serve is surely as Japanese as can be. Not everything is from Japan though. They source some of their food within the US too.
(Photo credit via Pixabay)
Aside from fresh ingredients, one can ask for some just-made wasabi and enjoy the meals. The eatery also offers vegetarian and gluten-free food. I'm sure it's a great place to dine in whether with friends or family.
They serve the rolls and sushi in a sushi boat with a flaming sugar cube if the order happens to be enough. I haven't experienced being served any food in a mini boat before so this seems fun! Haha.
(Photo credit via Pixabay)
Even if you are in a mostly desert area of Arizona, this place is said to be where you're sure to eat some authentic Japanese cuisine. Hana Japanese Eatery is not a perfect restaurant of course. They do not accept reservations but you can bring your own beer (BYOB), wine or sake or call in for takeaways instead. Sounds good right? Maybe one day I will drop by the place to see if I'll like it too. I hope they still offer quality food by the time I go abroad. Haha.
Rolls and tempura are my usual fare but of course it's best to try other Japanese dishes. They have a lot of items in their menu plus other specials that aren't listed. If one can't go to Japan, those near and going to Phoenix can still enjoy the Asian food at Hana Japanese Eatery.
3. AZ/88 The Bar in Scottsdale, Arizona
If you'd like someplace else to go besides Phoenix, Scottsdale is just beside it. And where should you have fun in Scottsdale? Well there's a certain reputable place where people can dine in for lunch or dinner and have some late night drinks. This upscale place has a modern art vibe and is an all-American restaurant.
According to online articles and reviews, this is where the drinking and partying can be done even past midnight. As an occasional alcohol drinker and music/party lover, I'd definitely visit AZ/88 The Bar soon if I can.
Not only do they have award-winning cocktails, it is also near a museum and an art center! This means we should expect to see a crowd of art lovers, including artists or musicians dining in this artsy restaurant.
Yes, this place has its own artistic touches all over too as you can see in the above images. It has a modern design and the art installation at the bar gets replaced around every four months. Who knows what kind of art we will see from time to time, right? Makes it all the more interesting to me.
One good thing about them is, they are also pet-friendly. You can bring your dog/s with you when you eat there. They also offer gluten-free food by the way.
Here's a video review of AZ/88:
I'm more interested in the art stuff, cocktails and the nightlife though as they are open until 1:30 a.m. On weekends they have live DJs! That's something anyone should check out at least once in Arizona.
Of course there are more restaurants and other places to visit in that state. However, since I wrote about these three, I think it might be fun to visit these places too if I can. Haha.
(Photo credit via Pixabay)
* * * * * * * * * *
So what do you think of these three? Do they seem interesting to you too? Share your thoughts in the comments. :)
Disclaimer: No compensation was made for me to write these for them, I just like to share the things I learn. :D
Did you enjoy this article? Feel free to leave a comment or maybe treat me to some vacation somewhere too if you'd like:
BTC: 3KPXgoTDgLRmUQkUv3JASuQJFMCy439q6h
ETH: 0x8eb793c4f247d8d7085d46595d0c103a6a17c528
Paypal
For more of my travel and food review blogs, click below:
If you're not a Bitlanders member yet, sign up and click here
and be appreciated for what you post plus earn extra $$$.

To know more about this site and if you have any problem or site issues,
read the FAQ then please report and send an email to cs[at]@bitlanders[dot]com.
All images are copyright of their respective owners.
Written for Bitlanders by ArtGirl. All rights reserved
© Art x Stephanie Rue