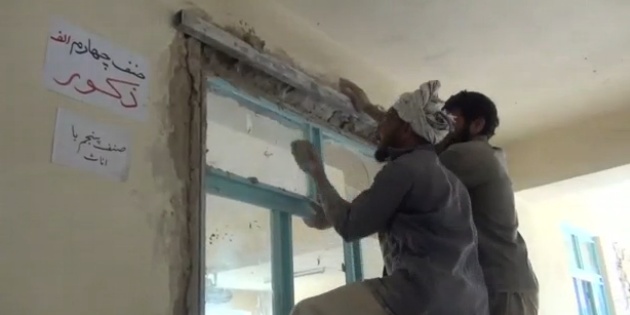 This week, we started the construction of the INTERNET classrooms at Baghnazargah High School in Herat, Afghanistan. Film Annex's video production team in Afghanistan filmed three videos of the exterior and the interior of Baghnazargah High School as well as the construction process. By the beginning of May, we plan to have the first computers connected and ready to be used by the teachers and students of Baghnazargah High School.
The idea of connecting the 4000 students of Baghnazargah High School to the World Wide Web is simple. The speed of realization and the professionalism of Roya Mahboob and her team are impressive. Roya is a very detailed and knowledgeable business woman and has made this process easy and smooth. Thanks to Roya's multitasking and knowledge, we are also prepping to film other schools, make the official agreements with educational institutions, and define social media strategies curriculums for schools in Afghanistan.
Building schools in Afghanistan and connecting Afghan students to the global community of the World Wide Web is the equivalent of providing them a passport and unlimited travel time to compete with the rest of the world. This will be a big opportunity for those who will be able to work with those students once they enter the job market or become Afghan entrepreneurs like Roya Mahboob. The motivation and creativity of Afghan business women like Roya Mahboob is a natural result of the strength of the mind of people who overcome years of war and are motivated to succeed and move forward.
In contradiction with those positive stories, in the past two weeks, we heard once again about Taliban's attacks and arrests. The Afghan war news is still in front of us, but we seldom hear the stories about supporting the new and growing economy of Afghanistan.
The education system of Afghanistan is an incredible business opportunity and is within reach through the initiatives of Film Annex and companies like Cisco and Goldman Sachs. Going long on Afghanistan education!
follow me @rullifrancesco