Video credits: Jean Beltran-FIgues via bitLanders.com
And again, we are back at Bantayan Island for another adventure. It was a visit we have been trying to postpone but finally, we have decided to go earlier instead, the original plan was Sunday - Monday since it's a long weekend, thanks to the Monday holiday. However, since we thought it would be better to keep Monday as our rest day, we went ahead and traveled very early on Saturday.
Here are the details on our first day in Bantayan Island. Read on...
The island is somewhere I always have a pleasure visiting because it always surprises me. My husband and I had been to different resorts in the island and each time we get here, we are surprised with new things, new establishments and new experiences.
PHASE I. MONTEMAR FARM AND RESORT VISIT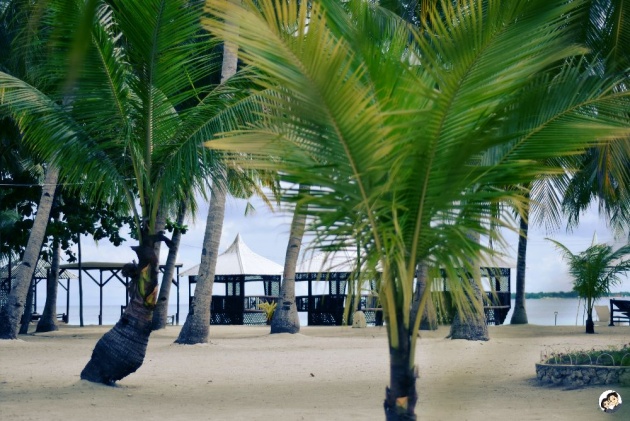 Image credits: Jean Beltran-FIgues via bitLanders.com
One of the top reasons why we have to come to Bantayan Island was the farm visit at Dart Gamefarm. The owner, Dino Montemar owns the resort which James and I stayed last year. You can check on my review on the said resort here below:
That first time visiting his resort, he was not available and there was a little mishap with the service when the owner is not around, you know the drill. However, this time for the farm visit, the workers at the resort seemed very energetic and active when we arrived specifically because Dino was present!
Video credits: Jean Beltran-FIgues via bitLanders.com
Morning Breakfast.
Because we arrived early at around seven in the morning, Dino himself fetched us from the Sta. Fe port and invited us to have breakfast. I thought it would only be a breakfast with pancakes, perhaps rice with egg and corned beef just like what we had when we stayed there last year but to our surprise, we had a sumptuous breakfast!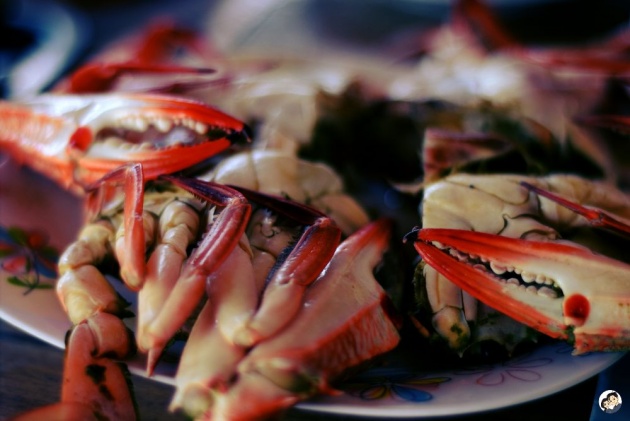 Image credits: Jean Beltran-FIgues via bitLanders.com
Lots of crabs, sea shells, fish soup and sea weeds as well as squids! We had a seafood buffet breakfast which I should say the most tummy filling breakfast I ever had!
You know what happens when there's food and guys around... silence! All the four of us were very silent as we ate to our stomach's fullness. It was a little disturbing when the flies around were also trying to dine too. But I guess the smell of the grabs appealed to them that they can't help but dive into our table.
After more than an hour, we finally were done with the sea food goodness, I had coffee too though while the guys didn't even bother having hot drinks for the morning kick. We went straight to the farm afterwards.
Gamefowl Selection.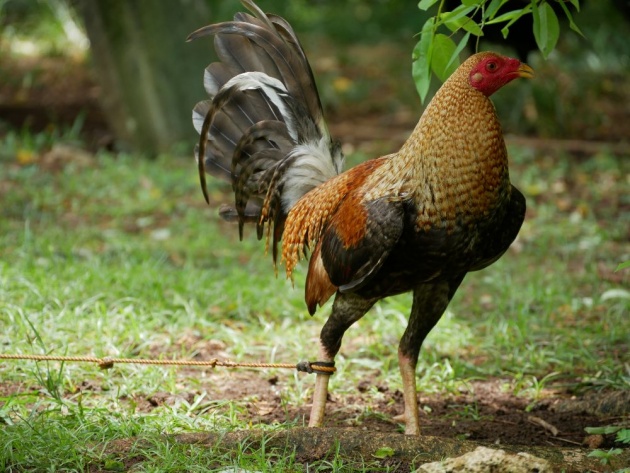 Image credits: Jean Beltran-FIgues via bitLanders.com
The Dart Gamefarm owned by Dino Montemar, an ex-councilor in Bantayan is a bit far from his beach resort. He drove us personally to his farm which was located in a secluded area in town.
Safety first and so we had disinfectant sprayed in our footwear to ensure there are no diseases that can possibly infect the chickens. There's a current Avian Flu outbreak announced in Pampanga in Luzon and we are afraid that it might be brought to the Visayas but so far everything is manageable. But it is also a rule that everyone who comes into the farm has to go through the process even the owner himself.
Brother in law then tried to select the brood stag and brood hen he's going to acquire from Dart Gamefowl. He had quite a hard time choosing among the fowls in the farm and it took us around four to five hours to finalize.
Aside from that, sparring was also shown. There were plenty of gamefowl bloodlines that has been sparred to see the performance of each specific bloodline. James himself noted his own choices. Eventually, they figured out what they like and it was past noontime when we went out for lunch.
PHASE II. LUNCH AT CHEF PANYANG'S
Bantayan's most visited town is Sta. Fe basically because primarily the port is located here and there are white sand beaches in this area of the island. There are also lots of resorts and establishments here.
A new addition to it is the MJ Square where it has restaurants and different kinds of eateries. It became the eatery center of Sta. Fe and that's where most tourists have been eating eversince it was opened. I actually don't have an idea when it opened but it was already there when we visited the island last year, we just didn't have enough time to dine here.
Fortunately, this time we were brought by Dino and later on I learned that his uncle owns the property.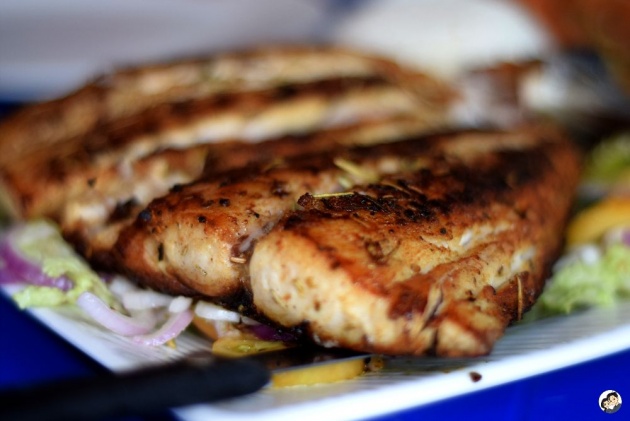 Grilled fish at Php 250. Image credits: Jean Beltran-FIgues via bitLanders.com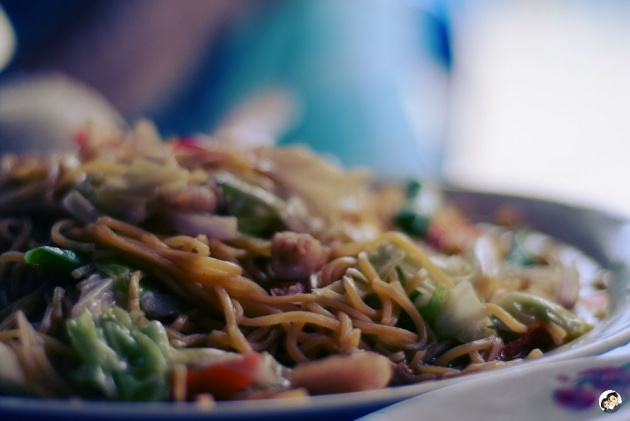 Pancit Guisado at Php 150. Image credits: Jean Beltran-FIgues via bitLanders.com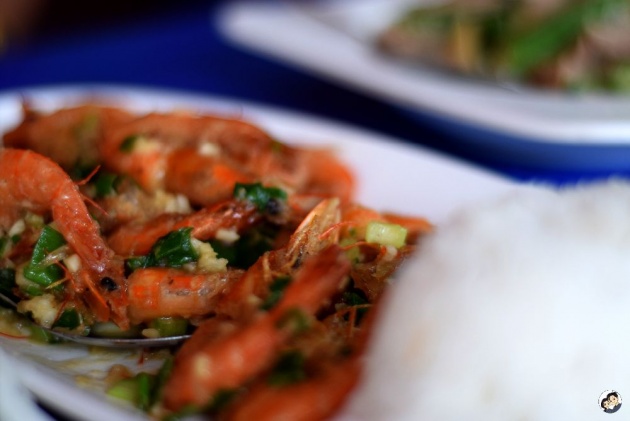 Buttered shrimp at Php 250. Image credits: Jean Beltran-FIgues via bitLanders.com
We ordered four viands at Chef Panyang's, grilled fish with sauce, buttered shrimp with chili sauce, pancit guisado and Bicol express. They have around three restaurants inside this establishment, we were advised to go to the second restaurant as the first was already full.
I was definitely surprised when the orders were served. They did mention on the menu that the viands are good for 4-5 persons but it looked like they are actually good for around 10 as they give a generous amount of serving! It was definitely huge and the price was only Php 150 for the Pancit guisado so that was truly a good deal. All of the viands served were palatable but because of the huge serving, we didn't get to consume all of them instead asked the staff to pack it for us which they gladly did.
Overa, we love this place, we'll try the other restaurants anytime soon, there's also Greek Taverna and I can't wait to grab my own wrap there.
PHASE III. CHECK IN AT HIDE AWAY GROVE
This was my first time using Airbnb app in looking for a place to stay in Bantayan. I had personally booked for the resort a day before coming to the island. I preferred somewhere near the town though so we can easily get to the places we want to go but unfortunately, most of the resorts were already fully booked because of the long weekend.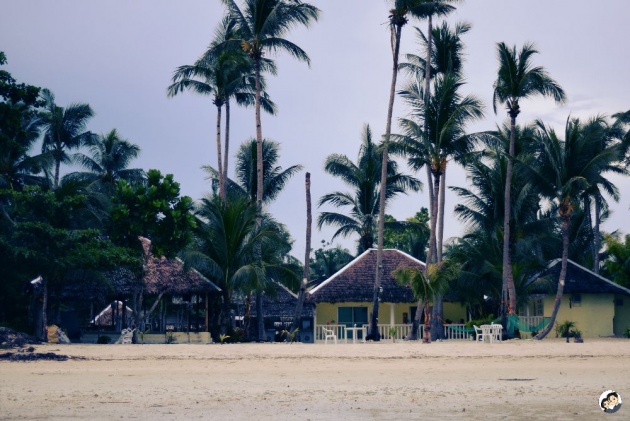 Image credits: Jean Beltran-Figues via bitLanders.com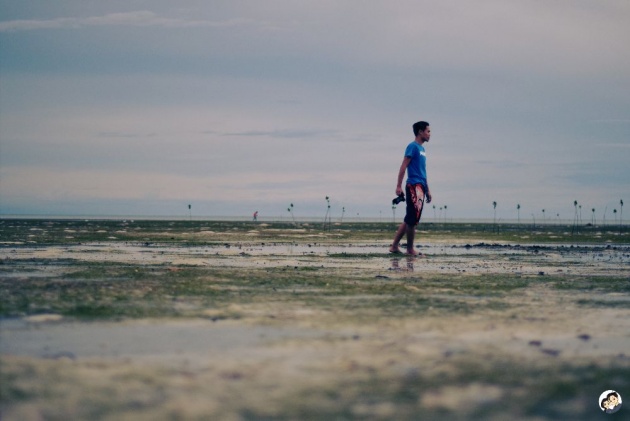 Image credits: Jean Beltran-FIgues via bitLanders.com
The only available rooms are the deluxe ones which are really pricey so we opted to find other places with affordable rooms and found Hide Away Grove instead. It was 11 minutes drive away from the town so we needed a motorcycle so we rented one scooter for Php 300 for 24 hours (good deal).
After following Google Maps for the exact location, we finally arrived at the resort, a little drenched because it was rainy that afternoon. The bungalow room was enough for us and I find it really cute and clean. I will have to create a new blog entry for our review. We also had dinner here so we can try their food.
PHASE IV. TEA TIME
After dinner, James and I were both kind of bored doing nothing at the resort. We took some time at the beach hammock and decided we should go out for tea because I was feeling full. Since the skies shows no more signs of rain anymore, we went on with the scooter and drove almost 15 minutes to the main town towards Lay'se Cafe. We spotted this cafe earlier after lunch, it was just a few minutes walk from MJ Square.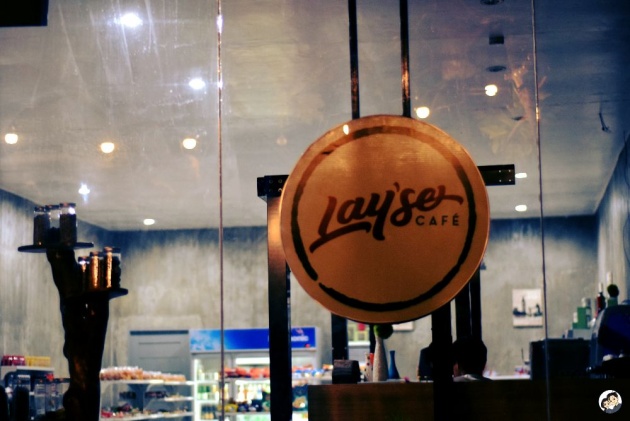 Image credits: Jean Beltran-FIgues via bitLanders.com
The cafe offers a huge range of iced and hot coffee as well as lattes. They also have a mini convenience store inside the cafe with chips and drinks which was nice as the cafe runs for 24 hours all week.
I ordered my Green Tea Latte and James ordered his Raspberry Latte as well both costs Php 120 per tall serving. It was a good time to chill and since they have free wifi, we got the chance to do some online stuffs. Their internet connection though is not that fast but it was just decent enough to get my social media accounts up.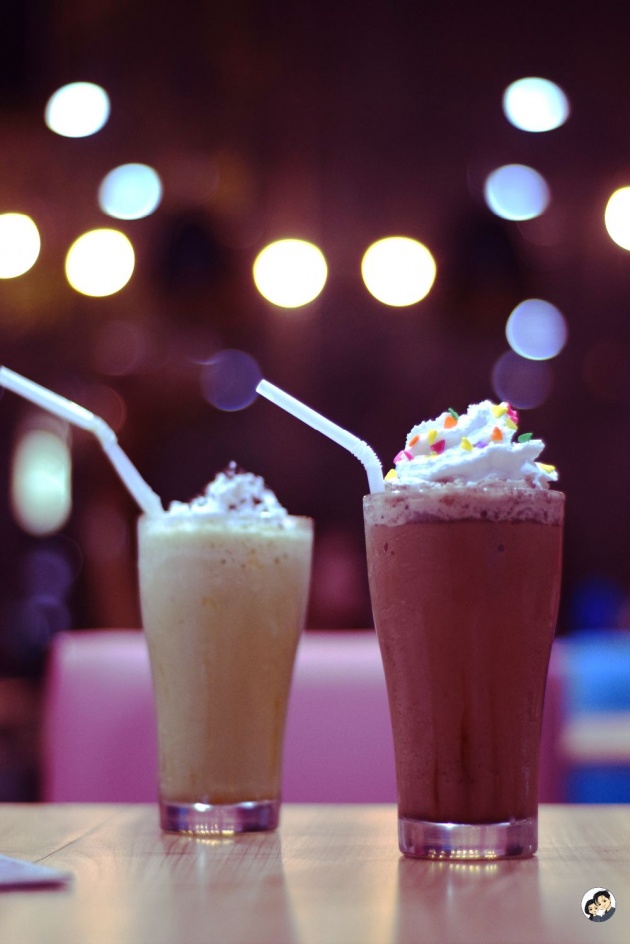 Image credits: Jean Beltran-FIgues via bitLanders.com
At around 9:30 PM, we went ahead back to the resort and it was unfortunate that he rain had started pouring again. Good thing it wasn't too strong that we were still able to get back to the resort just a little bit drenched.
That concluded our first day at Bantayan Island. I will soon share how the second day went in te next blog.
Please don't forget to also participate on the Querlo blog below about traveling:
Travel and be inspired.
xoxo,
Jean Beltran-Figues