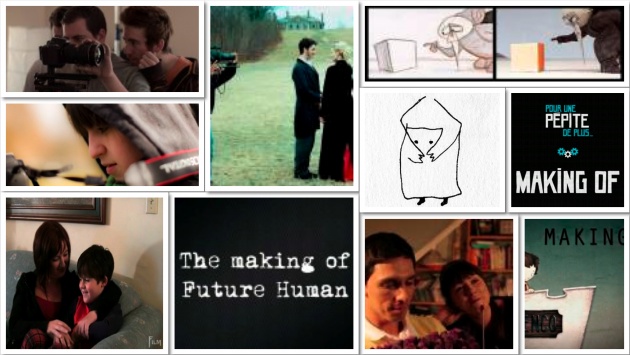 On Film Annex, you can watch thousands of movies. But have you ever wondered how the filmmakers created their spectacular short animations or what it is like to be on set? This week, we give you the chance to go behind the scenes of our filmmakers' movies with 8 making-of videos:
Behind the Scenes of Titania by Lisa Stock
A Hero's Gift Behind the Scenes by Phil Vaira
Fragments Behind the Scenes by Chivteam
I'll Call You Back Mocumentary by Mark Kuczewski
The Arctic Circle, Storyboard Comparison by Kevin Parry
The Making Of Future Human by Toni Williams
Making of Enco Travesias a Vapor by Ignacio Ruiz Alavarez
Pour une Pepite de Plus, Making Of by Remi Parisse
All of these videos show the magical process of filmmaking. Whether you're an aspiring filmmaker or a curious viewer, there's so much to learn and enjoy in these videos that our filmmakers shared with us. As the Film Annex Curating Team, we're huge fans of making-of videos, so we hope you enjoy these as much as we do. In fact, our Eren Gulfidan wrote about why behind the scenes matter only a couple weeks ago. So you can check that out as well.
Our featured filmmakers are two young women, Sorcha Anglim, a "veteran" on our platform, and Irmgard Walthert, a new member of Film Annex. Irmgard already has substantial experience in the animation industry. She worked on children's series and feature films like Frankenweenie by Tim Burton and now works as a motion designer for a digital multimedia company in Switzerland, where she also teaches animation workshops. Grosse Plane is her stop motion film that initially caught our attention. The story, based on real events, will take you back to your childhood when simple ideas, once executed, turned out to be more exciting and challenging than you expected. And you just wouldn't want to miss an animated film with such cute characters!
Sorcha Anglim went to university with one goal and desire: Working with people. From there, she joined the world of production and is currently working on commercials. She also makes short films and has two new ones she's currently working on, as well as a music video. The first one we came across was Turning the Tides, a heart-warming story about a growing friendship between two young children. Sorcha is inspired by the simplest things in life and the feelings we experience everyday, and from those, she creates touching stories that we can all relate to. She also writes blogs about directing films and working in advertising and fills her Web TV with stills from her movies. Another way to go behind the scenes of her movies during our special week!
Afghan Development Project update: Two exciting news today! The 5th Internet classroom will officially open on October 4th at Amir Ali Sher Nawaie School near Herat, Afghanistan. You can watch the construction process here. The 6th classroom is currently in construction at Mahjoobe Heravi High School in Herat. The school was established in 1350 (Afghan Islamic calendar) and has 4,000 female students and 100 teachers. We will keep you updated with videos and pictures from the opening and the construction.

For more recent updates and short films, follow us on Facebook and Twitter.
The Film Annex Team