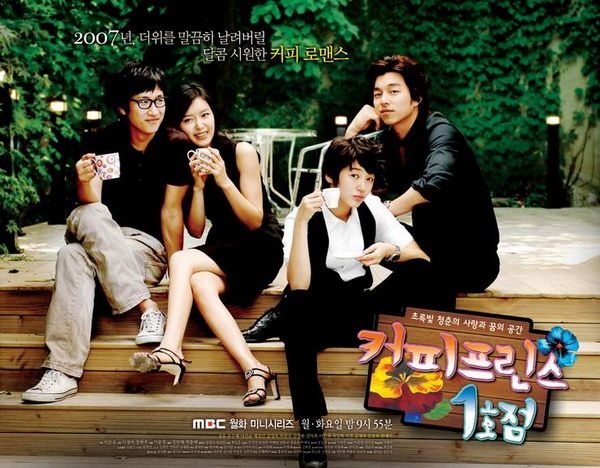 Coffee Prince
Information :
Genre: Comedy, Romance
Category: Drama Korea
Film Date: July 2007
Episode: 17

As a head of the family who have always relied upon, Go Eun-chan has been through a lot of things ranging from seeing naked people to be mistaken for a man (even though he is a genuine female). Her work also counted diverse, ranging from the introduction of noodles to a taekwondo teacher.
Not only that, ketomboyan Eun-chan was also used by his brother who was still sitting in the school bench Eun-sae to expel the man who tried to approach. No kidding, the elder brother was even able to win on meals by spending five bowls of noodles without difficulty.
Elsewhere, Choi Han-gyeol is a male heir to the famous food company that despite 29 years old but still at home single. Its action which seemed to not care about the future of the mother and grandmother (affected by cancer) very worried.
In fact, Han-gyeol still have feelings for the girl he loved so much named Han Yo-joo, although the girl had had a relationship so intimate with another man who was also his friend Choi Han-seong. Having a fate so different with Eun-chan, meeting both seemed only a matter of time.
When home usher noodles, accidentally Eun-chae see Yo-joo purse snatched by a man, and immediately beat the villain. Once open helmet, tomboyish girl was very surprised to see people who diringkusnya is the man who was chasing his sister Eun-sae.
Do not want him to experience difficulties, Eun-chan accidentally remove it by pretending to fall while trying to apprehend. Who would have thought, Han-gyeol which helps bolster the Yo-joo sprained even thought the girl (who thinks as a young man) was conspiring. Whereas for the sake of helping Yo-joo, Eun-chan to sacrifice motorcycle noodle its introduction until it breaks up eventually fired.
Once at home, a number of problems was ready waiting. Besides Eun-sae that it costs to go to college, Eun-chan also have to think rents are soaring and the act of the mother who removes rings that are quite expensive.
In a state of urgency, while weigh which is more important between self-esteem and money, Eun-chan decided to call Han-gyeol through the number on the business card ever given to him. Coincidentally, at the time the target was a man in a hotel room with a woman (who tried to trap Han-gyeol but failed miserably).
Once inside, Eun-chan's face blushed when she saw Han-gyeol appear only wearing a bathing suit. In one incident when an argument, accidentally Eun-chae fell on the body of Han-gyeol, which annoyed eventually expel the girl and the women who accompanied the night out.
Eun-chan who still irritated continue to terrorize Han-gyeol when he was confronted by a blind date arranged by his family. For the sake of escaping from matchmaking dizzying Han-gyeol finally get an idea and it involves a figure of Eun-chan