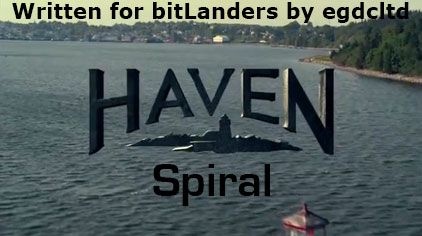 Image Credit: Wikipedia

"Spiral" is episode thirteen of season one of Haven, a supernatural drama series loosely based on Stephen King's The Colorado Kid, and the season finale. In this episode, cracks destroy parts of Haven and someone who may be related to Nathan turns up.
A Recently-Released Man Arrives
In the previous episode, "Resurfacing", Parker had been told that Lucy Riley, the woman believed to be her mother, had helped a man when he was a boy, getting a nasty cut on the sole of her foot when she did. It wasn't a great surprise when it turned out that Parker had a nasty cut on the sole of her foot. Are she and Lucy Riley the same person? Needless to say, Parker is a bit confused. Whilst she's pondering, a man approaches and makes some cryptic remarks. He then turns up at the paper, and greets Dave - the man, Max, has apparently been in prison for 25 years for killing a family. They obviously have history, and Max wants a job. Chief Wuornos knows him too - apparently he testified against him.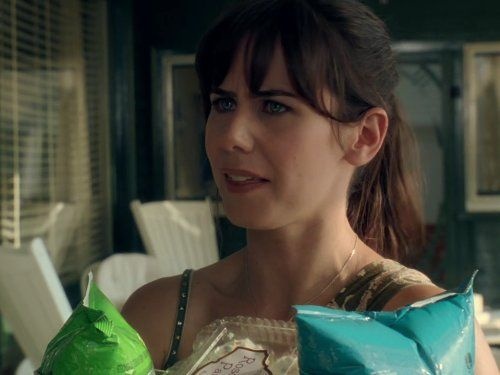 Image Credit: IMDb
The Cracks Are Getting Worse
After Max and the Chief finishing talking, one of the cracks that had been appearing Haven destroys the lighthouse. These cracks started with the one that nearly killed Parker in the first episode, "Welcome to Haven", then there was the one at the hotel in "As You Were" and the one on Duke's boat in "The Trial of Audrey Parker", which both Chief Wuornos and Agent Howard had remarked on.
Max is Annoying People
Then Max pays a visit to Duke, and tries intimidating a job from him too. Max also has one of the maze tattoos that keep turning up - the tattoo that is supposed to be on the man that kills Duke. Max is also believed to have killed the Colorado Kid. Max also seems to have a lack of feeling - just like Nathan. Who he then pays a visit to. Max is apparently trying to find a long last family, but he's not exactly Mr. Popular - even though he keeps saying he has friends in town, and the next person he annoys is Vince, who also seems to have a darker past.
Max and Nathan Are Related and Things Are Getting Increasingly Weird
Afflictions, like Nathan's, run in families. Which means that he and Max are related. However, Max is not exactly the real threat here - there's something more about the cracks. And the tattoo. Quite what is going on takes a while to be found out - and things keep getting weirder.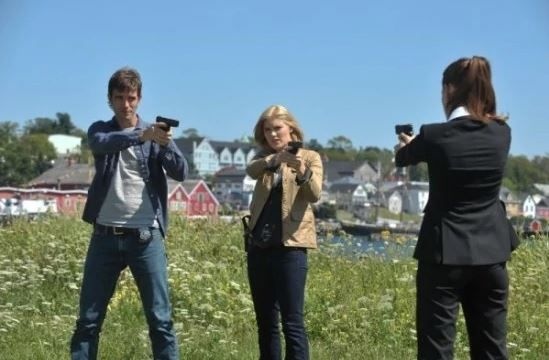 Image Credit: Fandom
A kind of cliff-hanger ending leading into season two and "A Tale of Two Audreys" as things take a turn for the really weird.
Haven Season One Trailer
Video Credit: eOne Films via YouTube
More Blogs From This Television Series:
Want to earn from blogging on bitLanders? CLICK HERE to sign up and get a reward.