Today is February 28, 2013 and here are my activities for this week. Continuing the registration process of the Examer System, Hatifi High School's registration is now completed and we have started the registration for Baghnazargah High School. Currently, about 3,000 students have been registered in the system from four schools. The Examer System's registration process has started for female schools in Herat a while ago. The system is considered to be substitued to the traditional examination in Afghanistan education, which has been fully accepted and supported by the Education Department of Herat. The enthusiasm of the teachers and students in the schools makes us feel that we are in the right path and we have to try harder.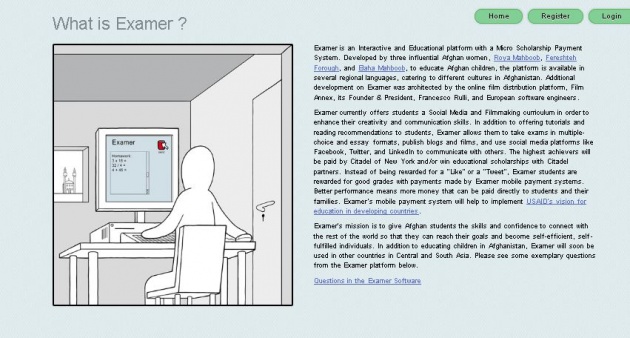 This week, we have been dealing with a big number of bloggers from training centers that are really keen to take a positive step towards the Afghan Education System and Women's Empowerment. We have had some training sessions about registration on www.filmannex.com and publishing blogs.
The students, especially females, were really happy about becoming a blogger. They found Women's Annex to be the best place to tell their ideas and learn about their rights. They believe that in order to pass this dark era and empower women in Afghanistan, the only useful way is to enhance women's knowledge and teach them about their rights. They think Women's Annex is the best place for this. Women can learn from others and share their findings with others on Women's Annex.
This week, we also recorded another cooking program and introduced another Afghan delicious food for the world.