The 2018 Sinulog Festival Grand Street Dancing had commenced early today and expectedly, tons of people will converge again in the streets of the city of Cebu to join the Cebuanos in this annual celebration.
Video credits: Pedro Miralles via YouTube.com
There will be locals, Cebuanos from neighboring towns who'll also be joining in, there are Filipinos from other provinces and even foreigners who either are expats or those who came just to witness it.
Previously, I had bestowed certain blog topics about the said event and thought it would be helpful for those who would like to join for the first time. Today, I will be administering with the same event but this will be more about the people who you will meet on the streets during the celebration.
Video credits: SunStar Philippines via YouTube.com
I know I have been taking advantage of the event but I was really really into blogging this today especially that I am just staying at home and hearing the music and the beat from the neighbor's radio. Also, yesterday, I went to SM Seaside to buy some grocery supplies and spotted some of these people in there too because yesterday was the grand procession of which most of the people went to the malls after the procession to either have dinner or just stroll around.
Now, without further ado, here are the types of people whom you will see in the streets, get to be in touch with and you'll spot on while on the streets of Cebu City.
•

The Early Birds

•
These early birds believe in the saying:
"Early bird catches the earliest worms."
Thus, they are very early up on the streets for no less reason than to see the dancers and the participants in their most beautiful state.
Image credits: Malou Villaneza
But if you are not an early bird yourself, you'll know they're the early ones because they are those people who would be telling everyone that they saw this celebrity earlier and that at this part of the city or they'll be proud with the items they had acquired earlier from a float such as expandable fans and such and you don't possess one yourself.
You just listen to the crowd and you'll surely find one sooner or later.
I have a friend way back in college who is a daughter of the main leaders of a specific organization in the city. This organization is part of the security team during the event and they go to the streets as early as four in the morning. This is the time where the participants are preparing to get themselves on the streets. As soon as the event starts, she'll be posting photos of her together with some celebrities they have spotted and she'll be proud to tell all of us about it with matching showing off her mobile phone with the photo.
•

The Fashionista

•
They are all around, they might be you too! These are the gals and guys who are in their best dress. They may even be in their Sinulog fashion like the denim shorts with a white upper tank top with the Sinulog print, feather accessories, some small backpack, and a vans-styled kind of footwear.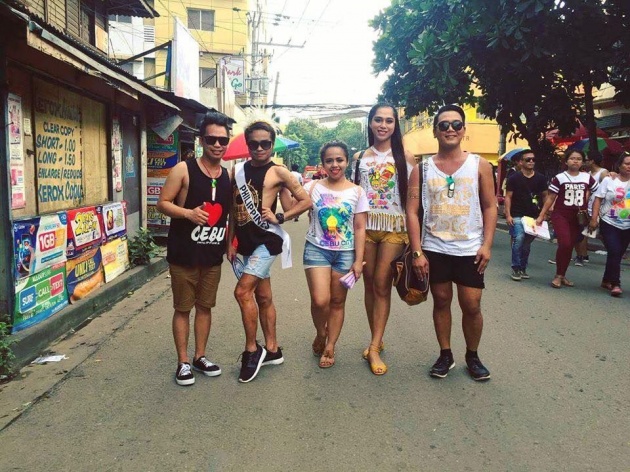 Image credits: Cebu Flash Report
Aside from that, there are also other commoners who come in their gowns or their heels even if they aren't part of any contingent. They just want to show off and even if they get into different hardships and difficulties while roaming the streets, they have to endure it because they need to pretend they are enjoying their best costume.
But don't get me wrong. Being a fashionista is definitely good as long as it is applicable to the situation. Don't be too hard on your feet or to your body just so thousands of people would see you wearing that.
•

The Dancers

•
Although not part of the street dancing competition or whatsoever, these are part of the crowd who dances as soon as they hear a beat or music. But wait, during the Sinulog Grand Street Dancing, there's music and beat every corner may it be from the live band or from speakers of certain buildings and establishments.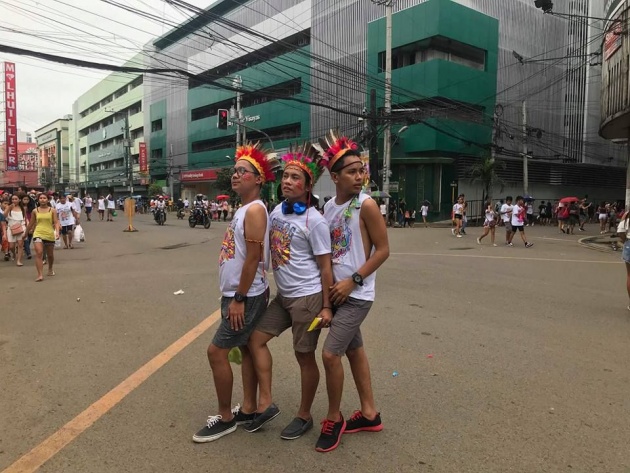 Image credits: Marvin Simbajon via Facebook
So these people are those who are just following their music-and-dance-loving hearts and would not care about what people say. They just enjoy what they are doing and are happy about it.
You'll spot them anywhere. Some would even dance together with the participants. The Sinulog dance is also easy to follow so these dancers can easily adapt and would repeat it again and again.
•

The Party Goer

•
During the past Sinulog celebration, these guys are rampant! You'll get to see them in almost every corner of the street because selling liquors or beers were allowed before. But I am not sure if you'll see these guys this year.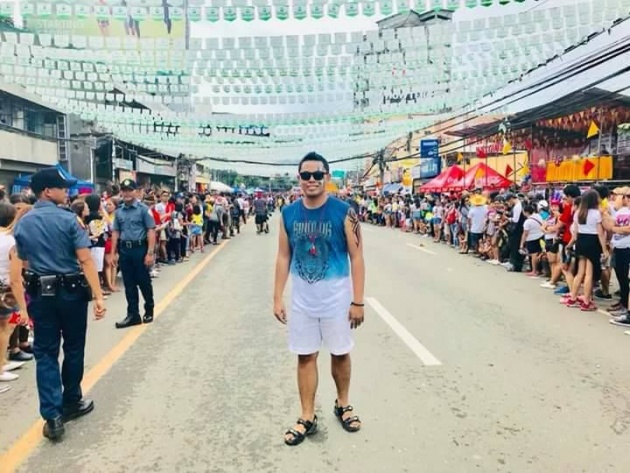 Image credits: Cebu Flash Report
However, for the sake of this blog, let me share with you that before, these partygoers would even be bringing bottles of beers at the streets! They dance with their own music and would just have fun like they are the only ones in the world.
These partygoers are mostly drunk and they are those who are left in the streets due to drunkenness.
I do hope they're out this year and no corner of the street would show any signs of these guys.
•

The I Don't Care About You People

•
A lot of them are on the streets and you've got to be prepared! They'll pass by you hitting any part of your body and they don't give a damn about it! They might even leave a bleeding part!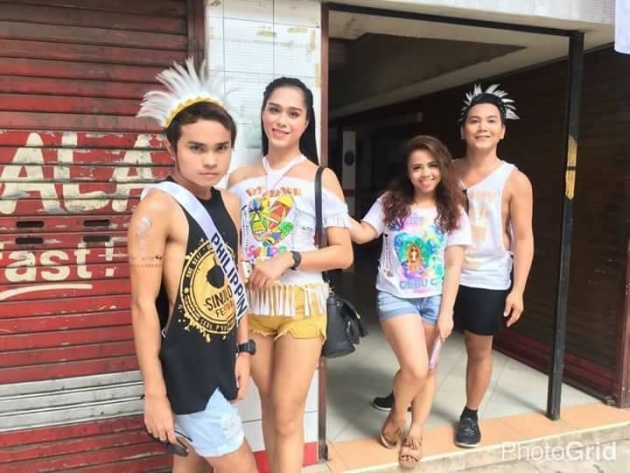 Image credits: Cebu Flash Report
Hopefully, that won't happen but there are definitely certain people who are like that as if they are the only people on earth that they need an empty road!
I recall one time before when we were in the Sinulog streets for our community works and some people just don't care, they'll go into where the dancers are and would bypass security, we were merely a student, I guess that was what's on their mind when they are doing so.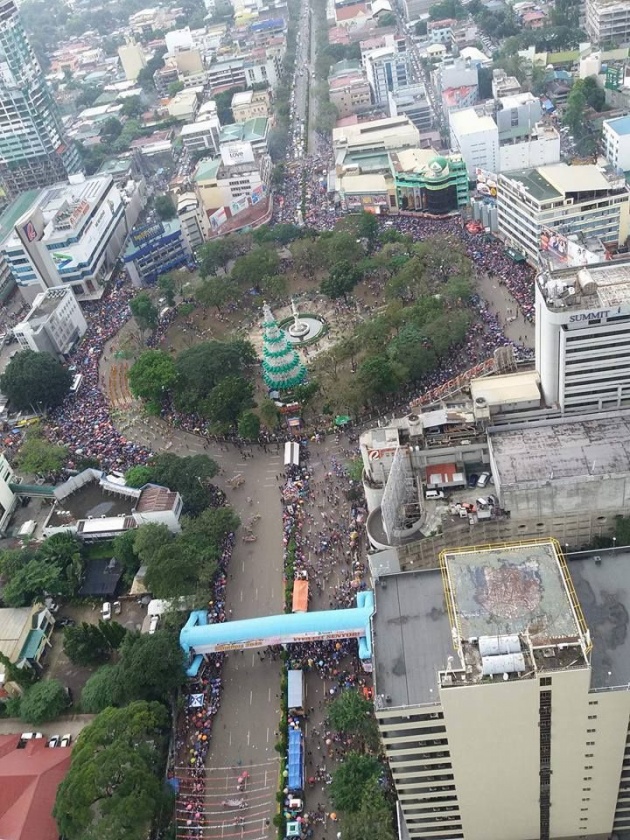 Image credits: Cebu Flash Report
There are also those who have just had their henna tattoo and they'll be walking around waving their hands, showing off their new henna tattoos and all of a sudden, the ink is transferred to a stranger's white shirt! This is funny but it happens a lot! I was once a victim!
•

The I Prepared For This People

•
These are those who have prepared much for the celebration.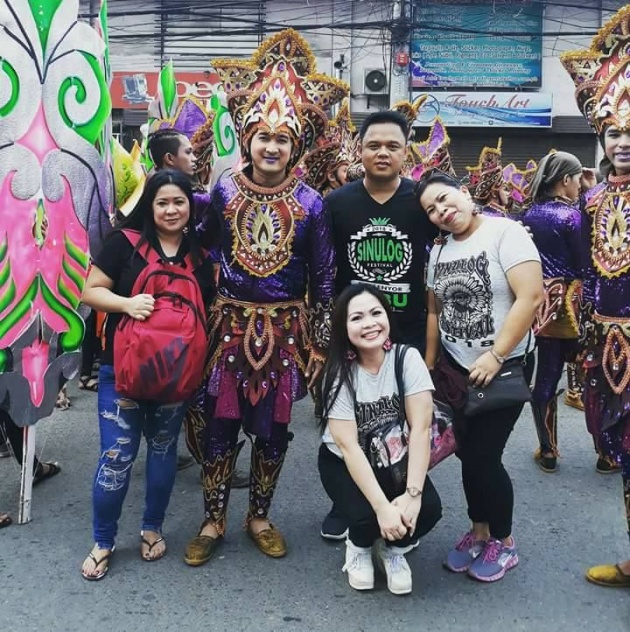 Image credits: Cebu Flash Report
Portable chair - check!
Water, three bottles - check!
Towels, three as well - check!
Packed Lunch - check!
Power banks - check!
Fans, one for her and for a stranger in case he or she loses it - check!
Umbrella for the sun and rain - check!
First aid kit - check!
You might probably see them bringing backpacks because they are the OC ones who won't leave their homes without being prepared!
Of course, being prepared is very important. It is a trait not everyone has, only certain special people have the ability to be like girl scouts.
•

The Business Man

•
Alas! The business-minded people on the streets won't come just to watch the event but to appreciate their money value! They are those students who are on the streets offering henna tattoo services. There are the part-time drinking water vendors and those who sell masks, fans, umbrellas and Sinulog goodies and accessories of course!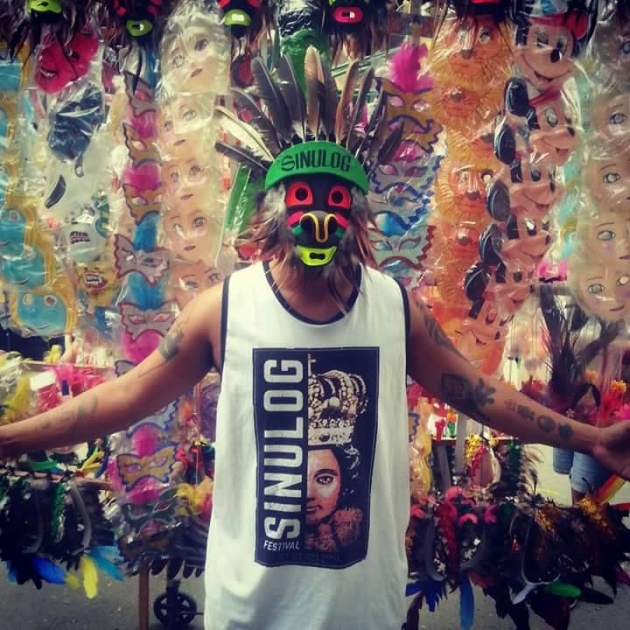 Image credits: Cebu Flash Report
You can find them yelling and shouting for buyers to buy their products! I am proud of these people and even thought of joining them too in the future. I just need to get myself a certain spot on the Sinulog route.
•

The Photographers

•
This was not on the list originally, but after seeing my friend's timeline, I decided to add it.
There are a lot of photographers during the Sinulog event. You can find them walking in the streets, some have IDs as part of the photography contestants, some don't have and would just try to grab whatever opportunity they have to snap a photo of the candidates and dancers!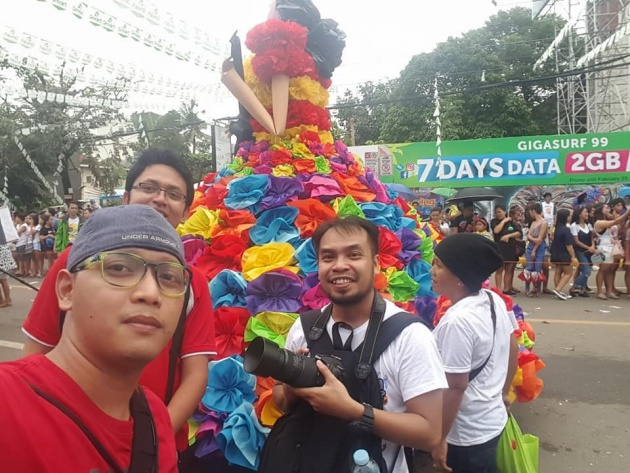 Image credits: Manny Rulona
But most of the photographers are the crowd themselves, bringing their mobile phones, their mirrorless cameras, and even the heavy DSLRs so they could take photos and souvenirs of the event.

That's a wrap and I hope you can relate if you had been to a Sinulog event or if you have not, I believe any part of the country has a similar celebration. The same set of kinds of people can still be met on the road. It doesn't take a brainer to figure them out!
Recent Blogs:
Blog entry written and published by Jean Beltran-Figues, A Pinas traveler and photography hobbyist, find more travel blogs in my blog section, click here.