"The more you link back to Film Annex the better! I also appreciate that Film Annex is active on social media and will share or retweet one of their filmmakers' posts." - Lisa Stock.

Lisa Stock has been with Film Annex for almost 3 years and is actively involved with the platform's activities. She's featured in Eren's Picks, she regularly updates her Web TV and promotes it on social media, and she just chose Film Annex to premiere Persephone, her new 4-episode web series, to be released in March 2013. She is also working with us to create a filmmaking curriculum for Afghan students for the technology platform Examer.
Lisa has a personal website and blog. You can follow her on Facebook, Twitter, Pinterest, Tumblr and LinkedIn.
Below is a short interview about how she uses social media to promote her work and how it has affected her revenues on Film Annex and helped her create contacts in the film industry. She also gives a few tips on social media film promotion.
Film Annex: When did you start promoting your work specifically on social media platforms?
Lisa Stock: MySpace was first, maybe in 2008. Then over to Facebook in 2009. However, I didn't have a Facebook "fan page" for InByTheEye and my creative work until 2011. I joined Twitter that year too.
FA: What social media platforms do you use? Which one(s) do you think is more efficient for filmmakers to use to promote their work and why?
LS: I'm on several: Twitter, Facebook, Wordpress, Google+, Tumblr, LinkedIn... I prefer Twitter. It's short and to the point. The links lead directly back to your site or video, and it's easy to retweet what you like and want others to see. Your posts are not going to be hidden or censored, and I find Twitter is just generally more focused with less of the nonsense you see on other social media sites. It's fun and an easy place to start a transmedia campaign. We've set up an account for TITANIA, but it's the faery queen herself tweeting at people. It's a great way to let people know what's going on with the film, and let them get to know the character. At the same time, I think people are more apt to click on article or video link and actually watch it, than just "like" it and move on without clicking the link.

Lisa Stock tweets about her films...

... but also about other Film Annex's filmmakers.
FA: Did you make interesting contacts or create business opportunities by sharing your work on social media?
LS: Yes. Recently, I entered a film competition in which all the entered films and filmmakers were dismissed before the finalists were chosen. (Making a very long story short) Needless to say we were all hurt and angry and very confused by this well-known organization's actions. Our films were submitted via Vimeo and we started finding each other on Twitter and now several of us filmmakers who participated in this competition keep in touch and make connections for each other on a wide scale because we're all over the world: US, UK, Spain...
FA: Give us an example on how you promote your Web TV or work in general on social media?
LS: Aside from the TITANIA idea above, I also like to post a lot of work in progress photos. Whether I'm on set or on an edit system, I think it's fun to include viewers in the process a little bit. When I was filming my upcoming shadow puppet film, The Weeping Woman, my collaborator and I did a live UStream b'cast as we were filming a couple of scenes. It's also a great way to interact with potential audience members.
FA: Did you see a change on your revenues on Film Annex after promoting your Web TV on social media?
LS: Definitely. The more you link back to Film Annex the better! I also appreciate that Film Annex is active on social media and will share or retweet one of their filmmakers' posts.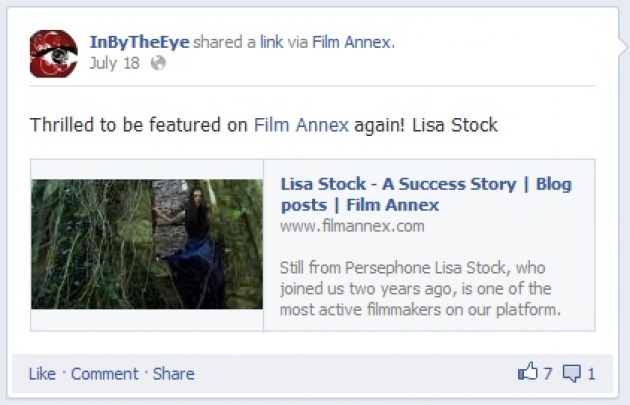 FA: Do you have any tips for other filmmakers on how to promote your films on social media?
LS: Post regularly, but not so much that you're spamming your followers. Over on my Twitter feed for the Mythic Film Festival, we post every Monday for "Mythic Movie Mondays". Our followers will know when to expect it. For my personal sites, I try to post blogs at least once a week, and tweeting at lunch and after work. I think consistency is key. And lead people back to valuable info, your videos, an article you wrote or a video or article you like, something pertinent. Those get a better response than posting about traffic or what you ate for lunch. People get bored with ego-posting pretty quickly, unless you're relaying a story about something funny that happened to you on a set. Above all, enjoy it! The more you do, the more people will enjoy following you.
Click here to read more about promoting films online and on social media platforms.