This week is the exclusive release on Film Annex of Persephone, a web series by independent filmmaker Lisa Stock. Lisa is a long-time Film Annexer and member of Eren's Picks. A few months ago, she announced the premiere for her new web series and kept us updated since then with teasers and production blogs. Persephone is a 10-episode online series following the mythological character and taking the audience into an unconventional journey to the Underworld.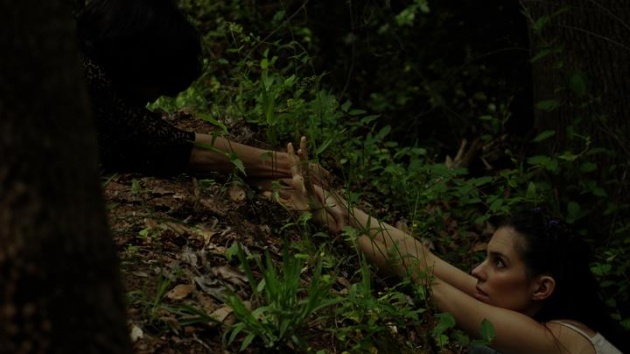 Below is my conversation with Lisa about the series, the shooting of episode 1 and the premiere.
Persephone was originally planned as a 4 episode series. What decided you to expand it?
Persephone's abduction was not initially in the series, as we focused only on her ascent. But when we went out to shoot episode 4 a couple of weeks ago (which is supposed to take place under a bright sun) and were met by a day of grey skies and rain, we recognized the opportunity before us, and took advantage of the ominous landscape to back up her story a bit and add to the series. In that one day, the series went from 4 episodes to 10! Sometimes limitations will crack open a flood of new ideas.
Tell us about the shooting of the first episode The Abduction'.
We were on a beautiful farm for this shoot. When we arrived, we walked around searching for clearings and places to film and happened upon this waterfall, that was a direct stream into the ground. We knew instantly that had to be the mouth of the Underworld. I love when you find things like that. When I was filming the Titania Prequel, we had a spot overlooking the mountains all set for this one shot. But on a break, I decided to walk along this little path and stumbled upon this magnificent ledge with an 800 ft drop. We used that for the opening scene, and it is much more dramatic. Same here, we had a scene in the can where Hades waits at the edge of the Underworld for Persephone - really just the edge of the forest. But when we saw this waterfall, it seemed so much more like a "gate" of sorts. It has also brought about a very emotional moment, something that Persephone does in the very last episode.
What's next for episode 2?

The 2nd episode is her descent into the Underworld. We're going to do this as a live b'cast (on June 2nd), but we'll also record it and make a video to put up on Film Annex, so people can see it there. Some episodes will be "traditional" and others will be more experimental, but we think it will work and make for a very unique online video experience.
Why did you choose Film Annex to premiere Persephone?

I decided to put Persephone on Film Annex exclusively because it's a very comfortable home for me. I've always felt that Film Annex was a welcoming place for filmmakers to try new things creatively. Film Annex redefines the boundaries of online distribution, so why shouldn't their filmmakers try new things and redefine how a story is told through film, online? I love to get on Film Annex and see all the different perspectives of its filmmakers. They give you room to breath and promote your work, so you can share it with a larger audience.
Watch the first episode, The Abduction: