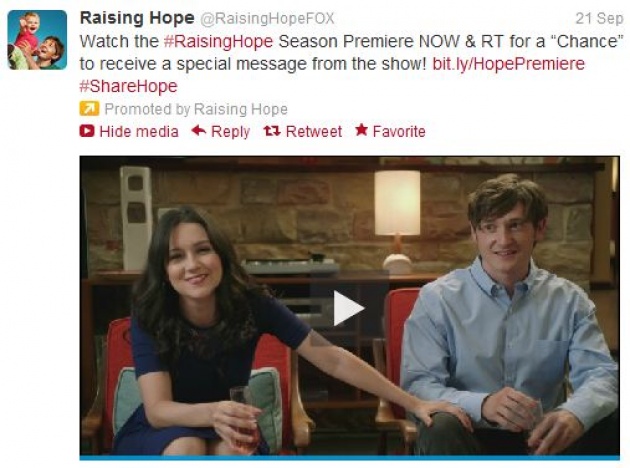 Film premieres as we know them are mostly red carpet events part of a movie's promotional tour. TV series now also premiere their season first episodes during special events. In the past few years, TV and movie studios have started to use the Internet and sometimes social media to relate those premieres more to the viewers by offering them an exclusive look at the film or TV episode. Seeing a movie before it gets to the theater or an episode before it is aired on TV is part of the new era of online distribution.
It is becoming very popular for TV pilots. Nashville, an ABC's musical drama which started on the Fall of 2012, premiered first online on Hulu, ABC.com and was even available to download for free on iTunes. Last month, it's the pilot of Golden Boys which was released online a week before the TV air date. Most of those premieres used the TV channel website as the online viewing platform. Some studios go much further and use social media platforms like Twitter. We remember the first trailer for J.J. Abrams' Super 8 which was released first on Twitter. More than a preview, it's a full episode of Raising Hope that was premiered directly on the TV series Twitter feed last September.
Movies are also catching up on this trend, especially short films which are easier and faster to watch online, as they are usually less often screened in theaters, except during film festivals or special events. In 2007, Wes Anderson released the short film Hotel Chevalier online, as a prologue to The Darjeeling Limited. Film Annex'ers are also taking advantage of online film distribution to premiere their work, short films or web series, as they make their ways to film festivals. This week, it's Mark Kuczewski, a long-time member of our platform, who chose Film Annex to premiere his new short film, Falling. About his decision, Mark says: "I feel that with the support Film Annex has given me over the past few years, it's only right that they get the premiere." Falling tells the story of an unexpected encounter between Harry and Lisa who both decided to jump off a building at the same time. Now should they go together, or not at all? Mark's new short is between drama and comedy, with the 2 main actors' performances fitting perfectly to the storyline. It was beautifully shot with a Red Scarlet camera in one day in London. A making of video and a version with director's commentary will be available in the following weeks, which always add great value to the film and the cast and crew's work.
Film Annex is promoting Falling starting this week on its social media platforms, in parallel with Mark's own social media film promotion. He started posted about it on his personal Facebook, his page dedicated to his Web TV, and Twitter. Don't hesitate to participate in spreading the word and let Mark know what you think of the movie, as he's always looking for feedback.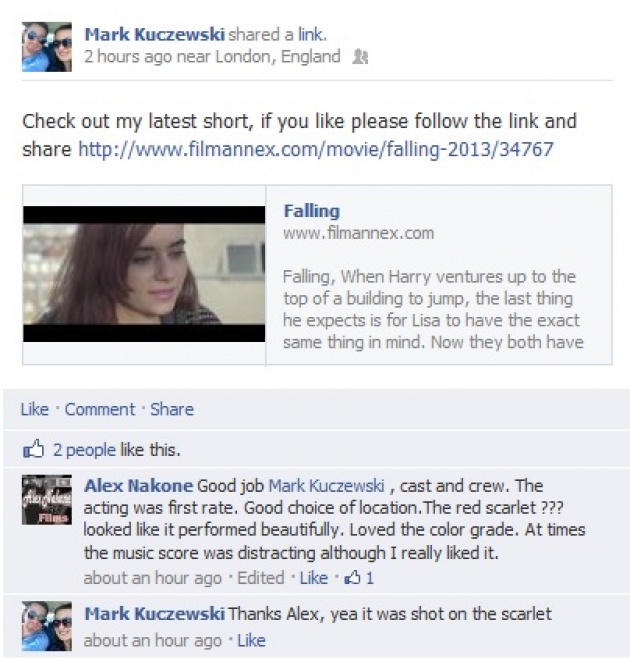 Learn about other movies and web series released on Film Annex or to premiere soon: Ouroboros by Alex Nakone last December, and the web series Persephone by Lisa Stock next month.