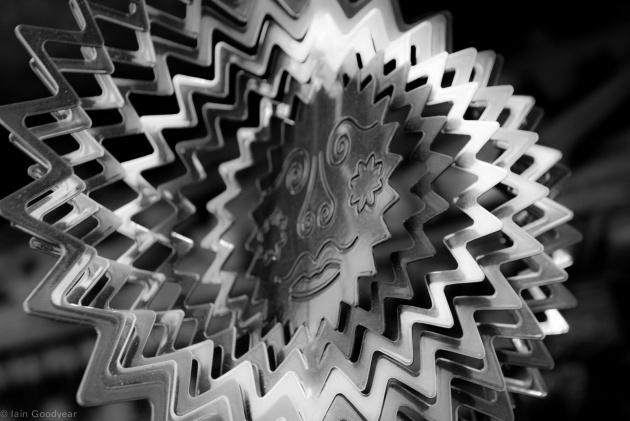 In July 2011, my lovely (and long suffering) girlfriend Evy took me to London for a birthday treat that involved staying in a lovely hotel and going to see a show. In addition, we spent a day in Camden Town, the vibrant and bustling market district North of London's city center. At the time Camden was often mentioned in the UK tabloid press in connection with famous singer songwriter Amy Winehouse, now sadly departed from this world. Amy Winehouse had, prior to her death, lived in Camden and was apparently often seen in and around Camden centre and the famous market area of the district. Our reasons for visiting Camden at the time had nothing to do with this of course; we simply wanted to soak up the atmosphere and enjoy the hot weather. Oh, and take some photographs of course.
I remember thinking that the most immediately striking thing about Camden when you arrive there is how quiet some areas off of the main high street were. We parked up on a side road and wandered down near to the canal by a big food market. This area seemed virtually deserted as we walked through it. As we turned a corner, we suddenly found ourselves on a main street simply bursting at the sides with a vast mix of people, young and old from a wide variety of different ethnic backgrounds. I remember really getting a buzz from how diverse the area was. One of the aspects I particularly enjoyed was the creative and elaborately decorated shop fronts that lined the main street we were walking on. Particularly memorable to me at the time were the huge wall hugging cat on one shop front and the big pair of legs that seemed to protrude from one buildings shop wall.
I recall thinking that I wanted to be as covert as possible when photographing the diverse population of Camden. You can never predict how people will react if you shove a camera in their face, so I made sure to take photographs quickly and when people were not looking. This proved to be a consideration that made no difference at all. Camden, much like many parts of London, was such a hive of activity that no-one seemed to care about having their picture taken. This proved extremely beneficial to my particular style of documentary photography and I think helped me to capture moments that communicate the hustle and bustle of Camden and its inhabitants.
Thank you for taking the time to read this blog. I hope you enjoy my images. To read more of my blogs please click HERE.
If you are new to Film Annex and want to upload your films or blogs to this great platform click HERE to begin. Subscribe to my Film Annex profile page and notify me of your content uploads via Twitter @iaingoodyear. By doing this I can help to spread your content to other Film Annex users via my social media platforms.
To receive future updates about my photography and moving image work please subscribe to www.filmannex.com/iaingoodyear.