MEDIA RELEASE - FOR IMMEDIATE RELEASE
Portugal professor and U.S. Navy officer promote Afghan literacy with world's first Afghan Proverbs book in Portuguese and Dari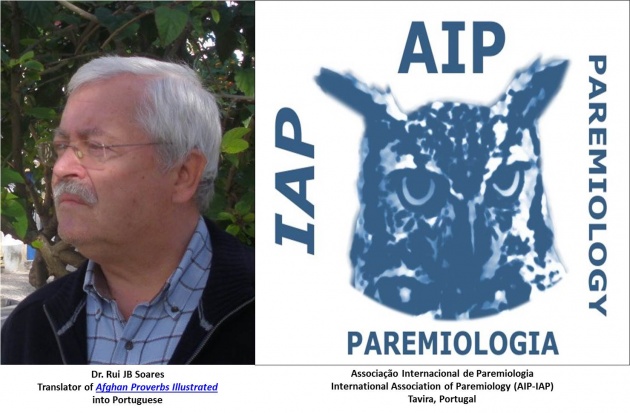 Tavira, Portugal and Tampa, USA, April 23, 2014 ~ Most people have never heard of the field of paremiology. But they understand it immediately when they do. Paremiology is the scientific study of the world's proverbs, and Dr. Rui JB Soares of Tavira, Portugal is one of the world's top experts in this field that marries language and culture. Dr. Soares is president of the Associação Internacional de Paremiologia / International Association of Paremiology (AIP-IAP) and a professor emeritus. As a paremiologist, he has devoted a lifetime to advancing education both in Portugal and abroad.
But he never expected to work with a U.S. Navy captain to connect Portugal and Afghanistan by publishing the world's first bilingual book of Afghan Proverbs in Portuguese and Afghan Dari.
The extraordinary potential of social media led to award-winning Afghan Proverbs Illustrated author Edward Zellem's election last year to the prestigious international AIP-IAP society. The AIP-IAP is based in the southern Portuguese resort city of Tavira, a city known globally as the 'World Capital of Proverbs'. But more importantly, Zellem's election to the Association led to a joint project with Dr. Soares that has resulted in the world's first bilingual book of Afghan Proverbs in Portuguese and Dari. The unprecedented book, Provérbios afegãos ilustrados, is now available worldwide in over 40 countries through Amazon and other major international booksellers.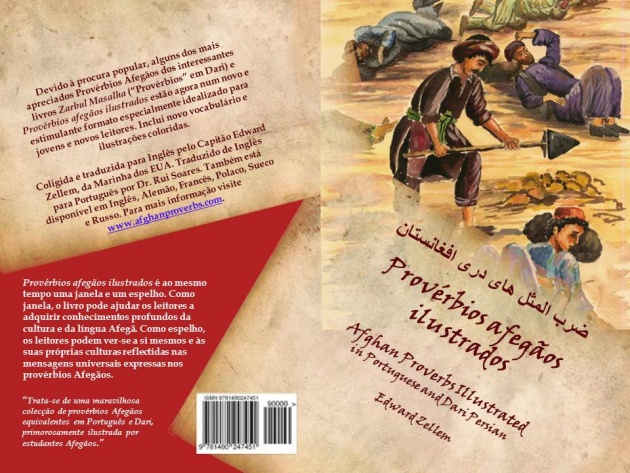 Zellem, an Afghanistan war veteran and Dari speaker who worked for a year with Afghans inside Kabul's Presidential Palace, began using Afghan Proverbs both at work and socially after noticing that Afghans often use Proverbs in their daily speech. He also observed that many of the thoughts behind Afghanistan's proverbs are universal messages used in every culture. So he started writing them down as an off-duty hobby.
The hobby soon turned into a personal crusade for better understanding between cultures. Zellem worked on his own with an Afghan high school to illustrate his collection, which became two award-winning books that have received international acclaim and a devoted global following. The English-Dari edition of one of his books, Afghan Proverbs Illustrated, has been published in 13 languages and more are on the way.
Dr. Soares discovered Zellem's project, and they began corresponding. The two men met in person in Tavira, Portugal last fall, where Dr. Soares and the AIP-IAP were hosting the 7th Interdisciplinary Colloquium on Proverbs (ICP-13). Paremiologists from 22 nations were represented at the annual conference, and Zellem gave a presentation on his project.
Soares and Zellem quickly found common ground in the idea of using proverbs for education and cross-cultural understanding, and in developing global strategies for the AIP-IAP to promote that idea. Dr. Soares saw many similarities between Afghan Proverbs and traditional Portuguese sayings, which only reinforced Zellem's observation in Afghanistan that proverbs are a universal human language.
At the time, Zellem's book had been translated by volunteers into 5 European languages, but not yet into Portuguese. Both men knew that the Portuguese people have a cultural tradition of using proverbs that reaches back more than 900 years, and that Portugal's famous maritime history has brought the Portuguese language to more than 200 million people around the world. Portuguese speakers are famous for learning new languages, especially in today's globalized world.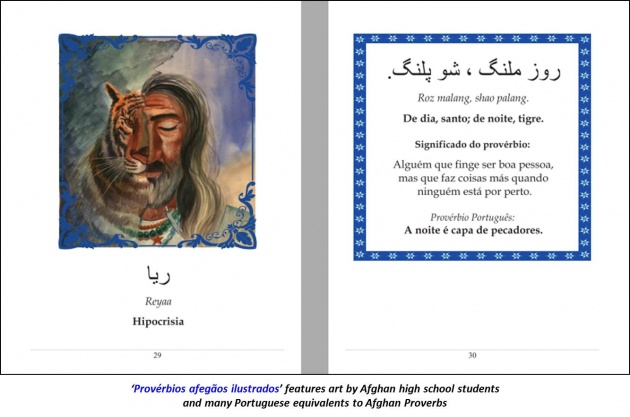 So Dr. Soares offered to translate Captain Zellem's award-winning book into Portuguese, and he added many of Portugal's equivalent proverbs that are in common use today. The result is now a new bilingual book that improves understanding and language learning between Afghans and Portuguese speakers all over the world. 100 percent of net proceeds from Provérbios afegãos ilustrados go to support Afghan literacy programs.
More information on Afghan Proverbs, recent media, and media kit at www.afghansayings.com.
More information on the Associação Internacional de Paremiologia / International Association of Paremiology/ (AIP-IAP) at www.aip-iap.org/en.

ABOUT EDWARD ZELLEM
Zellem is a 27-year U.S. Navy captain currently serving at U.S. Central Command in Tampa, Florida. A veteran of several wars, he is known for his work on President Karzai's staff inside the Presidential Palace of Afghanistan, and for his two award-winning books of Afghan Proverbs: Zarbul Masalha: 151 Afghan Dari Proverbs and Afghan Proverbs Illustrated, now in 13 languages. Zellem wrote the books "to show how Afghan Proverbs demonstrate our common humanity and the humanity of Afghans."
ABOUT RUI JB SOARES
Soares is a professor emeritus, author, educator and researcher in the scientific fields of ​​paremiology and other areas to promote and defend the 'intangible cultural heritage' worldwide. He holds a Ph.D. in Intercultural Education (Universidade Aberta, Lisbon) and master's degrees in Mathematics Education (Boston University) and Intercultural Relations (Universidade Aberta, Lisbon ). Dr. Soares also is a founding member and current president of the Associação Internacional de Paremiologia / International Association of Paremiology/ (AIP-IAP), based in Tavira, Portugal, the 'World Capital of Proverbs. The AIP-IAP is the world's only nonprofit association dedicated to the scientific study of global proverbs.

###