Afghanistan Fashion Design
Handcrafts such as leather making, decoration furniture, felt, carpet weaving, etc., have a long history in our country. Handcrafts made in Afghanistan are famous in and out of the country. The people of Afghanistan are interested in needle working. The beautiful and exquisite look of the handcrafts shows the hard work of women in Afghanistan.
In the Afghan Development Project, I got interested in the handmade projects of school's students who were knitted skillfully. These beautiful handmade projects were including fabrics and scarves that were mixing silk and wool colorfully. The astonishing handmade carpets were showing the great talent of Afghanistan's girls. The industry of carpet includes a vast part of women's products in Afghanistan, and is known throughout the world for its quality, but they are packaged and sold by some neighbor countries.
Afghan women always have been facing different problems such as purchasing raw materials, finding the adequate industrial areas and selling their products. For example in jewelry making, purchasing precious stones is a big problem for women who buy from retailers, and this increases the price of production. On the other hand, the insecurity, the work situation for women, the disapproving of the society, the lack of appropriate business areas, and the little attention of the government, caused women to leave their businesses as they could not develop their handmade products. Women's independence is one of the most important things.
"Our products are rings, earrings, necklaces and silver sets, and we make jewelry in different colors with precious stones of ruby, quartz, emerald and agate. We are sufficient in our handmade industry thanks to the cooperation of the Italian government." The President of women's affairs in Kabul province says that "There is no appropriate bazaar in Afghanistan, except the women garden of Kabul, to sell our products." She fleshed information out that the craftswomen are supported by foreign NGOs to improve their products, but their products are shown and sold in foreign fairs by other countries. She explains that craftswomen are not familiar with new designs of bazaar which decreases their revenues. "I read it in a newspaper."
Nowadays, the young generation in Afghanistan is interested in the Western styles, but through Afghan fashion initiatives, we would like to use the Afghan culture and inspire Afghan people especially the young generation so they use the traditional clothes but with a new face.
My sister Elaha Mahboob was interested into this project and has decided to help the women who are working in the handmade and jewelry making industries in Herat province. The project, led through a female's school, will change the world of fashion in Afghanistan. With new designs, which will be inspired by the past traditions of fashion, and with the new changes which will be made on them, the world of fashion will change. Female students will be familiarized in the foreign world of fashion through the Internet and will make their new handcrafts with new designs. So, we will be watching young talents in fashion bazaar who will bring deep changes in fashion in Afghanistan.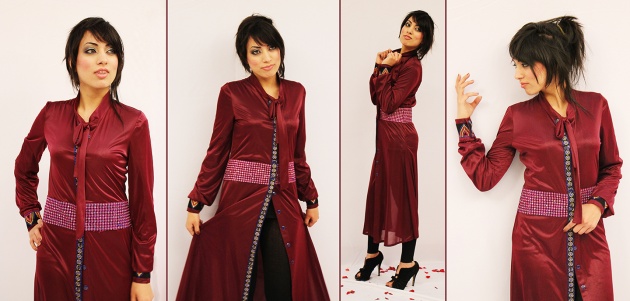 You will be seeing some work patterns made by young people very soon. They haven't chosen their brand name yet. These could be presented as Afghan women products, out of Afghanistan in foreign countries one day.
The important factor of the success and development of this venture is adoption of Target thinking strategies. infact with creating digital media as professional and videos to support fashion and artistic project of young Afghan Women and Men. This is why Citadel of New York and Afghan Citadel joined forces to establish a Film Studio and Social Media team to produce professional content associated to Afghanistan Fashion Design, Development and Production. The goal is to establish a direct relationship between Afghanistan Fashion Designers and Garment Production companies with international Buyes and Clients, educate them about the product and design vision.