Edward Zellem is a US Navy Captain and the author of Zarbul Masalha: 151 Afghan Dari Proverbs. His book caught the attention of Film Annex's Founder/CEO Francesco Rulli, which he reviewed in this blog. We interviewed Captain Zellem about his experience in Afghanistan, the inspiration behind his book and the Afghan Development Project. Film Annex is currently building Internet classrooms in Afghanistan with the mission to improve the Afghan education system and the economy of Afghanistan.
Film Annex: Can you tell us about your career, your roles within the U.S. Department of Defense and NATO, and your experience in Afghanistan?
Captain Edward Zellem: I'm a U.S. Navy captain who has lived, worked, and gone to sea all over the world in the past 25 years. Before I joined the Navy, I taught English in a small village in southern Thailand. I've lived in six countries and spent time in probably 50 others. Wherever I am, I always try to get to know the people a bit. What I've learned through travel, time, experience and even several wars is that no matter where you go in the world - no matter what nation, culture or religion - most people want the same basic things out of life. They think a lot of the same thoughts. People all over the world have much more in common than most of them think. I was selected by the Department of Defense in 2009 for a special program called Afghan Hands. The purpose was to build better and more enduring relationships with Afghans. The program gave us intense training in the Afghan languages and culture. We then were sent to work embedded side-by-side with Afghans in their own environment, often as the only foreigner around, for at least a year at a time. I spent a year and a half in Afghanistan doing this. I worked first in Kandahar with the Afghan National Army, then in Kabul with the Afghan National Police. Then I was called to the Presidential Palace to help the Afghan government build its first-ever "White House Situation Room." I spent a year inside the Palace doing that with Afghans. I should emphasize that my books and work with Afghan proverbs are completely personal initiatives. I am speaking in this interview as a private individual. My thoughts and opinions here are my own, and in no way represent those of the U.S. government, the Department of Defense, or NATO.
FA: What is the philosophy and goal behind your book? What inspired you to write it in Afghanistan?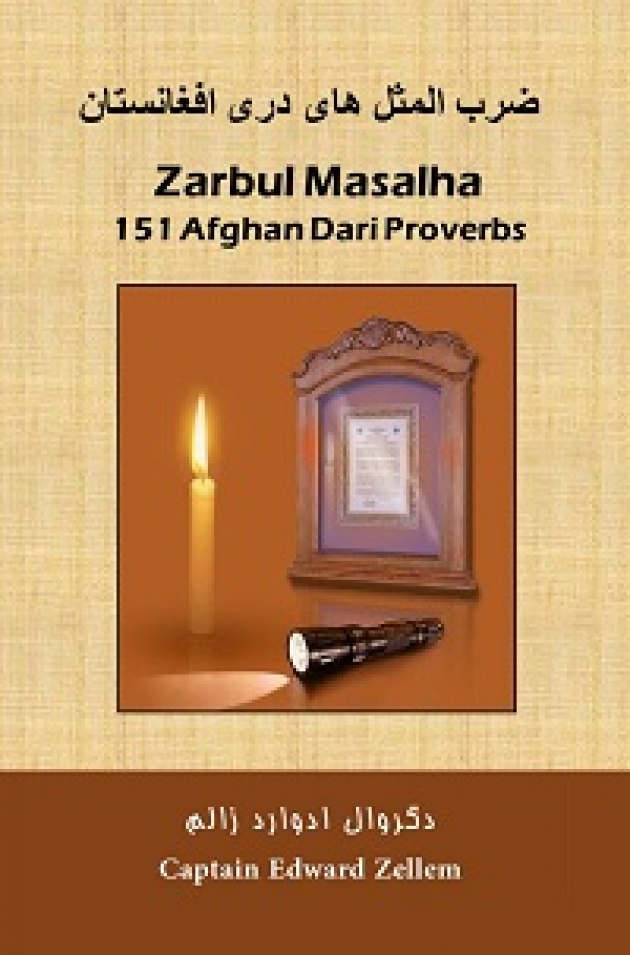 EZ: Collecting Afghan proverbs started as a hobby and learning tool. It then
blossomed into something much more. After I arrived in Afghanistan and began working with Afghans in their own language and culture, I found that they use traditional proverbs all the time in normal conversation – much more than English speakers do. I was fascinated with the way Afghans use proverbs when they speak, and with the proverbs' colorfulness and deep meaning. So I started writing down these proverbs whenever I heard them, and started using them in my own daily speech. I translated them into English and talked with many Afghans about their meanings. Afghans can talk for hours about their proverbs, and it's a lot of fun. Word of my proverbs list spread among both Afghans and foreigners, and many asked for copies of it. So I decided to compile my list into a small bilingual book called "Zarbul Masalha: 151 Afghan Dari Proverbs" to give to my friends and colleagues. ("Zarbul Masalha" means "Proverbs" in Dari). But one thing led to another. The faculty at Marefat High School in Kabul heard about my idea for a book, and wanted to contribute. So I got a small grant for Marefat to have its art students illustrate the book, and it was published by a local Kabul printing house. 40,000 copies were published in 2011, and Marefat distributed them to other schools and organizations all over Afghanistan. In addition to working with the highly talented students and faculty at Marefat, the most rewarding part for me was that Zarbul Masalha is now part of the Dari and English reading curriculum in over 200 schools throughout Afghanistan. The book also has been accepted in the Kabul University library, and is included in its nationwide village bookmobile program.
FA: And then you published a second edition of Zarbul Masalha when you returned from Afghanistan?
EZ: That's right. When I came back to the U.S., I decided to publish a second edition of Zarbul Masalha internationally to support Afghan literacy programs. I also wanted the book to help improve cross-cultural understanding, to show how Afghan proverbs demonstrate our common humanity and the humanity of Afghans, and to share the proverbs' lyricism, richness and deep meanings with the rest of the world. Readers' feedback on Zarbul Masalha has been overwhelmingly positive, both from Afghans and the international community. A number of Afghan-American readers have told me that it has helped them and their families brush up on their Dari, reconnect with the culture of their homeland, and teach their American-born children the Dari language and Afghan culture. Non-Afghans also have been very interested in Zarbul Masalha, whether for Dari/ Farsi language studies, a better understanding of Afghans, or general inspiration. One reviewer said that Zarbul Masalha is "both a window and a mirror. As a window, it helps readers gain deep insights into Afghan culture and language. And as a mirror, readers can see themselves and their own cultures reflected in the universal messages expressed by Afghan proverbs." I can't say it any better than that. For the foreseeable future, 100% of net proceeds from Zarbul Masalha will go to support Afghan-led literacy programs in Afghanistan. I've already sent a large amount of money to Marefat and am exploring relationships with several foundations that support Afghan education. In my view, literacy and education are the keys to improving just about everything in Afghanistan.
FA: We understand you are about to publish another book of Afghan proverbs. Can you tell us about it?
EZ: My second book, "Afghan Proverbs Illustrated," is specifically designed for children and new readers, and will be published this month. Many fans of Zarbul Masalha asked me to publish a version for children and people of any age who are just learning to read. "Afghan Proverbs Illustrated" will feature some of the best-loved proverbs from Zarbul Masalha in a full-sized, full color, fully indexed format with new vocabulary, large fonts, full-page art, and simplified translations. I have kids of my own, and they are immediately drawn to the colorful artwork in Afghan Proverbs Illustrated and the sounds and meanings of the proverbs. Just like my first book, Afghan Proverbs Illustrated will be available internationally via Amazon, Barnes & Noble, and many other retailers.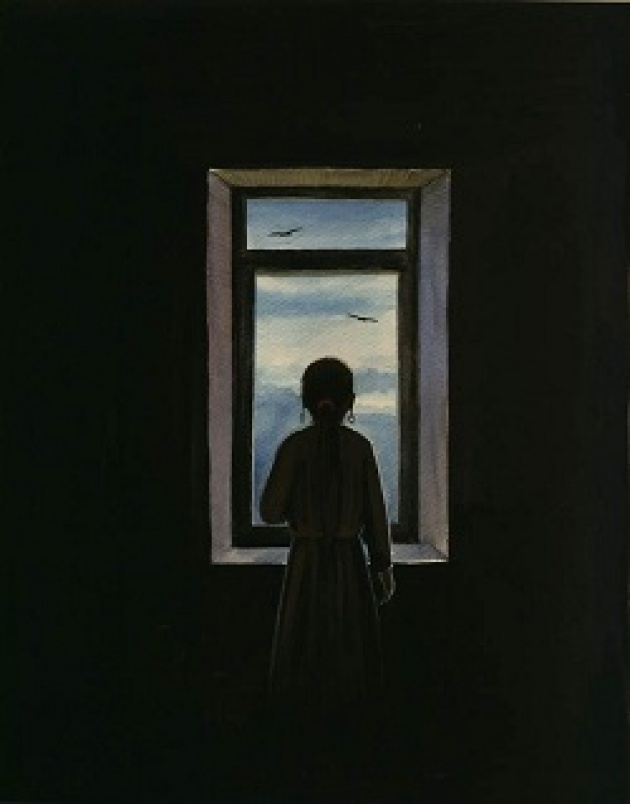 Illustration from the book: "Doon-ya ba omeed zenda ast" (The world is alive with hope) (ZM # 106)
FA: Do you use social media to promote your book and its support to Afghan education?
EZ: I'm by no means a social media expert, and so I can always use some help! I'm very grateful for Film Annex's interest in Zarbul Masalha, and for the great work you are doing to promote Afghan education and its use of the Internet. Zarbul Masalha's social media presence is starting to build, as people discover it and tell their friends. The book has a website, http://www.afghanproverbs.com, with a wealth of information and how to buy both Zarbul Masalha and Afghan Proverbs Illustrated. There has been a fair amount of media coverage and some good newspaper stories, and those also can be found online. I've done a really fun appearance on ClearChannel talk radio about the book that you can hear at afghanproverbs.com. Samira Atash, a well-known Afghan-American fashion designer, model and entrepreneur, has done a great service promoting Zarbul Masalha on her Beauty and the East TV and through Planetpix Media and Entertainment Group. And a real highlight for me was my recent appearance on NOOOR-TV's "The Dr. Younos Show," hosted by Afghan-American TV personality Dr Farid Younos. I was on his show for a full hour in Dari and had a blast. You can see a few video clips of that on YouTube. I talked a lot on his show about the importance of education and literacy to the future of Afghanistan.
FA: What do you think can help resolve the lack of education in Afghanistan?
EZ: Without a doubt, the keys to a safe, prosperous and free Afghanistan are improved education and literacy. You can't have development if you don't have an educated population that can read and write. And uneducated, illiterate people are much more susceptible to mental and physical enslavement by groups like the Taliban. Right now the overall literacy rate in Afghanistan is appallingly low - somewhere around 30%. The rate for women and girls is even lower, about 12%. Thirty years of war will do that to a country, and it was made even worse in the Taliban era. The Taliban burned most of the existing books and art in Afghanistan, and even killed people who dared to teach girls how to read. Most Afghan families want the same basic things that other families all over the world want. They want freedom, peace and safety, a decent income and standard of living, and education for themselves and their children. Most international businesses won't invest significantly in Afghanistan unless those things exist either. And that's sad because there is so much untapped potential there. So unless we want to condemn people to just make carpets and tin pots, or to be re-enslaved by fanatics like the Taliban, we had better focus as much as we can on giving Afghans a boost toward a better future through education. I am regularly inspired by Afghans' desire for education, especially by young Afghans. They still have hope, even after all they have endured. Help with this from the international community, and from great organizations like Film Annex and the Afghan Development Web TV, is absolutely vital for the future of Afghanistan.
FA: What do you think of Film Annex's initiatives of building Internet classrooms in Afghanistan?
EZ: I think it's wonderful. It's great to see businessmen and artists like Francesco Rulli, and a successful company like Film Annex, take on such an important humanitarian effort that helps the whole world. Bringing the Internet to Afghan classrooms as a teaching tool is a huge step forward in improving education and literacy. Make no mistake, the young people of Afghanistan are its future. The Film Annex initiatives are providing learning tools that will help today's young Afghans return their country into the family of nations. We'll all leave this life someday. The things we did for others are what we will remember on the way out, and are the things that will truly endure. As the Afghan Proverb (Zarbul Masalha #129) says, "Nekee-kun ba daryaa beeandaaz - Do good to people, and throw your goodness in the river." This proverb reflects the paradox that if you do good things for their own sake, not for reward, ultimately you will be rewarded anyway. That's how I see the work of Film Annex, and I applaud it.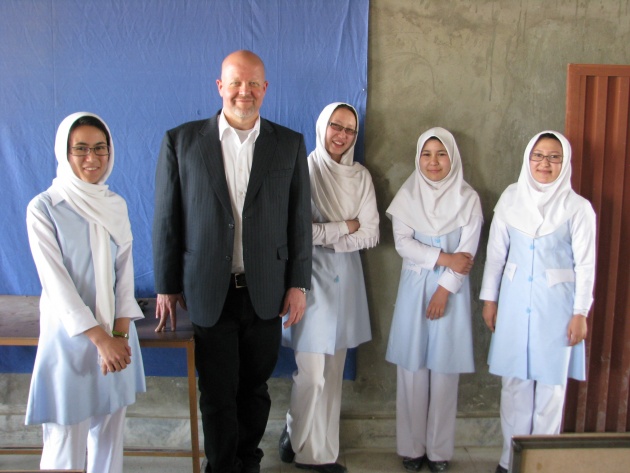 Captain Edward Zellem and the girls artists.
More about Edward Zellem: Captain Edward Zellem has served as a United States Navy officer for 25 years. While in Afghanistan he collected and used Dari Proverbs every day in his professional life, in the streets and back alleys of Kabul, and in other parts of the country. After art students at a Kabul high school created illustrations, his collection became Zarbul Masalha.