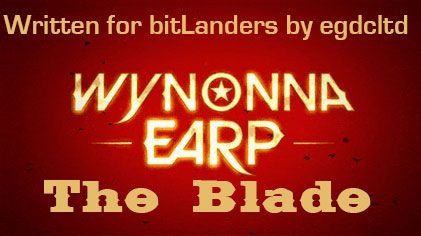 Image Credit: Wikipedia

"The Blade" is episode four of season one of Wynonna Earp, the fantasy western series based on the graphic novel series of the same name about Wyatt Earp's descendant. In this episode, a revenant in a mirror is telling people to get forgiveness or die.
Most People Call Me Doc
At the end of the previous episode, "Leavin' on Your Mind", Henry had revealed to Wynonna his real name. That he knew Wyatt and that his name was John Henry, but most just called him 'Doc.'
Prove That You Are
This episode opens with Wynonna quizzing Doc Holliday. She doesn't believe he is Doc yet, so he tells her a story about the last time he saw his best friend, Wyatt. Doc was suffering from his tuberculosis, and probably dying. Earp was heading for Purgatory. Wyatt doesn't believe in devils, only bad men. Doc Holliday does.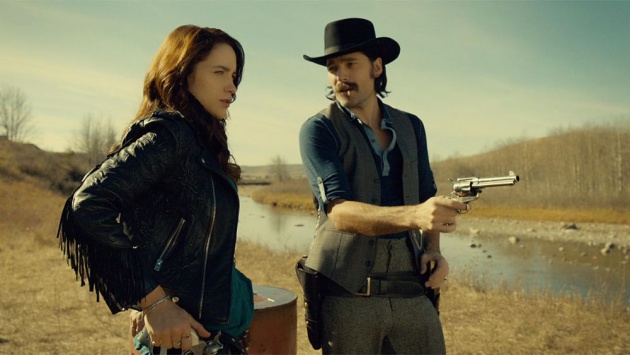 Image Credit: SyFy
A Deal for Longevity
Wynonna wants Doc to prove it. He says that he was known for his shooting skills, which he then demonstrates. Doc supposedly died 130 years ago, but he is not a revenant, nor is he a ghost. He says he made a deal that cured his tuberculosis and gave him longevity. Although he can still be killed. Doc claims he doesn't know how the Earp curse came to be, and he says that he has unfinished business.
No Forgiveness
Elsewhere, a woman is pleading with another. The other says that the first needs help, and leaves. When she does, a voice says 'Tick tock,' wanting to know if forgiveness has been granted. The woman throws a cover over a mirror, but the cover is sucked inside it. Then a hand reaches out with a straight razor and slices her throat open.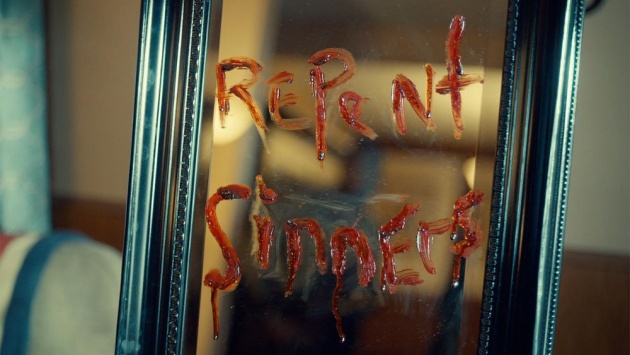 Image Credit: SyFy
Repent Sinners
When Dolls and Wynonna arrive at the scene, 'Repent sinners' is written on the mirror in blood. Wynonna knew the victim, but didn't like her. Waverly also knew her, but did. Waverly suggests that the revenant who might have written that on the mirror is a Father Malick. Wynonna also tells Waverly that Henry is Doc Holliday - but she already knew. And isn't too happy with him.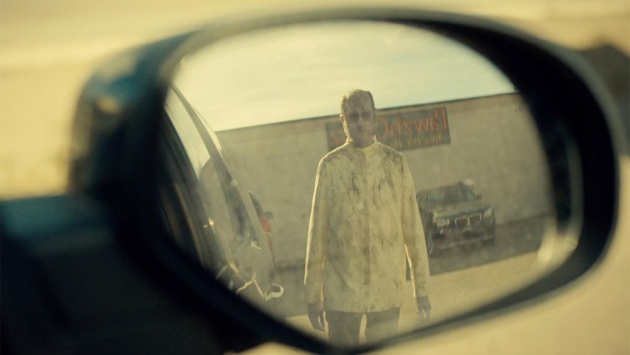 Image Credit: SyFy
Killer in the Mirror
Doc tells Wynonna where they might find the not-so-good father, with Bobo. He's telling the truth, but perhaps not all of the truth. So Dolls and Wynonna go and see Bobo, in a curiously bloodless encounter, given that the place is full of revenants. It wasn't Malick, but he might know who did. On their return to town, Wynonna sees the killer in the car mirror, but when she gets out he's gone.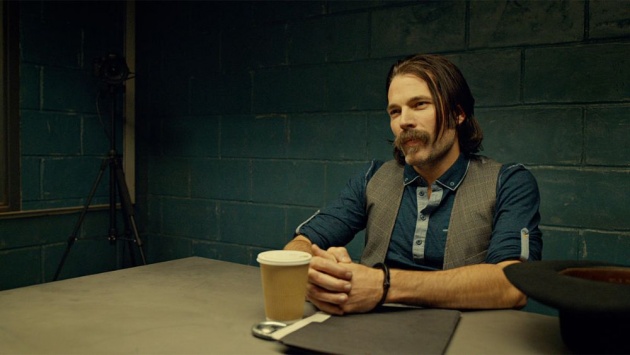 Image Credit: SyFy
A Knife in Your Hand and a Dead Body Looks Suspicious
In the bar, Doc strikes up a conversation with a man who is talking about forgiveness. The man goes into the bathroom, and a voice says 'Tick tock.' When Doc enters, the man is dead, and Doc is holding a knife because he saw someone in the mirror. Standing over a dead body with a slit throat whilst holding a knife looks suspicious. So Dolls interrogates him - and actually laughs during it.
Forgiveness or Death
The killer is giving people two hours to get forgiveness. If they don't get it, he kills them. Revenants are killed by a bullet to the head from Earp's gun - but the killer is staying inside mirrors. It's hard killing someone when all you can see is their reflection. If something isn't done, Wynonna herself could end up dead.
Wynonna Earp Season One Trailer
Video Credit: Series Trailer MP via YouTube
More Blogs:
Want to earn from blogging on bitLanders? CLICK HERE to sign up and get a reward.