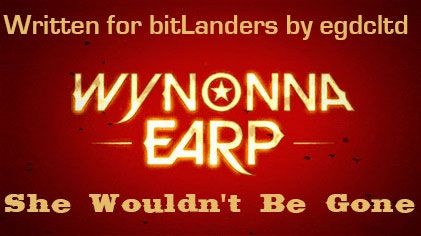 Image Credit: Wikipedia

"She Wouldn't Be Gone" is episode ten of season one of Wynonna Earp, the fantasy western series based on the graphic novel series of the same name about Wyatt Earp's descendant. In this episode, Dolls and Wynonna discover a weird cult whose leader Bobo is apparently scared of..
Previously on Wynonna Earp...
In the previous episode, "Bury Me with My Guns On", Gus had sold Shorty's and given the resulting money to Waverly, so that she could leave Purgatory and do what she wanted with her life. However, the person that Gus had sold the bar to was Bobo. Wynonna was not happy when she found out.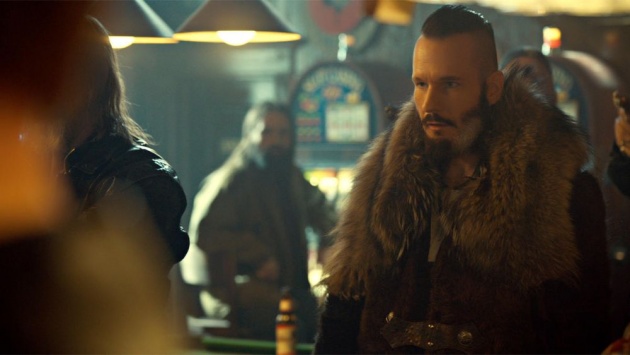 Image Credit: SyFy
Storming in to Shorty's
This episode opens with Waverly and Wynonna storming into Shorty's. Bobo bought the bar legally, so there is nothing they can do about it. Bobo even keeps the tips jar. As recompense for their rudeness, Bobo uses his telekinetic power to take the necklace from Waverly's neck, a necklace that belonged to their sister, Willa.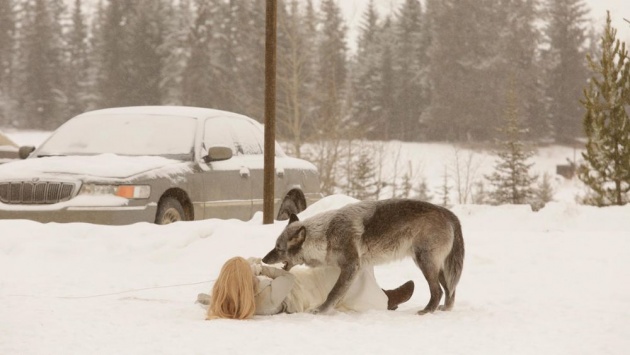 Image Credit: SyFy
Ripped Apart by Wolves
Elsewhere, a young woman wearing a strange white robe and an animal fur around her neck stumbles through the snow towards a petrol station. The man watching her approached seems pleased, saying to himself that sometimes the meat brings itself. The young woman was a runaway and wants to call her mother, asking for a phone. Then the man sees black marks on her face around an eye, and panics. He tells the girl that she is marked, and that she should find another gas station. A wolf approaches and the girl asks the man to tell her mother she's sorry when she comes to collect her remains. The man says that there won't be anything to collect, and hides inside as the wolf starts tearing the girl apart. Back in "Purgatory", Dolls had arrived at a crime scene where a young runaway had been ripped apart, supposedly by wild animals.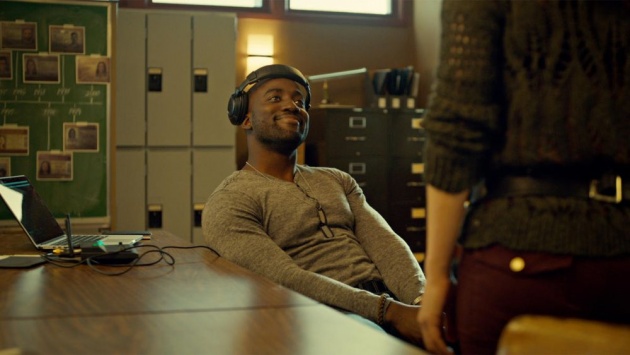 Image Credit: SyFy
Revenants in a Bar Sound Like Ordinary Men in a Bar
At the sheriff's, Dolls is listening to something on a pair of headphones when Wynonna and Waverly arrive. Their visit to the bar had another purpose; Waverly planted a bug on the tip jar when she tried to grab it. Now they are listening in. Waverly is initially excited, but this turns to boredom later when she discovers that listening to revenants in a bar is no different to listening to men in a bar. Dolls isn't happy to just now learn about Bobo's telekinetic powers. Wynonna points out that he wasn't around when this was discovered.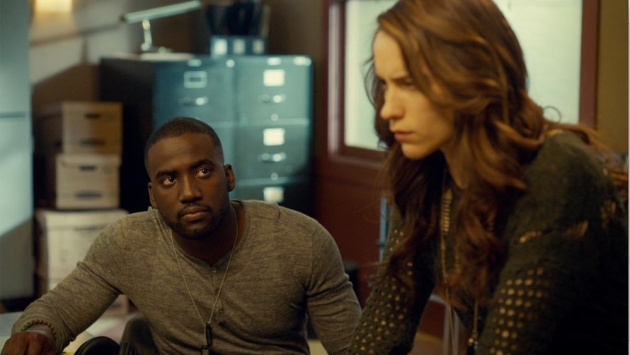 Image Credit: SyFy
Time For a New Plan
With Bobo's deal with the Stone Witch, who was going to help the revenants break free of the Ghost River Triangle, having fallen through, Bobo needs a new plan. Even if the Stone Witch was telling the truth, she is currently buried up to the neck in salt in the middle of nowhere - keeping her powers contained whilst at the same time making sure that her link to Doc doesn't kill him. Wynonna wants to know why Bobo has bought Shorty's; is it just to piss her off. Dolls believes that is just a bonus and, after thinking things through, they realise that Bobo and his revenants are now in a bar visited by regular people who will freak out if a demon is blown away in front of them. The bar is the perfect cover.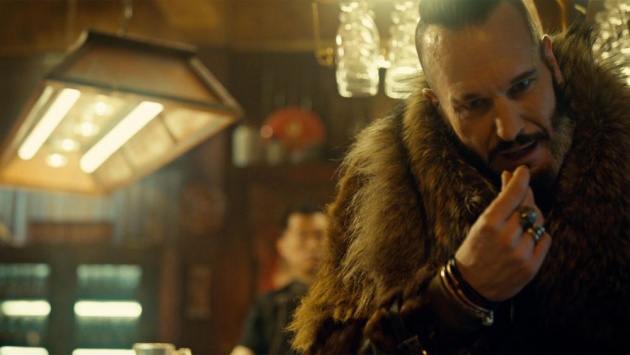 Image Credit: SyFy
Lou is Back
At the bar, the man from the gas station runs in in a panic. He manages to say that Lou is back, and Bobo is really not happy about this statement. Bobo says that Lou can't have come back, but he's told that the girl bore Lou's mark. Bobo not only looks angry; he appears worried and grabs the man by the face. Which has an unexpected result - the man has a tooth which picks up radio waves. Which leads Bobo to the bug and he announces to Dolls and Wynonna, who are both listening, that she has slept with Doc.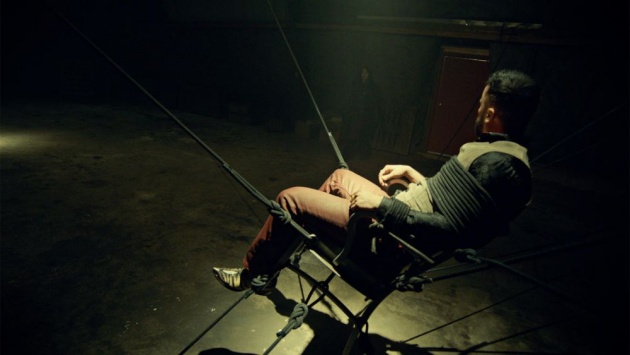 Image Credit: SyFy
Questioning Whiskey Jim
At the end of "Two-Faced Jack", Dolls had picked up Whiskey Jim. Jim is tied to a chair where Dolls has stashed him when Bobo appears. Jim tells Bobo he hasn't said anything; Bobo tells him that's going to change. Wynonna manages to follow Dolls and questions Whiskey Jim about Lou. Jim says that Bobo and Jim used to be friends, a hundred years ago, but Lou has a sadistic streak - which is saying something for a revenant. Bobo ran away from Lou, because Lou has a weapon. So Dolls and Wynonna think this weapon would be useful to have. But is Jim telling the truth, or is he telling them what Bobo told him to say? Wynonna is also angry at Dolls, as she though his disappearances were because he was sick. Dolls tells her he isn't sick but she doesn't appear to pick up on the qualifier - 'Not exactly.' So, Dolls and Wynonna head to the, as far as Dolls is concerned, creepy woods, where they stumble across a creepy cult.
Image Credit: SyFy
Doc Now Has a Car
Wynonna gave Doc the Stone Witch's car as a present - which caused a bit of unsettlement for him until Wynonna stepped out of it. He comments on the car being masculine; Wynonna tells him that pink is traditionally a girl's colour. Apparently not always. Doc is uncertain as to what to do with it and Waverly suggests that he learn to drive it. Doc has never driven before. This has some unexpected consequences.
There's a bit of a shock for everyone at the end.
Wynonna Earp Season One Trailer
Video Credit: IDWPublishing via YouTube
More Blogs From This Television Series:
Want to earn from blogging on bitLanders? CLICK HERE to sign up and get a reward.