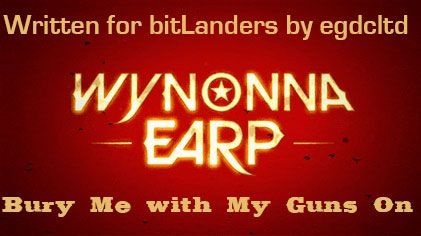 Image Credit: Wikipedia

"Bury Me with My Guns On" is episode nine of season one of Wynonna Earp, the fantasy western series based on the graphic novel series of the same name about Wyatt Earp's descendant. In this episode, Wynonna gets suspended and Bobo and the Stone Witch confront each other.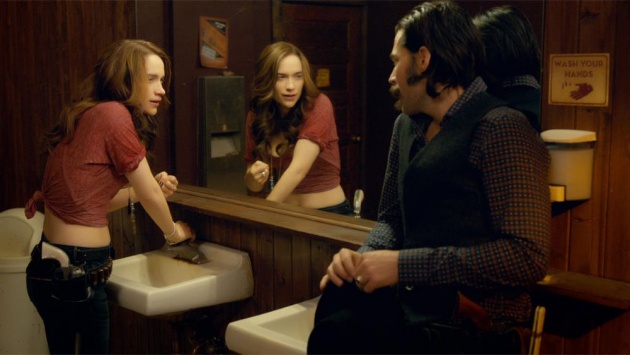 Image Credit: SyFy
The Seven Are Dead and Wynonna is Getting Wrecked
Wynonna is in Shorty's drinking a little too much, dancing and flirting with random men. But she keeps having flashbacks. Wynonna is technically celebrating the fact that, in the last episode, "Two-Faced Jack", she killed the last of the seven revenants who attacked her family home and killed her sister when she was young. Said final revenant being Jack of Knives - aka Jack the Ripper. One of the flashbacks causes Wynonna to brush off a man who doesn't take it quite as well as he could but Doc intervenes. Knife beats bottle. Wynonna tells Doc that she thought she would feel different now that the final revenant of the seven is dead.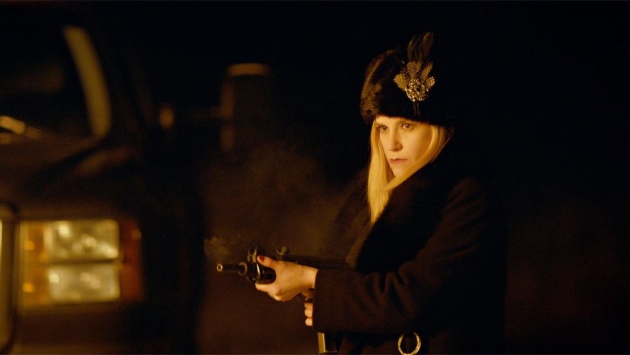 Image Credit: SyFy
The Stone Witch Turns on the Revenants
Elsewhere, 20 of Bobo's revenants are guarding the house where the bones collected for the Stone Witch are stored, when Constance turns up herself. And guns them all down. Not that such a thing is fatal to a revenant, but it does take them out of the picture for a while.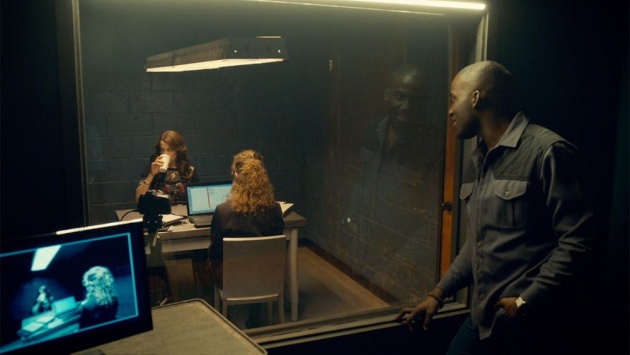 Image Credit: SyFy
Wynonna Needs a Psych Assessment
The next day Wynonna strolls into the office looking surprisingly chipper considering how drunk she was the previous night. She's also decided that tight leather trousers are suitable attire, which is something Dolls comments on. Wynonna woke up that morning knowing what she should do. Kill another seven revenants, then another and so on until they are all dead. However, Dolls tells her first that she needs to do a psychological assessment. Head office requires it. This does not go well; the analyst goes off track and essentially accuses Wynonna of being a murderer. She isn't happy that Dolls didn't intervene. Wynonna failed the assessment, and is therefore suspended.
Gus is Selling Up
In Shorty's bar Gus is talking to a man in a suit and Waverly is concerned. Gus looks to be selling the bar. Wynonna arrives and says that the real estate broker is no such thing, so she confronts him in the toilets. Turns out he actually is a human, not a revenant.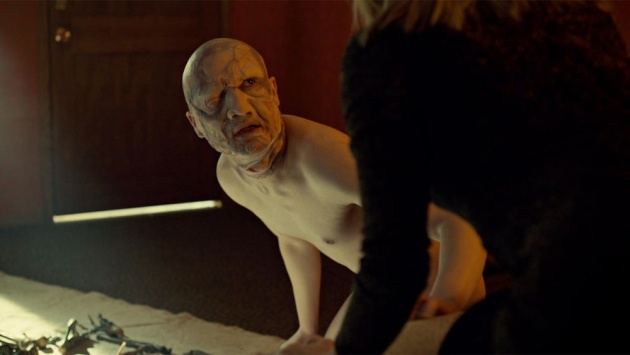 Image Credit: SyFy
Bringing Back the Stone Witch's Son
The Stone Witch is going to do a ritual to bring her sons back to life. They were originally killed by Wyatt Earp, but they didn't become revenants, because they aren't human. Constance is short of bones, only having enough to bring one of her boys back, so she chooses the one with the head - Waverly having smashed the other skull in "Walking After Midnight". The ritual doesn't seem to quite go as planned; the son is brought back but is rather badly deformed.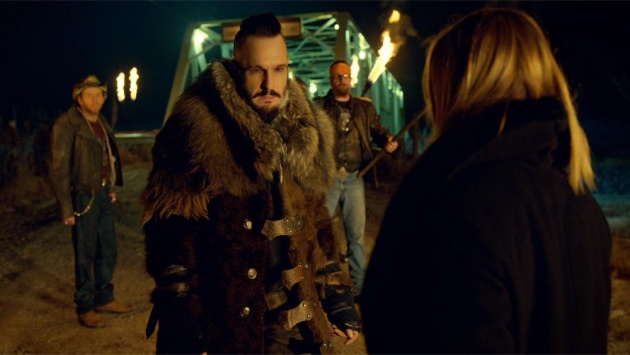 Image Credit: SyFy
A Confrontation With Bobo
Constance ends up in a confrontation with Bobo, one which does not go her way. It looks like any alliance they had is now over. Doc, being linked to Constance, can sense her distress and wants Wynonna to help him go after her. However, given that the two are linked, killing Constance may well kill Doc as well.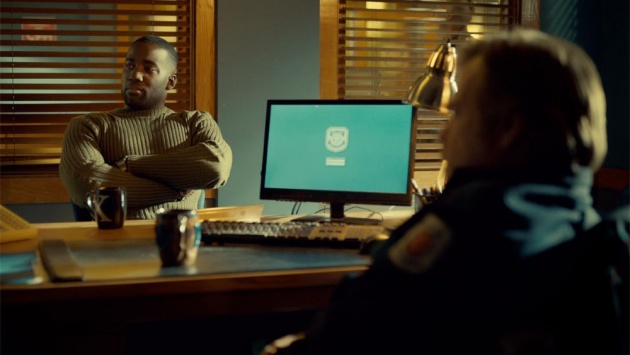 Image Credit: SyFy
Haught's Report Can't Be Accepted
Officer Haught has handed in her report of what happened to Sheriff Nedley, but the sheriff says he can't accept it. Given that it talks about such things as Jack the Ripper. Not being able to accept it is not the same as not believing it though; Nedley has already had his suspicions and decides to have a chat with Dolls on the matter.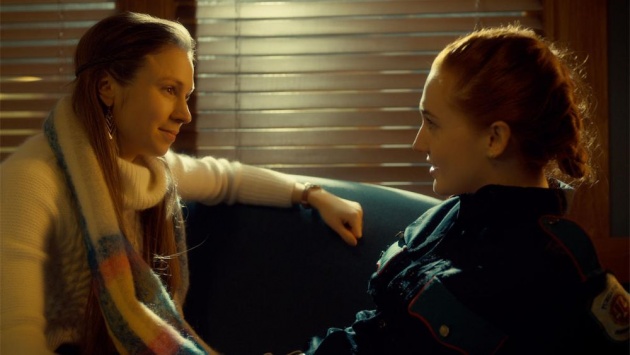 Image Credit: SyFy
A Confused Conversation And a Misunderstanding
Nicole leaves the sheriff's and bumps into Waverly. Haught wants to know that she is not imagining things, and the two end up having a very confused conversation that leads to a misunderstanding. Nicole thought she was talking about the supernatural events she has seen - Wynonna never managed to have the chat with her because Jack abducted them - whilst Waverly thinks they are talking about something a bit more... personal. So, neither ends up terribly happy with the conversation. Which will need revisiting.
Wynonna comes up with a plan to help Doc with the Stone Witch but Bobo gives her a shock at the end of the episode.
Wynonna Earp Season One Trailer
Video Credit: Series Trailer MP via YouTube
More Blogs From This Television Series:
Want to earn from blogging on bitLanders? CLICK HERE to sign up and get a reward.