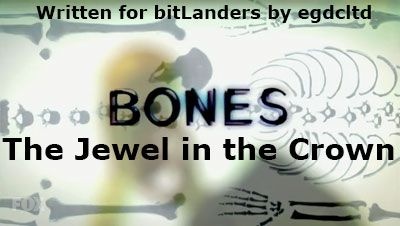 Image Credit: Fox via Wikipedia

"The Jewel in the Crown" is episode twenty-one of season eleven of Bones, the forensic drama television series loosely based on the novels and life of anthropologist Kathy Reichs. In this episode, a dead body has an expensive diamond in its mouth, which leads to high-end jewel thieves.
Nurse Ratched has been torturing me every morning for the last month, and there is no change, with which I'm totally fine with, but I was also fine with the old physical therapist

By "old physical therapist", you mean the hot, 26-year old?
Hodgins May Have Preferred the Previous Physiotherapist
Angela and Hodgins are coming into the lab and Hodgins is complaining about the new physiotherapist. She's been putting him through some agonising exercises to no effect, which he's fine with. He was also fine with the old physiotherapist. Angela inquires if what Hodgins was fine with was that the former physiotherapist was a hot 26 year old. Hodgins claims he never noticed. Angela asks why he was continually showing the physiotherapist how his core body had improved; he replies that she was interested in his body for purely professional reasons. Angela wasn't concerned with the physiotherapist viewing Hodgins' body. More the other way around.
A Body in a Lot of Broken Glass
Then Angela comments on the smell and Hodgins says it smells like a frat house and asks if someone threw a party and didn't invite them. Cam tells them that it wasn't quite a party; it's a body. Hodgins asks if it's the body of someone who drank themselves to death. Cam tells him it's where the body was found. Not outside a bar, like Hodgins suggests, but in a glass recycling plant. The body is in a huge dumpster filled with glass. It's a bit worse for wear. Angela asks Cam how the big wedding plans are going then there is a crash behind them from the dumpster. Cam tells Hodgins to be careful and Hodgins replies it wasn't him; wheelchair or not, he knows how to treat evidence. Hodgins suggests a tremor, a foreshock. Then wonders why he feels like a beer at 9 o'clock in the morning.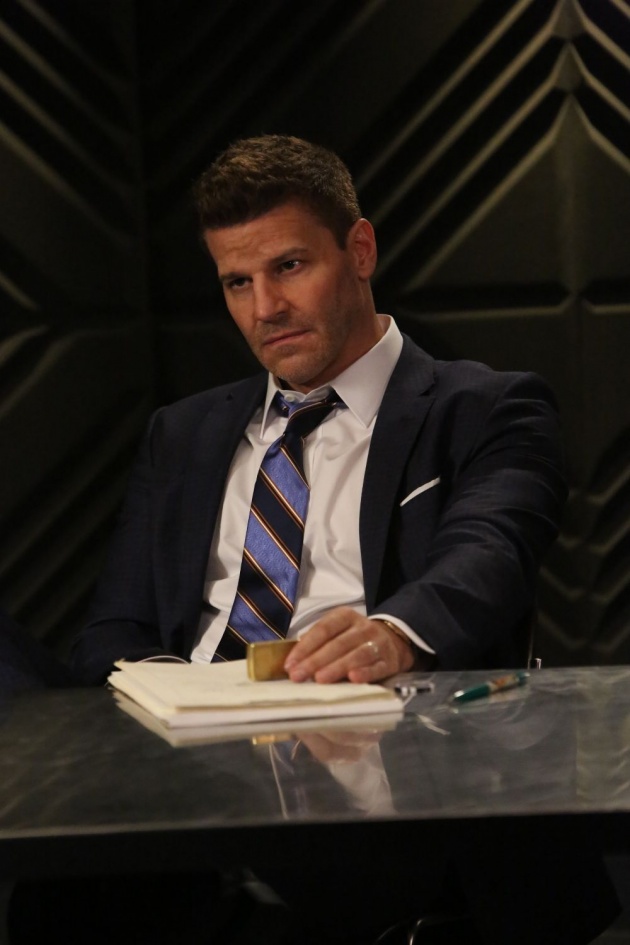 Image Credit: spoilersguide
Brennan Wants Booth to See an Eye Doctor
Brennan and Booth are in the car and Brennan is telling Booth that a few beers the previous night won't make his vision blurry. She wants him to call the eye doctor. Brennan tells him that alcohol consumption would not result in blurry vision and puffiness. Booth insists that he has had perfect vision his entire life, which is what makes him a great marksman. He really doesn't want to consider getting glasses.
Not Glass - A Big, Expensive Diamond
At the Jeffersonian, Daisy tells Brennan that they have already cleared out the glass from the body to protect her fingers. Perhaps thicker gloves would have been an idea. The victim is female of European descent and Cam says she's been dead about 36 hours. She was also in her mid 30s. Although the victim's mouth was closed, there appears to be a shard of glass embedded in it - except when she pulls it out it clearly isn't. It looks like a diamond and Cam says a very large, very expensive one.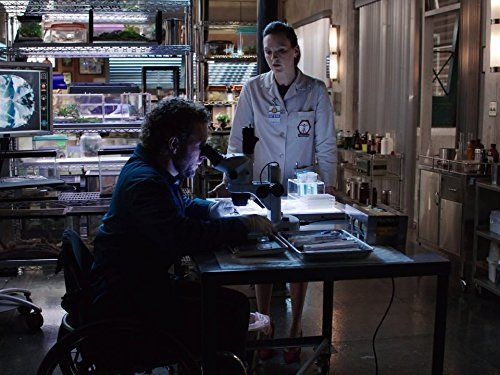 Image Credit: IMDb
Hodgins Does Not Believe in Spirits
Hodgins tells Daisy that it's a 2 carat diamond worth around $30K. Daisy doesn't know much about diamonds, because the ring Sweets gave her was a family ring. So Hodgins shows Daisy where a serial number has been etched into the diamond, something Daisy didn't know was done. As Daisy leaves, something falls over and Hodgins insists it wasn't him. Daisy suggests it might be a poltergeist. She also thinks that someone who believes aliens built Stonehenge should be more open minded about spirits. When something else falls over again, Daisy looks into it some more and finds something unexpected.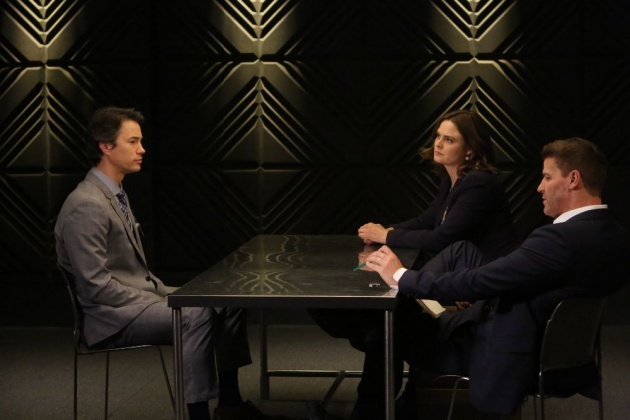 Image Credit: spoilersguide
A Replica of the Topkapi Dagger
Chadwick Gray tells Aubrey that he etched this particular diamond himself. It's from the Topkapi Dagger, or at least a replica of it. Aubrey asks if that's the dagger from the heist movie and Gray tells him it is. The replica alone is worth half a million dollars. When Aubrey asks about the dagger, Gray tells him that, like royalty of old, the rich of today like expensive pretty things. Aubrey as actually inquiring as to where the dagger was. It was loaned to a jewellery store for a collection of crown jewels, but was stolen.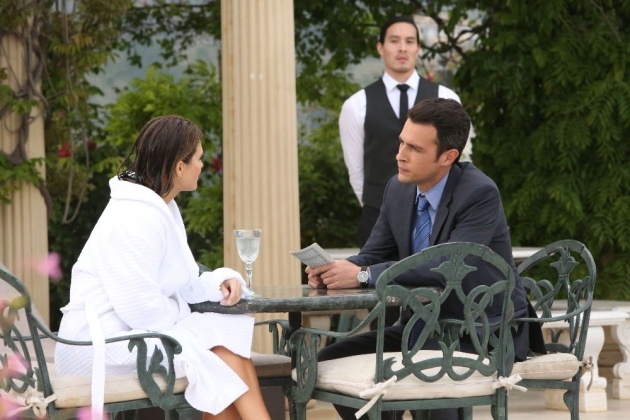 Image Credit: spoilersguide
Aubrey is Excited About Catching a Jewel Thief
Aubrey is driving and Booth is reading what happened during the robbery. The thieves were in and out in two minutes and stole jewellery worth, well, he can't make out the total. This leads to a discussion about heist movies; Aubrey likes them and, when he was young, always wanted the cop to win. Aubrey is excited about the idea of catching a jewel thief. More so than catching a murderer.
The Thieves Were Perfect Gentlemen
The clerk at the jewellers says that the thieves were actually perfect gentlemen. When asked why she buzzed in two people wearing ski masks, she says that she actually buzzed an older man in, but he moved quite slowly and the thieves were also able to get in. The man is a regular customer. The thieves knew exactly what they wanted and went for it. Only one spoke, with what the clerk thinks was a European accent of some type. Booth and Aubrey conclude that the thieves are pros, and will have done other robberies.
Inspector Rousseau of the French Police
At the Jeffersonian, Hodgins tells Brennan that the dead woman isn't American, but French, from the Loire Valley. Then Cam brings in an Inspector Rousseau of the French police, who says he knows information relevant to the case. The inspector says he knows who the victim is, the Marquise de Chaussin, and that she was killed by her husband, the Marquis of Chaussin. Who Rousseau also claims is behind the jewellery thefts, as there have been a number in France too.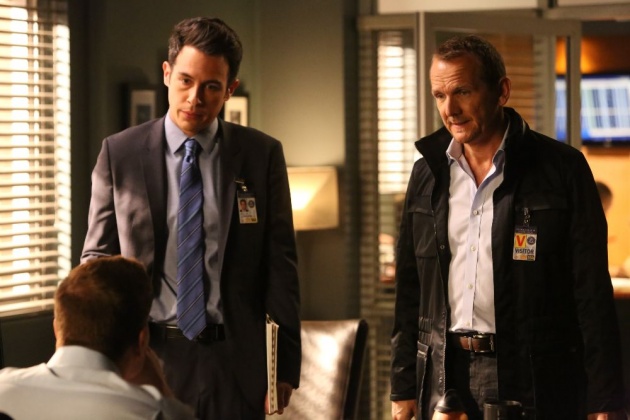 Image Credit: spoilersguide
That's Not French
At the FBI, Booth tells Rousseau that they don't need his help. The inspector insists that they have his file on the matter anyway. Aubrey comments that the French are supposedly arrogant, but... Booth gives the file to Aubrey because it's in French. Aubrey tells Booth that he's going to read the file, because it's in English, and Booth is going to make an appointment to see the eye doctor.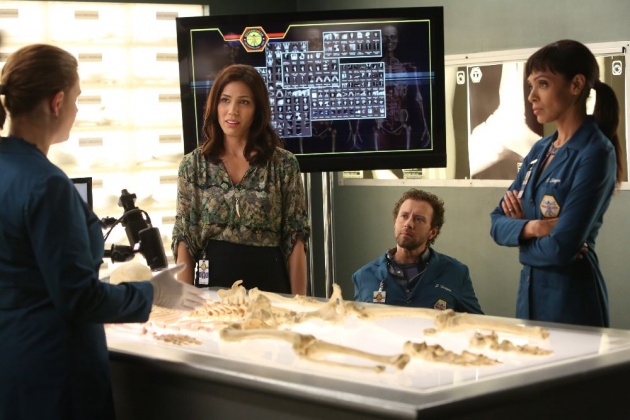 Image Credit: spoilersguide
Eh, don't bother. She's a lost cause... in terms of movies, I mean.
Panthers Aren't Pink
Cam says the victim died from a crushed larynx and Brennan says it was probably from behind. Hodgins found cord from a 17th century French tapestry in as well, and the marquis is a descendent of Louis XIV. Hodgins then starts talking in an over the top French accent, and refers to the Pink Panther. Brennan doesn't know why he's talking in a ridiculous accent, and says panthers aren't pink. Hodgins is about to explain further but Cam tells him not to bother - Brennan is a lost cause. When it comes to films. (And most pop culture references.)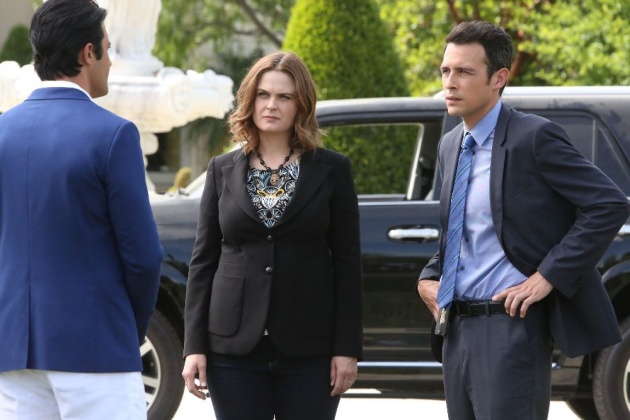 Image Credit: spoilersguide
The Marquis Does Not Look As If Money is a Problem for Him
Booth had told Aubrey not to tell Brennan about him seeing an eye doctor but she guesses anyway. The Marquis de Chaussin's family had lots of money, but had recently lost most of it due to poor investments and are practically broke. Yet the Marquis does not appear to be acting in a manner that suggests money is remotely a problem. The Marquis is not remotely cooperative, although he didn't know his wife was missing. He says that Rousseau's ridiculous endeavour cost him his job and Aubrey should be careful it doesn't happen to him too.
Is the Inspector Involved?
There was another murder connected to the robberies in France and Hodgins arranges with Rousseau to get details on it so Brennan can look into it. Then it appears that the inspector was with the dead woman just prior to her death. In fact, he may have been the last one to see her alive. So, is he involved?
Bones - The Jewel in the Crown Trailer
Video Credit: ME GUSTA CHANNEL via YouTube

More Blogs from this Television Series:
Want to earn from blogging on bitLanders? CLICK HERE to sign up and get a reward.