Online Shopping
Hello Bitlanders! I hope that you all would be fine. Technology has become so powerful in today's world that most of the human's work is done by just a single touch of the finger. Let us take the example of shopping. Nowadays, products and services are being sold over the internet. Shopping online enables us to buy goods of any kind and from any brand. Online shopping has become popular in the modern world mainly because it doesn't require a person to visit the shop, grab a trolley, roam around and finally to stand in queue for checkout. Online shopping provides a convenient way to buy products.
I am writing this blog to discuss some great features of daraz.pk which have made it the best online shopping website in Pakistan. I will share with you the best things I like about it.
What is daraz.pk?

Picture credit: Google Images
Daraz is Pakistan's fastest growing online shopping platform. It is the top most used among the different online shopping websites. It was founded six years ago; in 2012 by Rocket Internet. Alibaba is the parent company of daraz.pk. Daraz has spread its availability in five different countries; Pakistan, Bangladesh, Sri Lanka, Myanmar and also in Nepal.
With 2 million products available, Daraz offers a diverse assortment of products in categories ranging from consumer electronics to household goods, beauty, fashion, sports equipment, and groceries. Focused on providing an excellent customer experience, it offers multiple payment methods including cash-on-delivery, comprehensive customer care and hassle-free returns.

Daraz is owned by Alibaba Group Holding Limited.
1) Easy Payment Method
Buying products on daraz is very simple. However, daraz has made a guidance video on 'how to order on daraz' which clearly shows each and every step to buy products.
Video credit: Daraz.pk via Youtube
Payment can be done through various methods. Cash on delivery is the most convenient method to choose for payment. Because Cash on delivery is a trust, you can trust the seller because you pay for the product when you have your product in hand. You just have to give cash and collect your order. I always go for Cash on delivery whenever I purchase from daraz.
Other option for payment is of course through credit or debit card. When products are ordered using this procedure, payment is done instantly to the seller. Sometimes people prefer this for purchasing products of high price.
Paying through Easypay is another secure option while buying products. Easypay is Pakistan's online payment procedure for online product buyers and sellers. Through easypay, anyone, in any corner of Pakistan, can pay online conveniently and securely. Customers can pay at any shop which provides services for easypay.
2) Fantastic Discounts on Different Products
As we all know that the word 'discount' or 'sale' catches person's attraction towards the product. Promotions and discounts are the most effective way to generate more sales. Daraz also entertains the users and buyers with discounted prices on different products.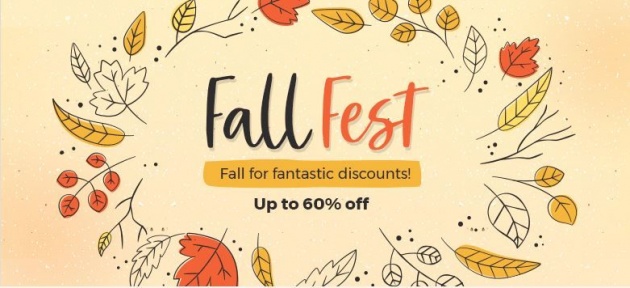 Picture credit: Daraz.pk
Nowadays, the fall season is going on, so daraz has put fantastic discounts on different products for a limited period of time. Fall Fest is providing up to 60% off on products which is a great opportunity for customers to buy products at low prices. Products are sold like hot cakes during the discount season, especially when you have coupon codes too.
A normal user can also sell on daraz, so it is a great opportunity for an individual to cut the market price down and provide discounted price to generate more sales of the product and to get higher rating amid of other sellers.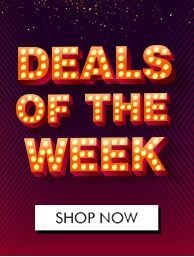 Picture credit: Daraz.pk
Besides seasonal discounts, Daraz also provides deals of the week in which special discounts are provided on phones & tablets, smartphone accessories, appliances, computing & gaming and many more items. These deals of the week are one of the most reasons that I love to shop from daraz.
3) Daraz Online Shopping Application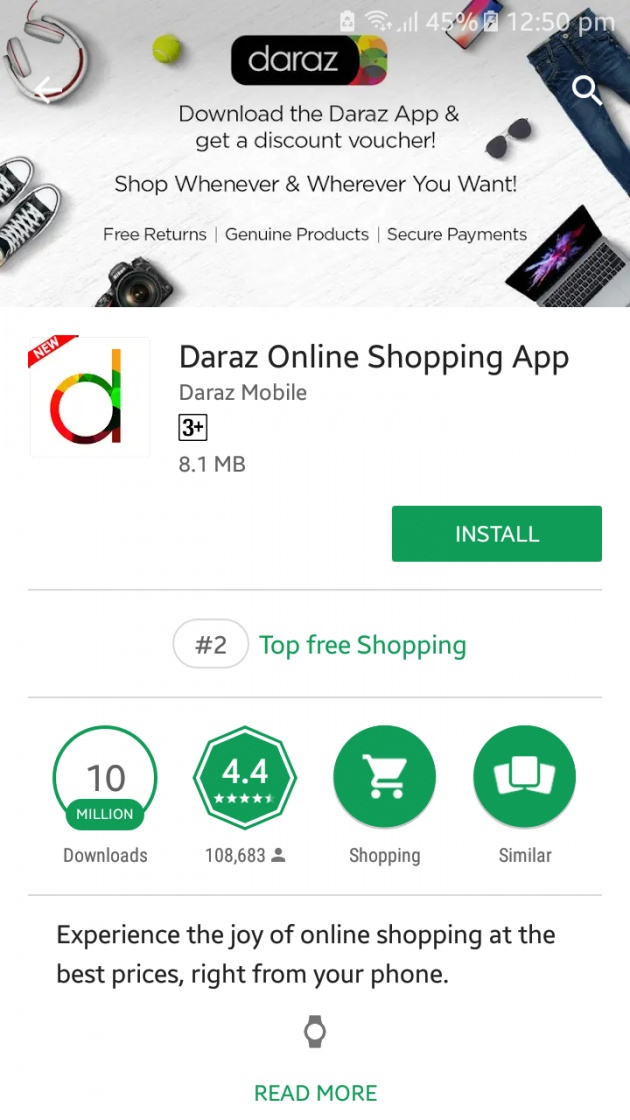 Picture credit: Screen Capture by AzzKP
What if you don't have access to personal computer, or laptop on which you can browse daraz.pk website. Don't worry, daraz has made a mobile application, which can be installed on any type of smartphone. Daraz's mobile application allows you to browse through the latest products in the market. This smartphone application is very easy to use and with simple steps, you can easily purchase any type of product you like. I have used other online shopping apps too, but I found this the easiest to use application.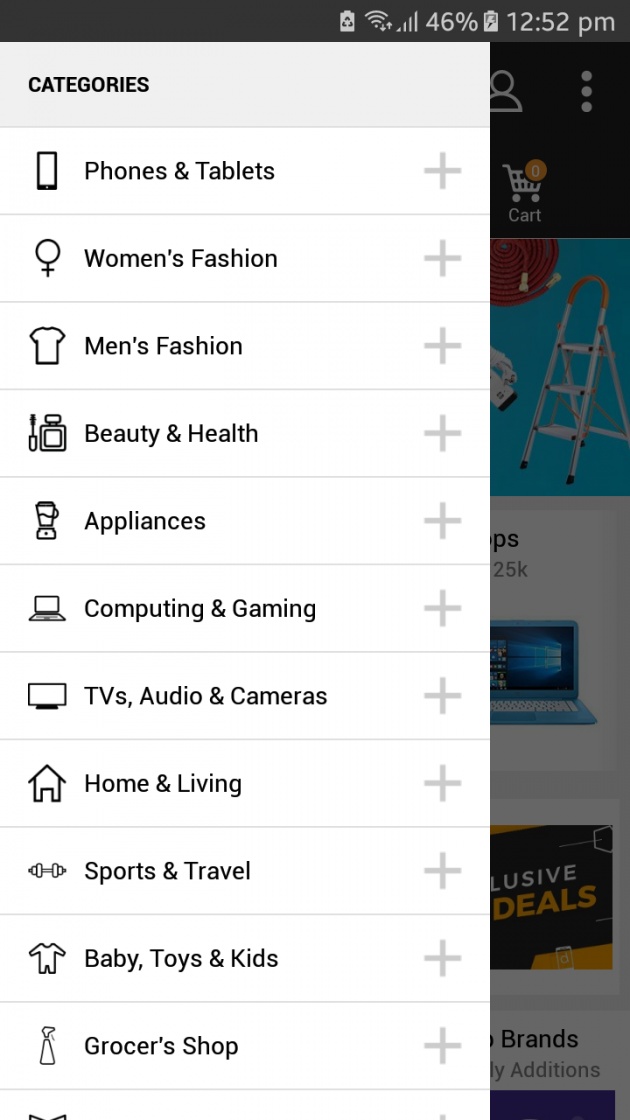 Picture credit: Screen Capture of Daraz App by AzzKP

It allows users to browse into different categories of products so it makes very easy to find the desired product. Whether you are android or iOS user, daraz will always give you amazing online shopping experience. Other benefit of this application is that it allows enabling push notifications in smartphone which helps you to keep updated about products and daily promotions.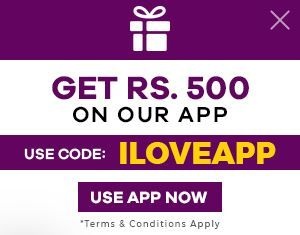 Picture credit: Daraz.pk

And not only it is easy to use application, but also installing the application on mobile gives free discount coupons as well. Only installing the app and using the code 'ILOVEAPP' will give you Rs. 500 OFF! and that is something really interesting.
4) Sell your products on Daraz
Daraz is not only a platform on which you can buy online products, rather you can also sell on daraz. Selling on daraz doesn't require much experience or involvement in marketing strategy and of course it is a free procedure to sell on Daraz. You just need to provide details of yourself and business and the information of the products which you are going to sell.
Selling online on daraz give sellers an opportunity to earn money, they can put their products on sale to generate more traffic and buyer on their products.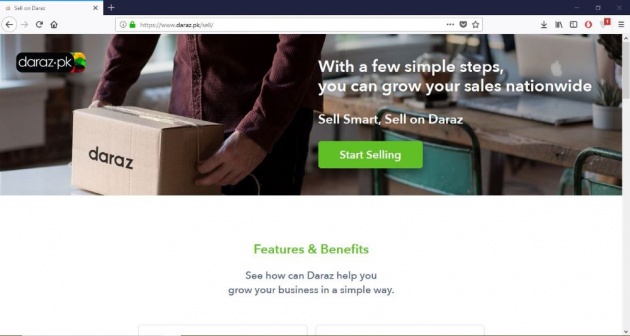 Picture credit: Screen Capture of Daraz Website by AzzKP
Working with Daraz has allowed my business to grow multi-folds. Not only did it provide me a valuable experience of selling online but also has became a substantial revenue stream and has enabled online presence of my shop.

Credit: A company 'Bed n Shines' review about Daraz.pk
5) Become an affiliate - Daraz Affiliate Program
An affiliate program is that in which you can earn commission upon promoting the products of a website. Similarly, daraz offers an Affiliate Program in which every person having own blog, website or just a social media account can apply. The commission can be earned upon referring customers online to them. Promotion can be done by using the banner ads provided by them or you can also create your own banner ads to get more traffic on your ads.
The plus point about this affiliate program is that it is completely free and it doesn't require any investment to become partner of it. The money you earn depends upon how much customers you send to the merchant's site.
Video credit: Daraz.pk via Youtube
I have become a seller as well as a buyer on daraz but haven't tried becoming an affiliate, but I am looking forward to try this feature of daraz too. And I am sure that Daraz will not disappoint me :-) This was all about Daraz- Popular Online Shopping Platform in Pakistan. I hope you guys enjoyed reading it and found it helpful. If anyone has ever experienced shopping from it, feel free to share your experience :)
************************************************************************************
Don't forget to check my other blogs too:
1) 2 Common Types of Depression - it's Causes and Symptoms
3) CPU-z ; A System Profiling and Monitoring Application