It's been eleven years since the last movie of the Ocean's trilogy was released. This year 2018, the famous film series has taken a very interesting spin-off, now featuring an all-star female cast led by Sandra Bullock as Debbie Ocean. Ocean's 8 is indeed a great choice to write a movie review for the BitLanders Film Series supporting women empowerment. Let's dig deep into the movie through my review!
♚ The Movie ♚
(Video Credit: Ocean's 8 - Official Trailer (HD) by Gary Ross via BitLanders)
(Image Credit: Ocean's Eight 2018 via IMDb)
▶ The Characters
As what I have mentioned, Ocean'8 is packed with an all-star cast who are dominantly female celebrities. Let's take a look at the casting below.
◙ Debbie Ocean (Played by Sandra Bullock)
➤ Debbie is a known heister and a younger sister to Danny Ocean, the original main character in the Ocean's series. She just got out fresh from imprisonment due to art fraud she was framed up about five years ago. She was granted parole, in the promise of living a peaceful life far from her relatives and colleagues who were involved in crimes. However, Debbie had been planning a big-time jewel heist during her stay in the prison.
◙ Lou (Played by Cate Blanchett)
➤ Lou is Debbie's partner-in-crime. She was invited over and convinced by her old friend to accompany her in a big-time jewel heist. They both arranged how to execute the heist, recruiting several other members along the way.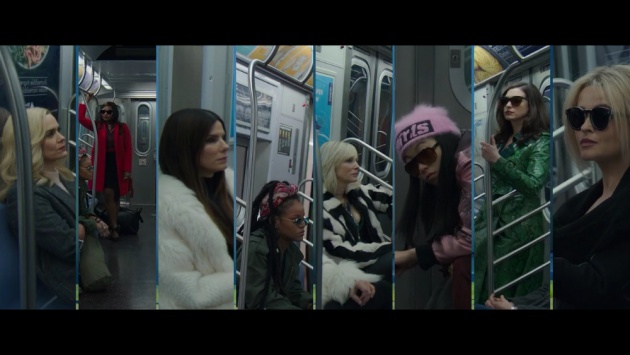 (Image Credit: Screenshot by JustAGirl)
◙ Daphne Kluger (Played by Anne Hathaway)
➤ Daphne is a very famous actress who was about to co-host the upcoming Met Gala. She became the target mule of Debbie and Lou to wear the Toussaint necklace, from the House of Cartier they plan to steal.
◙ Amita (Played by Mindy Kaling)
➤ Amita is an expert in jewelry-making. She was recruited by Debbie to be part of the team to have someone create a duplicate of the necklace they were about to steal.
◙ Tammy (Played by Sarah Paulson)
➤ Tammy is an old colleage of Debbie who currently works as a profiteer of smuggled goods in their hometown. She was also recruited by Debbie to help them out execute their heist.
◙ Constance (Played by Awkwafina)
➤ Constance is a street hustler and pickpocket who was spotted by Debbie and Lou in the streets of New York. They recruited her to be part of the team for her pickpocket skills.
◙ Nine Ball/Leslie (Played by Rihanna)
➤ Nine Ball is a professional hacker who has a lot of "clients" on her list. She never discloses her name to any of her clients. However, when they called her younger sister to ask help to build a special magnet they would use to unlock the Toussaint, her younger sister called her by her name, Leslie. She was recruited by Lou to hack the security system of the museum where the Met Gala would be held.
(Image Credit: Screenshot by JustAGirl)
◙ Rose Weil (Played by Helena Bonham Carter)
➤ Rose is a disgraced fashion designer who has huge debt. She was convinced by Debbie and Lou to be part of their scheme. She would be dressing Daphne for the Met Gala with the goal of making her wear the Toussaint.
◙ Claude Becker (Played by Richard Armitage)
➤ Becker is a successful art dealer who once had an affair with Debbie. He was the one who framed her up for art fraud which caused Debbie's imprisonment. In revenge, he was set up by Debbie for the stolen Toussaint.
◙ John Frazier (Played by James Corden)
➤ Frazier is an insurance fraud investigator who handled the case of the stolen Toussaint. He also had a history with the Ocean family, having known the family's criminal history. He suspected Debbie of the crime but had no concrete proof to back it up.
Several celebrities also had a cameo appearance in the movie as themselves during the Met Gala including Heidi Klum, the Kardashian sisters, Gigi Hadid and Olivia Munn. Dakota Fanning had a special appearance as well as Penelope Stern who was a career rival of Daphne.
▶ The Plot
The movie begins with Debbie Ocean being granted parole after being imprisoned for about five years. She was arrested for art fraud which she was framed up by her boyfriend at that time, Claude Becker, who was an art dealer.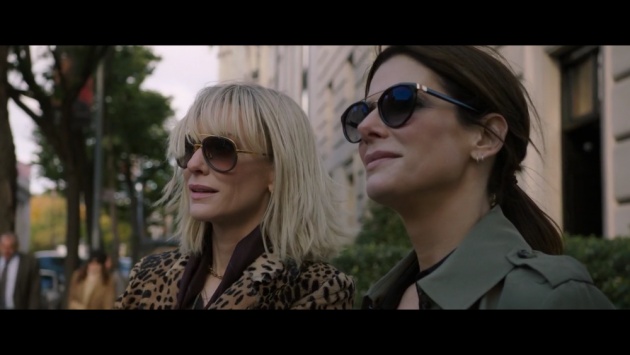 (Image Credit: Screenshot by JustAGirl)
During Debbie's sentence, she planned on her biggest heist to date. She aimed at stealing one of the most expensive jewelry, the Toussaint necklace, owned by the House of Cartier. However, she could not execute it alone and asked assistance from her old friend and partner-in-crime named Lou.
Don't con me. You do not run a job in a job!
Debbie saw the upcoming Met Gala ball as an opportunity to steal the necklace. They had to make one of its hosts, the famous actress Daphne Kluger, wear the necklace. They were scanning through fashion designers to recruit as confidant, and they came across Rose Weil.
After convincing Rose to be part of their heist, Debbie and Lou devised tactic to make Daphne hire Rose as her designer for the upcoming ball to which they succeeded. They recruited several other members to the team including Amita who is a jewelry maker, Nine Ball who is a professional hacker, Constance who is a skilled pickpocket, and Tammy who is an old friend of Debbie.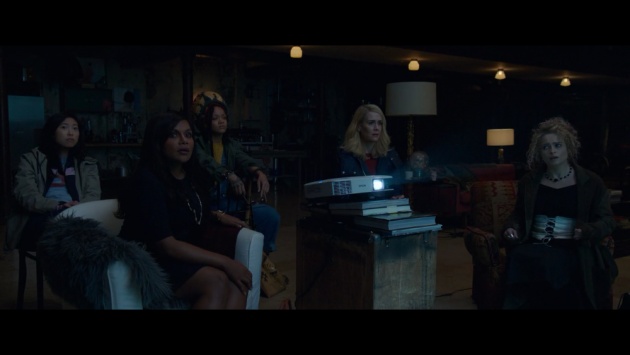 (Image Credit: Screenshot by JustAGirl)
At the night of the gala, Lou spiked the soup for Daphne which made her go to the restroom to vomit. As her face was sulked in the sink, Constance unlocked the necklace off of her and immediately pocketed it. It was then brought over to Amita in the kitchen to retool it into several smaller pieces of jewelry, so they can snuck it out safely without being caught.
When the security officers who were tasked to safeguard the expensive necklace noticed that it was missing from Daphne's neck, they immediately demanded inspection all over the place. Just as one of them was about to approach the kitchen restroom where Amita was reassembling the Toussaint, Tammy declared she found the necklace which probably fell off from Daphne into the fountain. But that necklace was a duplicate they made earlier.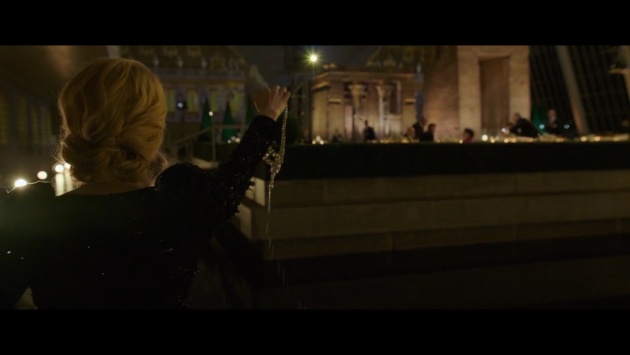 (Image Credit: Screenshot by JustAGirl)
After Amita finished the new pieces of jewelry, she distributed them to all the girls to wear out of the museum. Then, Debbie planted one on Becker's suit to set him up for the crime as revenge. Becker was Daphne's date for the night.
When the gala was over and the fake necklace was handed over to Cartier, it was immediately found out that it was not the authentic one. An insurance fraud investigator named John Frazier was summoned over to handle the legal matter.
As Frazier was holding his investigation, he noticed Debbie's presence in the gala. Having known the criminal history of the Oceans, including Danny, he suspected Debbie's involvement in the crime. However, he could not find any evidence to solidify his theory.
Debbie Ocean, convicted felon. Her brother, Danny Ocean, more convicted felon. She was present on the night of the incident.
Just in time, Debbie contacted Frazier over dinner to talk about what happened in the Met Gala. She convinced him that she is unaware of where the necklace was but knew where a part of it was. She sent him a picture of it on Becker's belt to secure an arrest warrant.
This all became possible with the help of Daphne, who went over to Becker's place and took the picture. It was revealed that she became aware of the heist even before the gala night took place. And so, she would want to become part of the crew in exchange of not turning them all in for arrest.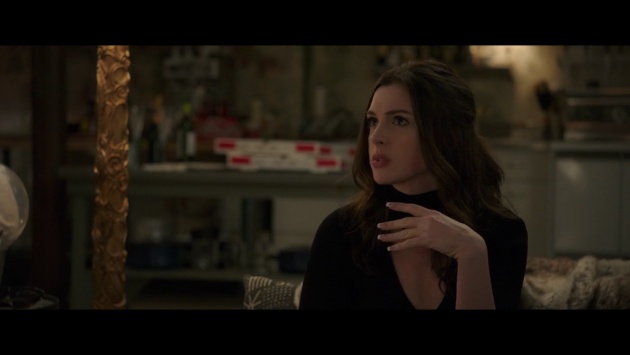 (Image Credit: Screenshot by JustAGirl)
Meanwhile, on his place, Becker was arrested by the police. Upon interrogation, it was revealed that a huge sum of money was deposited to his account earned from selling several pieces of the necklace. It turned out it was Debbie's move to further his supposed involvement in the crime.
As the whole team celebrated the victory of their heist, Daphne wondered and asked what will happen to their supposed shares when most of the pieces of necklace were sold to frame Becker. Debbie and Lou revealed to them the other pieces of jewelry they stole in the museum as the entire gala went busy over the missing Toussaint. They now had higher shares compared to the originally agreed amount.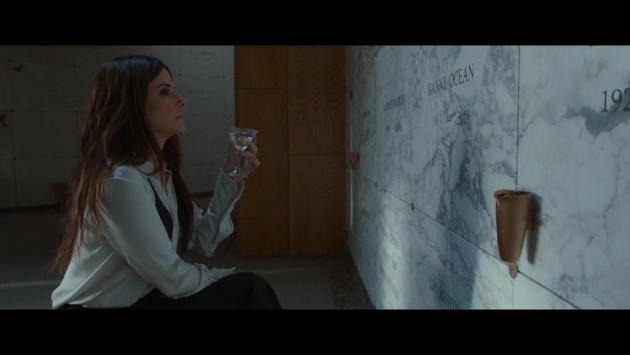 (Image Credit: Screenshot by JustAGirl)
The movie ended with each of them living their own lives. Amita went to Paris on a date with a man she found on Tinder, and Rose was able to establish her own fashion boutique. Constance obtained a big loft and became a YouTuber, while Tammy expanded her business but still selling smuggled goods. Nine Ball built her own pool bar, and Daphne became a director. Lou went on a road trip.
Meanwhile, as for Debbie, she returned to Danny's supposed grave. She toasted a martini in his honor saying that he would've loved "it", referring to the heist they were able to successfully execute.
♚ My Movie Review ♚
(4.0 out of 5.0 ★★★★☆)
Ocean's 8 is such an entertaining heist comedy film with minimal action compared to its predecessors, the Ocean's trilogy. But it did not hurt the overall performance of the movie. With its unique and interesting spin-off to include all-female cast, Ocean's 8 did itself justice making it deserving of the warm critical and popular responses it received.
"What kind of movies do you like?"
▶ Direction, Cinematography and Screenplay
During the entirety of the movie, I found myself laughing a good laugh at many scenes, most especially involving Sandra Bullock and Anne Hathaway. But before going directly at the casting, I said this to point out the beauty of the storyline of the movie.
I enjoyed it so much. The beginning of the movie was already funny, with Bullock trying to look dramatic and emotional. Something about her acting was comedic even though she was in tears. There was also this next scene wherein Debbie shoplifted in a high-end mall, pulling off a tactic I never even thought exists. I don't even know if it would really work in reality, but it was hilarious.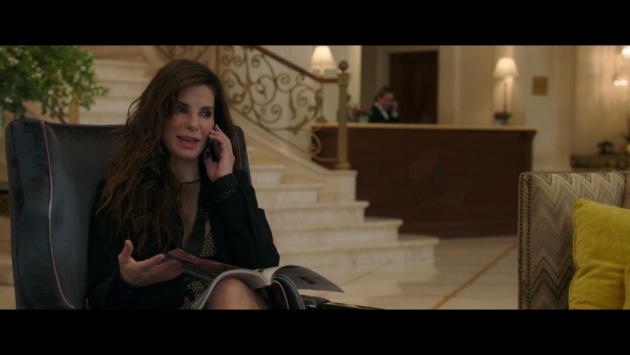 (Image Credit: Screenshot by JustAGirl)
Thinking of the effectiveness of the screenplay was not a shock to me. Given that director Gary Ross co-wrote this movie with Olivia Milch. I have expressed my admiration towards Ross's approach in writing and directing in my movie review of The Hunger Games which he also wrote and directed.
Although unlike his approach I knew, Ross still managed to please me with his work in Ocean's 8. Not much with the picturesque narrative, but he utilized inner dialogue and strong characters to edify the intended message of the movie.
This is about camaraderie, not antagonism. If we had built up an antagonist too much, well, of course, all movies need one, right? A bit of one... But if you make them overly important, you really diminish what they're trying to do, which is just steal stuff.
In one interview, he did mention the importance of focusing on the characters as a team, rather than build antagonism among them. This, I think, is really a wonderful idea, given that most movies nowadays tend to create angst among women.
▶ Movie Theme and Message
There could be not much of theme or morale in the story. It is about a heist and a life of criminals who have lived their life doing what we consider in the society and the law as bad and illegal. At one point, Debbie even said that they should execute their heist perfectly for the children out there who dreamed of being criminals someday.
However, it was said in sarcasm. The movie, although not suitable for the younger audience, could serve as a warning to everyone to stay away from getting involved in any form of heists.
"Do you support women's empowerment?"
Needless to say, Ocean's 8 does not only exist to serve as a heist comedy film. One powerful message it has that I really consider the most is its emphasis of girl power. Very few films in Hollywood revolve around women as lead characters. But Ocean's 8 did not just include one, or two lead female characters. Indeed, this movie signifies women empowerment.
▶ Casting
I already mentioned Sandra Bullock's very effective and well-fitted portrayal of Debbie Ocean. But she was not the only one who brought the movie to a high level of entertainment. Anne Hathaway as Daphne Kluger was hilarious as well. She was able to perfectly act as egocentric and insecure A-list actress.
Then there, of course, is the very talented Cate Blanchett. It makes me feel like everything I will say about Blanchett might be an understatement. She was funny in this movie. But isn't she always marvellous in all her roles? I just recently saw the movie Hanna and made a review about it, and boy was Blanchett so golden in it!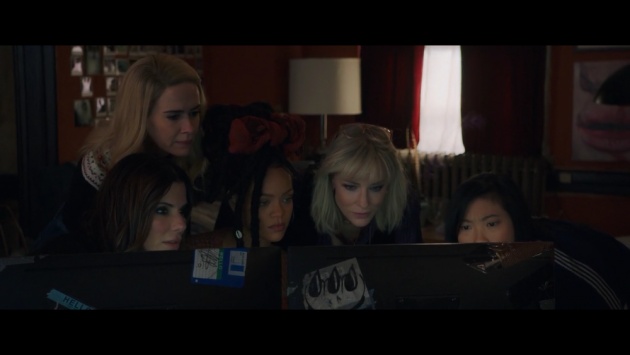 (Image Credit: Screenshot by JustAGirl)
Aside from these true-to-life A-list actresses, Rihanna also added a punch to the movie. I would not criticize her acting that much, considering she is just starting in the biz of acting. Same goes for the rapper, Awkwafina.
Minda Kaling and Sarah Paulson were hilarious as always. Although I was thinking they were not able to utilize both's comedic prowess that much. But still both girls gave the movie a kick in the ass. Another personal favorite was James Corden, who I was glad to see on the screen. Him delivering his lines seemed already funny to me, remembering his The Late Late Show skits, but still nothing too comic about his character as well. Just check out the hilarious clip below.
(Video Credit: The Late Late Show with James Corden via YouTube)
♚ Other Related Reviews ♚
For those who are interested to make further readings regarding Ocean's 8, here are some insightful movie reviews from movie critics.
◙ Film Review: 'Ocean's 8' by Owen Gleiberman of Variety
◙ Ocean's 8 Is, Unfortunately, Far Less Than the Sum of Its Glittery Parts by Emily Yoshida of Vulture
◙ 'Ocean's 8' Review: Heist Franchise's Female Reboot Gives You Stars For a Steal by Peter Travers of Rolling Stone
A fellow here in BitLanders also made an informative review of the movie. Check out her blog below.
◙ Ocean's 8: The Movie for Lady Criminals by ArtGirl
How about you? What do you think of Ocean's 8? Let us know by either leaving your comment below, or by creating a blog in participation to the BitLanders Film Series supporting women empowerment!
Thank you for reading my post!!!
------
For more of my blogs:
♦ The BitLanders Film Series Introducing Disney Animated Film FROZEN: A Tale of Sister Love and Women Empowerment
♦ The BitLanders Film Series Featuring Jennifer Lawrence's "RED SPARROW" A Movie Review: Of Women Empowerment or Female Objectification?
♦ The BitLanders Film Series Featuring ENCHANTED: A Comic Modern-Day Fairytale of a Brave Damsel Finding Her True Love's Kiss (A Movie Review)
♦ The Hunger Games Movie Review: Face of Hope Amidst Post-Apocalyptic Dystopia
♦ The Hunger Games: Catching Fire Movie Review
♦ MOANA Movie Review: Empowered Young Girl from the Island of Motonui