Video Credit Gihan Perera Via Youtube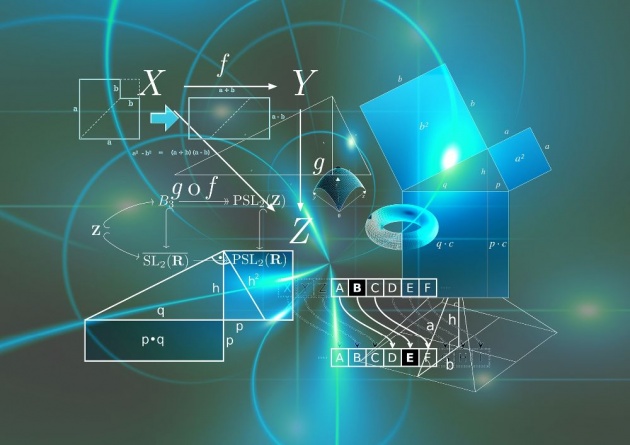 Image Credit Geralt Via Youtube
Education Before The Advent Of AI
Teaching as a profession as always been honored because it molds a child into a moral, social, and cultured human. I remember my teacher in grade one teaching us poetry. The poem was about rain I vaguely remember. Her gloved fingers became the clouds, the wind and rain pattering down making grass grow and worms and bugs come out and bring back life to the earth.
The impression this had made on my tiny mind is indelible. I fell in love with poetry from that moment on. Her love to teach, her passion for poetry lives in me today. She did not stop with that, as she taught us to read and write she reinforced our moral and social values and taught us to be good people first.

Image Credit Geralt via Youtube
The Changing Face of Education
Today the educational system crams children with so much knowledge and they seem to learn like robots, emotionless. The system doesn't care whether the concepts are understood or not, it is focused on doing what needs to be done.
Education has become a product to be delivered at a cost. There are no quality checks or standardization. Violence and crime have entered the portals of educational institutions and the focus has shifted from education to security, protection of religious rights or confusion over how to handle gender issues.
AI Changing The Face Of Education
Take this one step further, add to this scene robots teaching students. It is perfection with none of the human errors, or laughter or even a smile. It is learning in all its flawlessness. One on one, the perfect answers to each question, methodical, and even adjusted to the student's pace of learning and style of learning. With AI predicting behavior and mental health issues with students all campuses would be the picture of peace and focus. What more can you ask for?
Let me put before you another scenario in education. With the advent of calculators some of us forgot how to do quick mental calculations. We reach out for our phones or other gadgets to do simple calculation. Our smart brains became lazy with gadgets that could the the job better. Can you imagine what will happen with AI on the scene?
Today universities and schools are changing the nature of education as we know it. Several companies such as Content Technologies and Carnegie Learning are currently developing intelligent instruction design and digital platforms that use AI to make learning flawless. These systems create perfectly designed lessons, balanced tests, accurate feedback, and additional tutoring if needed. With machine learning students might soon be able to take individually tailored lessons that suit their style of learning, pace, mental ability and temperament. Perfect don't you think? Yes, I have no doubts about that at all. I believe that the future generations will receive quality education.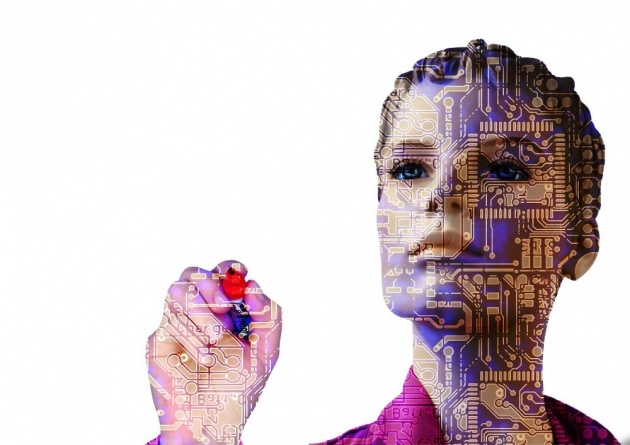 Image Credit Geralt via Pixabay
Education The Most Profitable Business
Today, the North American and European educational technology markets are expected to grow from $75 billion in 2014 to $120 billion in 2019. Education today is a major industry. With billions of dollars invested into campuses we expect excellence and precision and we can depend on AI to deliver it to us.
These are not the only ways AI will change the face of education. The campuses could become social labs with cameras all around, observing students all the time. Every smile, every nuance would be recorded as machines study students' behavior, need, potential and help them move forward. While machines become the biggest learners' students may lose their privacy, their individuality and perhaps their dignity.
Join me in today's interactive chat blog to discuss about how AI has impacted and will continue to change the face of education as we know it.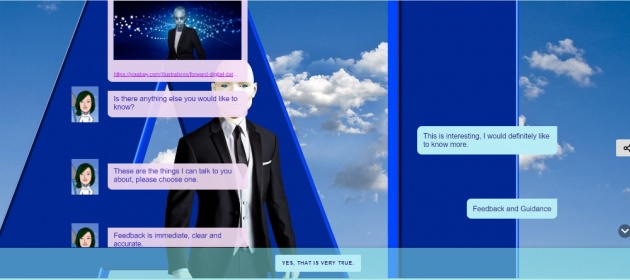 Image Credit Screen shot of the Querlo chat on AI changing the face of Education
Querlo Chat on AI changing the face of Education via Bitlanders By Sofs
Final Thoughts
While there is no doubt AI will make us better academically qualified individuals, however I wonder if it will take the humanity out of humans. Will our campuses rob us of our dignity and identity as individuals as students become lab data or will it add more meaning to our existence? Personally, I would like the gentle hands of my teacher resting on my shoulder as she tells me I can do it, rather than a phone app telling me the same. I would like the love that comes through the inflection of her voice, to speak to me at a deeper level, even though the words would be the same as the phone app.
The future of education as I see it, would be a generation of geniuses having a deeper understanding of science, who would change the world even faster than how it is changing today. There would be more Scientists who build more machines to make life easier for man, but what would human life be like, would there be anything left to achieve? Please give it a thought.
This blog post is written in support of the announcement made by Micky about the Bitlanders AI-Themed Blogging.This blog also incorporates the C Blog (Double bonus reward topics). This article is the 11 in this series on Artificial Intelligence.
My other blogs in this series Include
ARTIFICIAL INTELLIGENCE - MAKING LIFE EASY AT HOME
ARTIFICIAL INTELLIGENCE IN HEALTHCARE - C- BLOGGING
THE ARTIFICIAL INTELLIGENCE REVOLUTION - DRIVERLESS CARS
BIO-METRIC ACCESS AND SECURITY IN THE WORLD OF AI
AI ENHANCED WEARABLES _WEARABLE TECHNOLOGY DEVICES
BUILDING A CAREER IN ARTIFICIAL INTELLIGENCE
CURRENT TRENDS IN AI - WHAT THE FUTURE HOLDS FOR US
CHATBOTS THE FUTURE OF BUSINESS
ARTIFICIAL INTELLIGENCE THE POWER BEHIND THE TOKYO 2020 OLYMPICS
ARTIFICIAL INTELLIGENCE IN FORMULA ONE (F1) RACING
All images used in this blog have been duly credited, no copyright Infringement Intended.
Thank you for reading and interacting with me on this blog. I hope that information I have shared on this bog has been helpful to you.
- ♥♥♥♥♥ Sofs ♥♥♥♥♥-
Would you like to share your thoughts and earn through Bitlanders? Follow this link and claim your first $1 reward on sign up.