Vedio Credit Mic via Youtube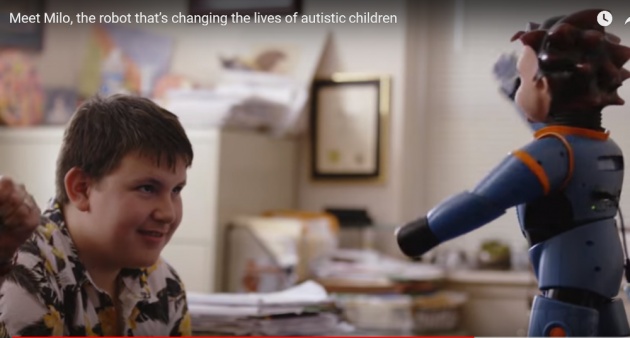 We see an AI-based approach to be an adjunct to treatment analogous to a traditional paper-and-pencil workbook. - William L. Jarrold
Autism On The Increase
Autism (ASD) has been on the rise in America. Statistics show that from 1 in 150 children in 2000, the number has gone up to 1 in 59 children. Autism being a genetic condition the chances are that we will see a steady increase in these numbers.
Training Costs And Concerns
The cost of training these children with special needs is estimated to be anywhere between $11.5 -$60.9 billion, which is a huge concern for families with such children. The rate of sessions with therapist is not getting any lower. Therefore, what could be the solution to the problem? AI provides the answer to the needs of these children with special needs.
In my previous blog post on AI changing the face of education we discussed how AI could help in education and how it could be tailor made for each individual based on their needs, their learning styles and their ability to learn. Personalized education is the only way to go when it comes to special education.
For those with learning disabilities, today's tools for differentiation no longer hold the stigma they used to nor highlight disabilities, but provide opportunities to find success in the classroom. - Sharon LePage Plante
AI The Perfect Answer To Special Education
Having worked with children with special needs this sounds like the perfect tool to teach children with autism or Intellectual disability. Humanoids programmed to teach social skills, life skills and occupational skills working in conjunction with a therapist or a caregiver is indisputably a boon.
Training children with special needs is a challenge. Every child comes with a different impairment, an unique set of requirements and training needs and it is difficult for educators to adapt to the needs of each child they work with.
The level of patience and consistency required from educators is very high while working with special need kids. The presently employed testing skills are not very accurate to help educators in planning a line of intervention. AI with its various tools could be a boon to educators as well as students.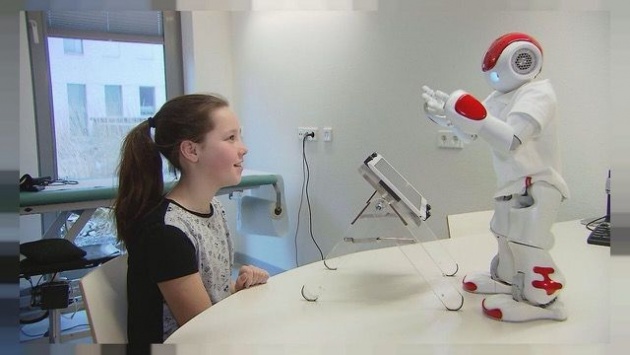 Image credit cuencadispatch via Google
Using AI In Special Education
Working with kids with special needs sometimes drains you off your energy and ideas on how to get them to understand certain concepts or ideas. The perfect answer would be a humanoid or a robot which could capture their attention and keep their concentration for a little longer.
Children with ASD are often alarmed by our gestures actions and expressions which hinders their learning process. A robot would be the fitting answer to the problem as they have few expressions and very few hand gestures that could alarm or disturb these children.
The best part about using robots is that they don't tire easily. They can be programmed to each child's individual needs. They can repeat the same instructions over and over again with evenness of emotions and best of all they are cheap compared to the cost of the number of sessions with a therapist.
These AI aided robots can help these children with interventions in areas such as life skills, social skills, occupational skills etc. They could also play a huge part in skill assessment and diagnosis.
When we look at the consequences of using AI based educative apps, many studies show that by taking children's attention and increasing the duration of concentration, technological education help children to understand easier and learn better than just schooling. - Ilker Koksal in Forbes.com
Better Reach Of Special Education With AI
The good news is once these humanoids or robots are made available at moderate cost it would be easy to reach and educate millions of children all over the world, especially in places where no therapist are available.
In rural areas where it is really hard to find schools that cater to the needs of these children these robots with one trained therapist would work wonders. Children in the third world countries would benefit the most as there are fewer professional in these specialized areas.
In this interactive c blog below we will discuss how AI provides specific tools for special education. Please join me in this interaction for more details.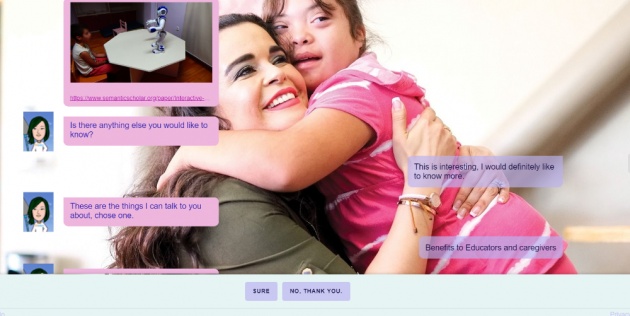 Image Credit Screen shot of the Querlo Chat By Sofs
Querlo chat on AI in Special education via Bitlanders
Final thoughts
It's amazing how technology can provide answers to serious human problems. It is heartening to see how much can be done to improve the lives of these children who have been pushed to the edge because of their conditions. Technology could not only make their lives better, but bring dignity and meaning into their lives.
Right now, we are at the early stages stage of technology development in this areas. I cannot begin to imagine how far we can go with technology and how much the lives of these people with special needs could be changed for the better. I can only imagine the relief and hope in the eyes of parents and care givers of such children.
AI is like a gift from heaven specially designed for special education. However, let me add a word of caution here, we can never depend completely upon AI to do all the intervention. It is important that we view AI as an assistant in therapy rather than as the therapist himself.
######################################################################
This blog post is written in support of the announcement made by Micky about the Bitlanders AI-Themed Blogging.This blog also incorporates the C Blog (Double bonus reward topics). This article is the 12 in this series on Artificial Intelligence.
My other blogs in this series Include
ARTIFICIAL INTELLIGENCE - MAKING LIFE EASY AT HOME
ARTIFICIAL INTELLIGENCE IN HEALTHCARE - C- BLOGGING
THE ARTIFICIAL INTELLIGENCE REVOLUTION - DRIVERLESS CARS
BIO-METRIC ACCESS AND SECURITY IN THE WORLD OF AI
AI ENHANCED WEARABLES _WEARABLE TECHNOLOGY DEVICES
BUILDING A CAREER IN ARTIFICIAL INTELLIGENCE
CURRENT TRENDS IN AI - WHAT THE FUTURE HOLDS FOR US
CHATBOTS THE FUTURE OF BUSINESS
ARTIFICIAL INTELLIGENCE THE POWER BEHIND THE TOKYO 2020 OLYMPICS
ARTIFICIAL INTELLIGENCE IN FORMULA ONE (F1) RACING
ARTIFICIAL INTELLIGENCE CHANGING THE FACE OF EDUCATION
All images used in this blog have been duly credited, no copyright Infringement Intended.
Thank you for reading and interacting with me on this blog. I hope that information I have shared on this blog has been helpful to you.
**** ♥♥♥♥♥ Sofs ♥♥♥♥♥****
Would you like to share your thoughts and earn through Bitlanders? Follow this link and claim your first $1 reward on sign up.