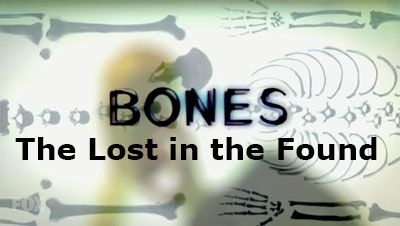 Image Credit: Fox via Wikipedia

"The Lost in the Found" is episode seventeen of season ten of Bones, the forensic drama television series loosely based on the novels and life of anthropologist Kathy Reichs. In this episode, the body of a missing schoolgirl is found, but things are not quite what they seem.
Probably Not Your Normal Brownie
The episode opens with searchers in woodland. One of them is eating a brownie and apparently keeps checking in on his walkie talkie to say he hasn't found anything. Another sees a body down by a stream and the eating searcher, Tyler, drops his brownie and runs off.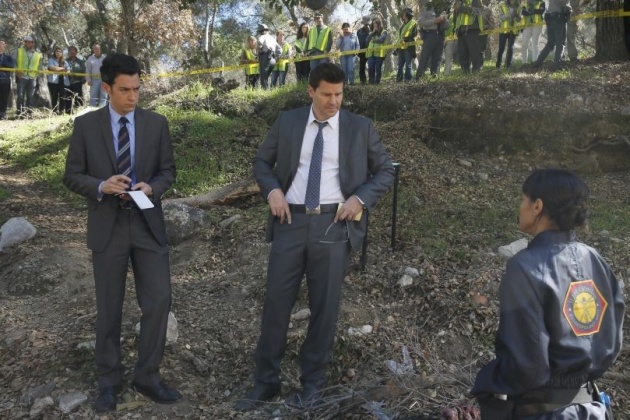 Image Credit: spoilersguide
The Body May be the Missing Girl They Were Looking For
Cam and Hodgins are at the scene with Booth and Aubrey and say that the individual probably died there, going by the amount of blood. Aubrey asks if it's the person they were looking for, Molly Delson, and Cam says it could be. To which Aubrey responds that they can't tell Molly's parents that they may have found her body. Molly disappeared from her prep school which is only a couple of miles away and according to Hodgins the victim - who is young, female and has bracers on her teeth like Molly - has been dead for four days.
Brennan is Eating - A Lot
Angela and Daisy are participating in an exercise class and Brennan is sitting eating - she does a lot of eating in this episode, more than Aubrey - making comments on how what the instructor is saying is not physically possible. Brennan says she's taking it easy and gets a message showing that the victim found in the woods was 14-18 years old.
Brennan Thinks She's Only Three Months Pregnant, Despite the Evidence
Brennan is convinced that she is only three months pregnant, but Angela tells her she is much further along than that. Brennan refuses to consider this. A man at the class asks Daisy for her number, and Angela wonders if it's too soon after Sweets' death. Daisy keeps bringing up the matter of dating repeatedly during the case - usually when someone is asking a question on a totally different topic. Clearly, she's thinking about the matter a lot. According to Cam, it looks as if the victim was murdered.
Tyler is a Creep But Not a Murderer
Aubrey brings Tyler, the brownie-eating searcher, in for questioning; the brownie he discarded was a pot brownie. Tyler is a convicted sex offender who served three years in prison. It was for statutory rape, and Booth thinks he's a creep - he definitely is - but not a murderer. Aubrey is also sure that Brennan is further along in her pregnancy than she believes.
Not Damage From Abuse but From Being Overweight
The victim has fractures to her bones dating back 7-10 years, which suggests she may have been abused as a child. Angela has done the facial reconstruction and confirmed that the dead girl was Molly. At Molly's parents, the matter of abuse is brought up - then Brennan notices a photo of an overweight younger Molly, and she says that the fracturing could have been caused by Molly being overweight. By this point the parents are not terribly happy.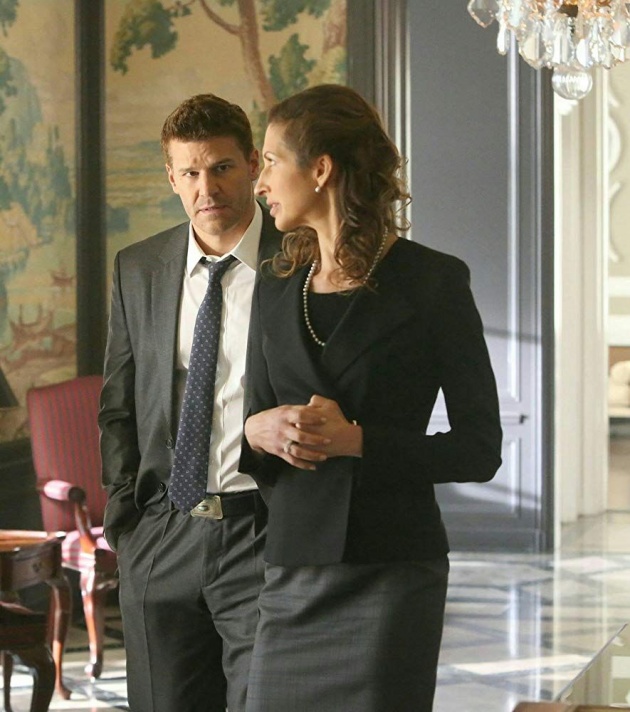 Image Credit: IMDb
Molly May Have Been Kidnapped
They say that Molly decided to lose the weight herself, and that she was an overachiever. It looks as if Molly may have been kidnapped, although she doesn't appear to have been assaulted, so Aubrey and Booth go to Molly's school. Where the headmistress mistakes them for being a couple. The headmistress says that Molly was number one at everything she did, except music. She doesn't believe that Molly could have been kidnapped from her dorm room but, because it's an all-girls school, students have been known to sneak off campus.
Diaries Are Easier to Hide and Can't Be Hacked
The room was sealed when Molly vanished and apparently everyone has respected this. Apart from the two girls searching the room when Aubrey and Booth open the door anyway. They claim that they were looking for Molly's diary, so that her parents wouldn't be embarrassed. Booth thinks that writing in a diary is rather old school, but it's pointed out to him that diaries are easier to hide and can't be hacked off the cloud. The girls didn't find the diary, but Aubrey does straight away. Booth doesn't believe the two when they say they were Molly's friends either.
Trace Leads Back to the School
According to Daisy - who is definitely focussed on the case, not dating, she assures Cam - Molly was stabbed twelve times. Trace on the body leads back to the school as well.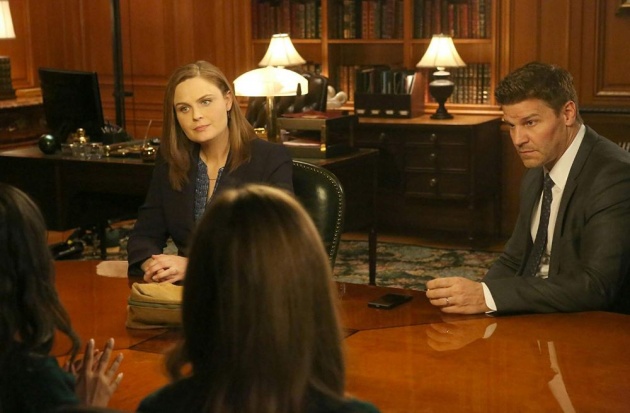 Image Credit: IMDb
Molly Was Badly Bullied at School
There was a spike in data to Molly's phone just prior to her death and Aubrey has a shoebox of insults and threats made to Molly, that she had kept. Molly's diary has her wishing she was dead multiple times, and it looks like she was quite badly bullied at school. Especially by one particular girl.
Molly Reminds Brennan of Herself When She Was Young
Brennan tells Angela that Molly owned all of her books; not the novels, but the real ones. The textbooks. And had written what Brennan considers to be intelligent notes in them. Molly's school life reminds Brennan of her own, and although she has a good life now, she couldn't see a way out at the time. She's upset that Molly will never have the chance to have the same.
A Twist, But it Can Be Seen Coming
There is a twist to the story, but it's one that can easily be seen coming, for the clues are all there. Molly really didn't have a pleasant school life.
Bones - The Lost in the Found Trailer
Video Credit: ME GUSTA CHANNEL via YouTube
More Blogs from this Television Series:
Want to earn from blogging on bitLanders? CLICK HERE to sign up and get a $1 reward.