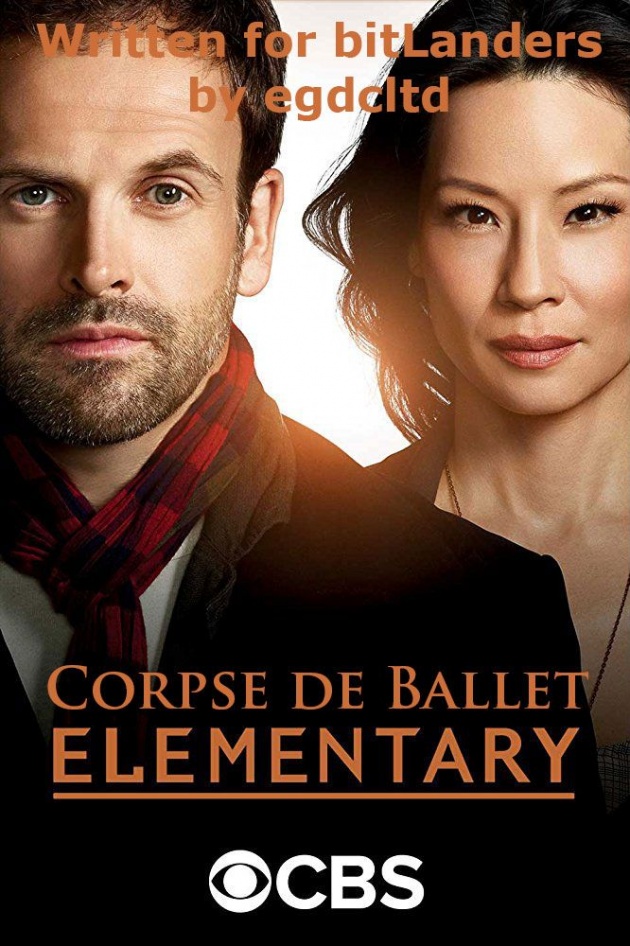 "Corpse de Ballet" is episode fifteen of season two of Elementary, the modern crime drama based on Sir Arthur Conan Doyle's fictional detective Sherlock Holmes. In this episode, a dancer is found dead and Holmes is less than impartial when it comes to the prime suspect, another dancer.
Here's a Coffee in a To-Go Cup; It's Not a Hint
Watson comes down to find a sign from Holmes saying that he is 'otherwise engaged.' Not the first time; he's been sampling a few different delights recently. Last night's was a pastor. Watson is taking it all in stride, and makes the woman a coffee. Although she says that the to-go cup is not a hint.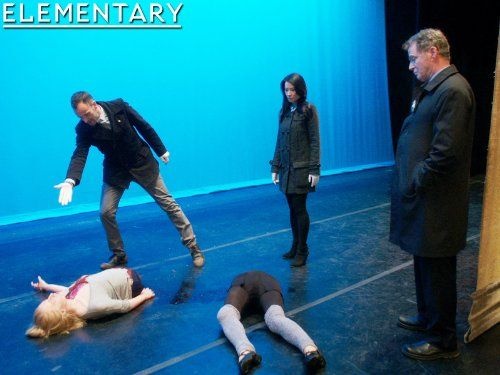 Image Credit: IMDb
A Dancer in Two Parts
Meanwhile, a ballet dancer is getting ready for a rehearsal. She already seems a bit of a diva. The other dancers are on stage and start practicing. Some scenery is lowered and a thud is heard behind. Or, rather two thuds. Another dancer has fallen onto the stage. In two pieces, hence the two thuds.
A Dramatic Entrance? Or Perhaps Exit?
According to the ballet master, he had choreographed the piece with Nell, the bisected dancer, is mind, but she didn't connect fully with the role during casting. So he cast another dancer as the lead. Perhaps the diva from earlier. Fortunately for the dancer - perhaps - the woman was already dead when she was cut in half. Nell's throat was cut, then her body tied in the wires in such a way that the body would be cut in half, and then fall from the sky. Which seems a tad dramatic.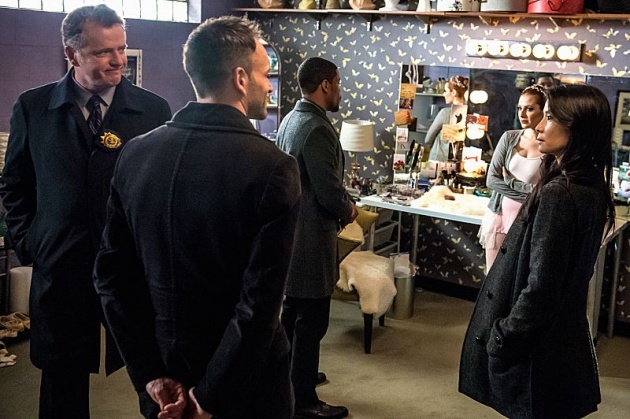 Image Credit: IMDb
Sherlock is a Fan of the Diva's Talent, and is Actually Nice to Her
Detective Bell is off desk duty, although he is still not allowed to carry a gun, so he can't work alone. There is a box cutter that looks like the murder weapon. The knife has a flower on it, an iris. The box cutter is personalised for Iris Lanzer, the lead dancer and the diva from earlier. Ms. Lanzer claims that the box cutter had disappeared a week or so ago, and this was not unusual. Sherlock knows who Iris is, and acts untypically polite, as Watson points out. Holmes is a fan of the dancer's talent, and does not believe she killed Nell. Watson says that Lanzer is not a nice person; Holmes says that she is definitely a diva, but that doesn't mean she is guilty of murder.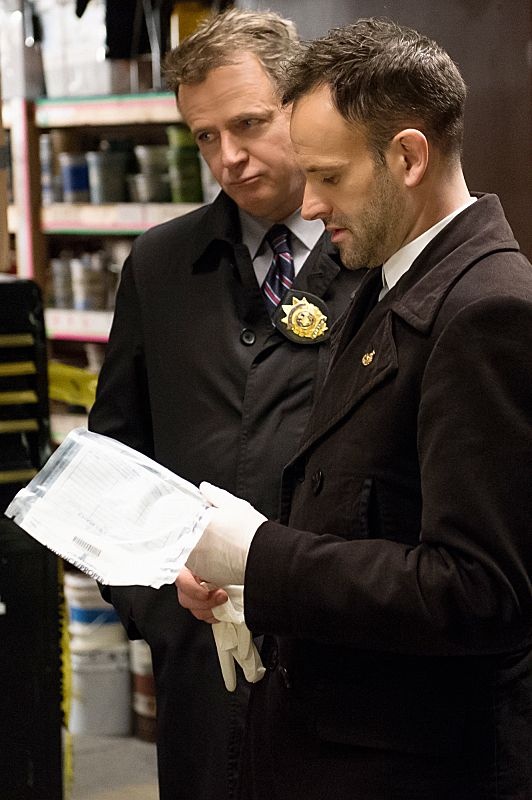 Image Credit: IMDb
Sherlock is Definitely Not Impartial When it Comes to the Prime Suspect
Nell had recently split from her boyfriend, and he says that Nell was seeing someone else and cheating on him. Not that he has any real proof as such. No-one in the company knows of this new man; in fact, they think Nell wasn't seeing any man. Her behaviour had changed, but perhaps it wasn't due to a new man. Iris proves less than cooperative, and Captain Gregson arrests her as a result, given that she is a person of interest. Then, to complicate matters, Ms. Lanzer becomes Holmes' latest delight. Sherlock is not proving to be very impartial regarding her. Although he says he indulged Lanzer's wish to advance the case, and says that he gained information that proved that she was unable to commit the crime. Iris' lawyer proves very cooperative to Holmes as well, thanks to her.
Holmes Thinks Iris is Being Set Up
There was a paparazzi that Iris had problems with, but then a rather unexpected connection between Nell and Iris crops up. There seems to be quite a bit of evidence pointing to Iris, but Holmes believes she is being set up. Especially as people are spying on her.
Holmes Gets Personally Involved in the Case of a Homeless Man
Watson gets a call from a homeless charity she works with. A homeless man who is off his meds took a swing at some cops and has been brought into the hospital. The man claims that someone is missing, and Watson says she will look for them. She gets emotionally involved in the case. For personal reasons.
A Little Off Due to a Cold
Holmes sounds a little odd during this episode; this is because Jonny Lee Miller was losing his voice due to a cold.
Elementary Season Two Trailer
Video Credit: AEGTV via YouTube

More Blogs from this Television Series:
Want to earn from blogging on bitLanders? CLICK HERE to sign up and get a $1 reward.