Because 2018 is almost over, I'd like to list the best things that happened to me this year. I had a list last year too but I haven't been able to share it with the world. Sad. Anyway this year I finally had a reason to post my list of all the first experiences (or things I've done for the first time). There was an achievements contest on Steemit but sadly I didn't win anything so now I'm sharing this here!
Of course along with the good things I must also list some of the bad things too. We still must share some failures so we can appreciate the good things in life. I have been shifting my mindset to think more in terms of positive things as I have dwelled mostly on the negative things my entire life. Even with that, this post will still include the things i have failed to do this year. Maybe I'll add in the things I didn't do well too or something.
This will be in chronological order per month so let's get on with it!
(Image credit: Pixabay)
➡️ January 2018 ♦
Ah yes, my favorite and not so favorite month. Back in January I was fresh off my double job stint. Oh my I felt so relieved when one job finally ended. So anyway, here is my one and only achievement in my January list.
☑️ Diving into the cryptocurrency world, thanks to Steemit and AdGoggleKo.
Yep you read that right. I signed up to Steemit on Nov 29 last year but didn't really start doing anything much until January this year. It's an achievement because cryptos and everything about it is not really an easy thing to learn. Oh boy I remember I really spent a week or two (or more?) of in depth online-studying about cryptocurrency, Steemit, cashouts and wallet or exchanges. Oh gahd the nose bleeds and headaches.
I still am no expert on the subject but I think I know enough so I can get what I earn there and turn it into PHP. Perhaps my only failure would be not being serious or hardcore with that site and digital money up to this day. My real interests lie elsewhere. Hehe.
➡️ February 2018 ♦
So my then second job officially ended in this month. Ah yes finally I had all the free time I could wish for. Hurray! I was able to focus on writing or blogging and eventually my first and new achievement of the month was:
☑️ I got around P9,000 worth of Steemit earnings in one post!
Oh la la! What a surprise. Just when I was about to give up on Steemit, I got Curied! What a fantastic experience indeed. Imagine, from a nobody I suddenly became a "somebody" on that website. Wow. It's actually the highest amount I ever got on any Steemit post back when the Steem value was higher.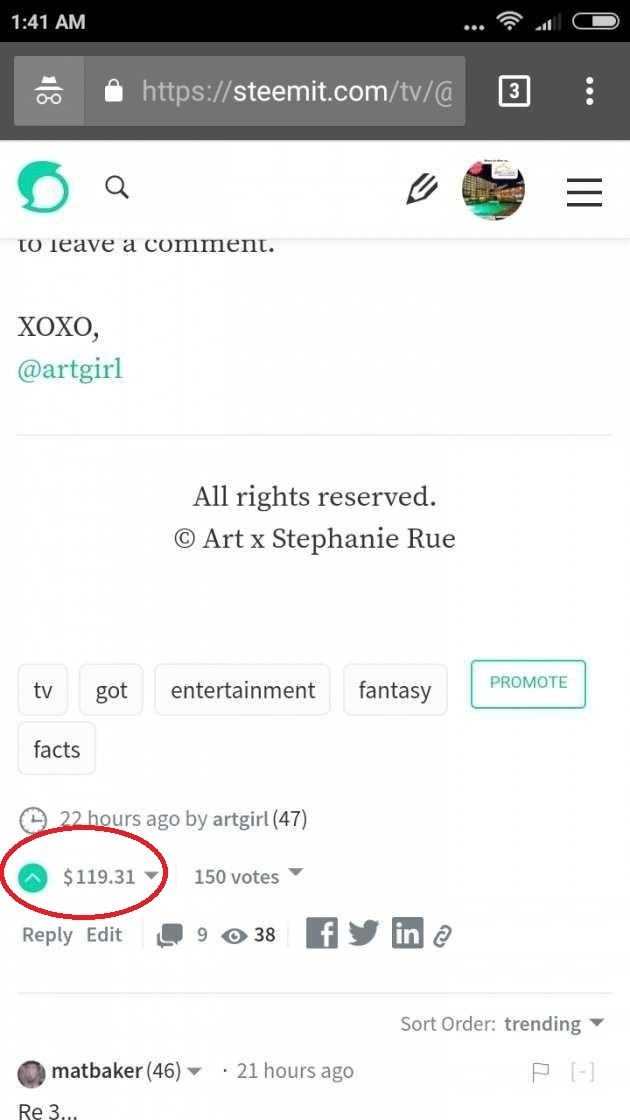 (Screencap by ArtGirl via Steemit)
Read all about my first Curie experience here.
The downside to this story is, because I didn't know much about what I was doing, the supposed P10,000 became only P9,000 when I was finally able to convert it to peso. I lost around P1,000 in the process because I think the crypto value was going down while I forgot to convert my earnings. Owwww, so much fail. Anyway P9k is still a good amount so I'm still thankful for it.

☑️ Went to the 43rd International Bamboo Organ Festival
Oh yeah! To think I've lived my life in Metro Manila for years and years without even seeing this wonderful and historical instrument in our country was just unacceptable. I had to eventually go see it at some point right? So because I had the time, I was able to go and watch the repeat gala performance. For the first time, I was finally able to hear how it sounds like. (I should also be able to go next year. Hehe.)
Read all about my experience here.
➡️ March 2018 ♦
And so March came and guess what my next achievement was?
☑️ Became #1 on the Bitlanders Leaderboard
Hurray! Who would have thought I would finally make it after more than a year of being a member? Hahaha. I finally decided to go for gold and then I finally did it in March!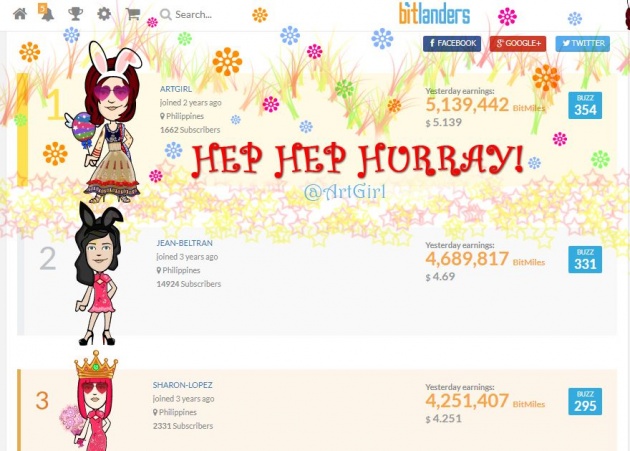 I think I was on top for one or two weeks or a month? Didn't count because just reaching the #1 spot was enough for me. Haha.
The downside to this wonderful story is... Well I don't think it's a failure but maybe just something negative. Someone started harassing people here in Bitlanders, including yours truly. They were posting offensive things. I assume it is just one guy creating multiple accounts because of the behavior: posting porn and rude stuff in the global chat, inbox and other people's account and all that. It went on for months with no real way to completely stop their abusive behavior.
The good news about that sad and sorry situation is after a few months of the person's crudeness I finally decided to address the issue by creating a blog series on hate/hurt and doing good.
I built up on my original article about hate from years ago, made some major edits and wrote a series out of it. I wrote it for everyone who is hurting inside, not just him. And then I learned to just treat the person like "nothing" since I cannot change other people (only myself) and so the rest is history. In short it can be taken as me failing at making a better person out of him. I've done what I can to help the guy. In the end we decide what we do in our own lives. It's up to each of us to help ourselves. It's his soul and life anyway.
➡️ April 2018 ♦
On to better things!
☑️ Went camping for the first time!
Hurray to me! I didn't go camping during my girl scout grade school days so it was really my first time to go camping and sleep in a camping tent. Oh wow. Who knew the sand wasn't such a terrible bed at all? It's so much better than cement floor or hard wood. Didn't have any trouble sleeping at all!

☑️ Oh and it was also my first time to go to Laki Beach/Five Fingers in Mariveles, Bataan.
That's also my first time to see a small crawling sea urchin with white thorns! Wow! Small achievements worth mentioning.
➡ May 2018 ♦

☑ Went to a free Couchsurfing survival swimming lesson!
Well it wasn't so much a survival class because we didn't have the floating board. Only one person brought the thing. Haha. Hey it was my first time to even learn there was a floating board used to train/teach swimmers. My college swim teacher never mentioned it and the university didn't even have one! What a shocker.
Read all about what happened here.
I don't remember what I failed at in this month so maybe check my old posts on Steemit and let's skip to the next one!

➡ June 2018 ♦

☑ I got my first freelance writing gig!
Oh la la. Such an achievement indeed. Who knew I'd make money out of writing for others? It was a learning experience too! I have never offered my writing service before so when I did I was happy to get some clients. Want to know what I wrote about? Well I did three topics which I combined into one blog here. Click here to read about places to visit in Arizona.
My failure in this though was not getting repeat writing gigs. Hmmm. Lots of room for improvement. But I did get several others after the first one so it's all good. I even got other writing inquiries. Unfortunately I can't do much writing for clients these days especially if it needs indepth research. My current work is where I'm focused now. When I can get back to writing for others I'll probably post ads or something again.
➡ July 2018 ♦
☑ Caught a picture of lightning for the first time!
Whew the IFC photo scavenger hunt is fun but can be challenging at times. Never have I thought of photographing lightning until that certain day in July. At least I finally know how hard it is to take a photo of something that's really fast. It's faster than a speeding bullet. Haha. So of course I had to take videos of the sky in the hopes of catching a glimpse of lightning. Luckily I was able to catch one, even if it was just a small lightning bolt hiding in the clouds.
Some time later I learned from a professional photographer that you have to use a device for a digital camera to catch a quality lightning image. Cool huh.
As for my failures in this month... Well maybe you can go back to my July Steemit posts too and look for one. I'm sure there's a sprinkling of it in there. I don't remember much of them.
➡ August 2018 ♦
For August I failed to have one new experience/achievement noted. Maybe I didn't think hard enough or I just didn't have one. Oh well.

➡ September 2018 ♦
This month was the beginning of something different. My life is changing you see... Or maybe it was changing for the better? I say it is still changing for the better everyday!
☑ Attended a finance (stocks related) seminar for the first time.
Yeah we adults have to find ways on how to make more money. Hello adulting? Late adulting? Wait what? Hahaha.
The Millennials or the younger ones are really lucky these days because more Filipinos are becoming aware of how to be financially savvy. I so feel like a late bloomer because our family isn't that focused on being financially stable at all. Our parents, well, our core values as a family is more focused on... something like making the world a much better place and all that jazz. :) At least that's how I see it.
But of course it's good to think about finally growing your money anytime. It's not a bad thing if you think of it as a tool to use to make the world better.
(Photo credit: Pixabay)
☑ Shifted from negative to positive mindset.
Thanks to Dandapani's YouTube interview, my life changed for a month or two. Haha. I don't even know how to keep doing what I did. Fail!!! Now I can't get back to that amazing state of mind, how perplexing. Am probably too stressed and pressured to get "in the zone". Ugh.
☑ Secret achievement
Haha I don't want to divulge this one other first ever achievement. I will keep it to myself and my family for the meantime.
As for the failures... well I failed to push through with a beach outing we planned a month or so back from Sept. Why is it so hard to get to a beach when we live in the city eh? Ugh.

➡ October 2018 ♦
Nothing much here. I have one somewhat first experience/achievement but it's related to the "secret". Hehe.
As for failures... well maybe failing to help a new client buy a one bedroom unit at a wellness and luxury condo. Awww. Until now I still haven't been able to find a way for them. And another one is a condo resale client for the same property. Ah well, all in good time. I need to learn more as an agent. Hehe.

➡ November 2018 ♦

☑ Got in the member exclusive Manila Yacht Club!
Wow, who would have thought I'd get inside Manila Yacht Club? I didn't even know it existed until I was told to go there. I'm clueless about these things you know. Good thing my work takes me to places I've never been sometimes. God is good indeed.
This would not have been possible if our then sales director did not trust me enough to include me in the manning event. Ah I think this is why he is very blessed. I pray He blesses him more because of his kindness and generosity.
Check out the view.
Read all about my experience here.
➡ December 2018 ♦
And now we come to the best part of the year. 2018 hasn't ended yet but it's already been a great year for me because of my experience this month. There's a lot of firsts in just one life event.
☑ First time to go on a cruise!
I took the opportunity to go with my cousin when she said the trip was on sale and that it was already at the lowest price possible. God is good!
If I don't know how to appreciate the amazing and unexpected things that happen in my life then I will make myself appreciate it by writing about it. I would like to think this trip is a failure or a big no-no in terms of financial planning. Even so, I will still see it as a blessing.
We all expect other things to happen in our lives and then we fail to see the good things He gives us in other ways. This was one of those moments. Yes, it was difficult to get through with it. I almost didn't want to do it especially in the beginning but I am still thankful we all had a good enough time. We got back safe and sound even though we felt sea sick getting back. Haha. All three of us went on a cruise for the first time ever! Wow.
Read about my first cruise experience here.
☑ Finally got to use my passport for the first time!!!
Thank you Lord that even with the difficulties just to pay for the trip, I was able to pay in time. Huhu. Even though it felt like the wrong move I still went on with it.
I'd like to blame my insistence to go to this trip for my micro SD card getting corrupted. (Yeah right.) I don't back up my photos or videos online. Fail move I know but I still don't think I will be doing it in the future.
☑ First time to go abroad
Who would have thought I finally got outside the country; and traveled to two countries at that! Wow! Praise the Lord!
☑ First time to travel to Vietnam and China!
These two countries never crossed my mind as the first countries I would step on. They are not even on my bucket list but at this point in my life, anything on my passport was good enough for me. My only goal was to finally have stamps on it. Doesn't matter where I went as long as I finally got out of the country! That was my mindset and why this year is one of the most memorable years in terms of travel achievements. Hehe.

Ha Long Bay, Vietnam (Photo credit: ArtGirl via Steemit)
Remember several months ago I kept writing about going abroad and all that? Huh. Fail fail fail. Nothing happened to those plans because I lacked budget since I was only making enough to survive through my online gigs. Whew. This time, because I'm back to the real estate world, I have additional income! Yeah! Plus, the fact that it was not a plane ticket I think it's way better as compared to me doing my original plan of solo traveling.
If I did the plane ride trip, I would have had to go through the hassle of getting a China visa, booking two non-promo round trip flights to two countries and planning my backpacking trip to both places by going on my own. Sounds expensive right? I think I'm going to cruise more from now on. Haha. (Moolah come to mamah!) As long as cruise ships port in Manila I will go on a cruise when I can.
But of course my negative mind also has something to say about this traveling experience. Read about what I think about traveling abroad here.
* * * * * * * * * * *
And there you have it folks! My 2018 achievements, and some failures, all in one post! That's 17 new life experiences and achievements in my entire life. Whew. What a year. Perhaps there are more if I think further but those are the best ones already.
You might be asking... where are my art achievements? Well... maybe I will post it next time. In terms of art, I don't think I did anything new except my combo characters or Superhero Mix. Lol. My art takes a semi-back seat this year. It was my thing back in 2016 anyway. Hehe.
What do you think about my year? How has your year been so far? Feel free to share too!
* * * * * * * * * * *
To know more about this site, read the FAQ in the gear icon upon signing up.
If you have any problem or site issues,
please report and send an email to cs[at]bitlanders[dot]com.
All images are copyright of their respective owners.
Written for Bitlanders by ArtGirl. All rights reserved
© Art x Stephanie Rue
If you're not a Bitlanders member yet, click here to sign up
and also be appreciated for what you post as you earn extra $$$.